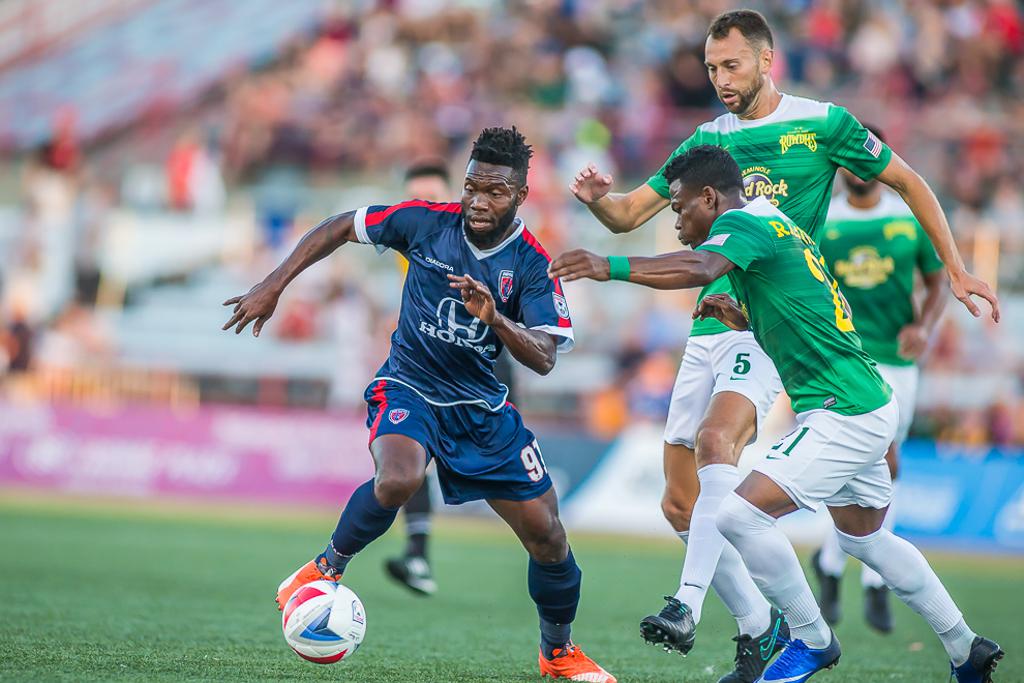 INDIANAPOLIS, Ind. (September 3, 2016)—The Tampa Bay Rowdies are coming home with a point after a 1-1 draw against the NASL Spring Season champion Indy Eleven on Saturday night at Michael A. Carroll Stadium.
Indy has been one of the strongest home teams in the North American Soccer League this year, posting a 9-2-0 (W-T-L) record on its home turf this season, including Saturday night's result.
"It was a good away performance," Rowdies Head Coach Stuart Campbell said. "We spoke before the match about the importance of getting a result tonight. We would've loved to have won, but that was a well-earned point."
Tampa Bay was first on the scoreboard in the first half, with Justin Chavez putting Tampa Bay ahead in the 28th minute with his first goal as a member of the Rowdies. Joe Cole sent in a lofted free kick from about 35 yards out which was calmly tapped between the legs of Indy goalkeeper Jon Busch by Chavez at the back post to put the visitors ahead.
The Rowdies' lead was short-lived though, with Indy equalized just six minutes later on a goal by Omar Gordon. Indy's goal was the result of a passing sequence that was nearly broken up by Rowdies captain Tamika Mkandawire, but his touch wasn't enough to steer the ball clear of Gordon, who finished it cleanly past Rowdies goalkeeper Matt Pickens for the equalizing goal.
Tampa Bay had the better of the play on the night, but couldn't become the first visiting team to pick up a win in Indianapolis.
The Rowdies had the majority of possession and controlled much of the play, particularly in the first half, but both teams tallied three shots on target in a tightly-contested match. In eight all-time contests against one another, only twice have the teams avoided a draw.
"I thought in the first half we performed really well, apart from disappointment in the goal we gave away," Campbell said. "That goal could've been prevented, but the guys bounced back well. We shaded the first half with a better performance and they probably had the better of the second half."
The Rowdies provided only flashes of threatening attacking play in the second half as Indy started to dig its heels into its home turf.
Indy had a few chances late in the match to steal a game-winning goal, particularly on Brad Ring's laser shot from outside the corner of the box in stoppage time, but his shot went wide of Pickens' right-hand post.
The Eleven's second-best chance came in the 83rd minute when Eamon Zayed played a through ball between defenders for Don Smart to run onto in the 18-yard box, but Smart's shot sailed over the crossbar.
"In the second half, they put us under a bit of pressure, but the guys withstood it," Campbell said. "(The Rowdies) showed great attitude, great effort and great commitment and I think we deserved the point we got. This is one of the most difficult places to come because they know how to play on their turf and they've got a great home record. It's a good away point and we can build on it."
Tampa Bay is on the road again next week, visiting Puerto Rico FC on Saturday, September 10 before returning home to host the Carolina RailHawks on September 17 in its next home game.
Scoring Summary
Tampa Bay: Justin Chavez – 28th minute (Assisted by Joe Cole)
Indy Eleven: Omar Gordon – 34th minute
Caution Summary
Indy Eleven: Nicki Paterson – 29th minute
Tampa Bay: Martin Vingaard – 42nd minute
Indy Eleven: Don Smart – 45+ minute
Indy Eleven: Nemanja Vukovic – 88th minute
Tampa Bay: Michael Nanchoff – 88th minute
Indy Eleven: Gerardo Torrado – 89th minute
Lineups
Tampa Bay XI (4-2-3-1): GK Matt Pickens; D Darnell King, D Tamika Mkandawire (c), D Stefan Antonijevic, D Walter Ramirez; M Justin Chavez, M Martin Vingaard; M Eric Avila (Michael Nanchoff 59′), M Joe Cole (Keith Savage 90+'), M PC (Carlos Preciado 77′); F Georgi Hristov
Indy Eleven XI (4-4-2): GK Jon Busch; D Lovel Palmer, D Colin Falvey (c), D Daniel Keller, D Nemanja Vukovic; M Don Smart, M Brad Ring, M Nicki Paterson (Gerardo Torrado 62′), M Duke Lacroix (Dylan Mares 83′); F Omar Gordon (Justin Braun 68′), F Eamon Zayed
Up Next
The Rowdies travel to Puerto Rico for the first time since 2012, where they'll visit Puerto Rico FC on Saturday, September 10. Tampa Bay will return home for a match against the Carolina RailHawks on Saturday, September 17. For tickets, call (727)222-2000 or click here.