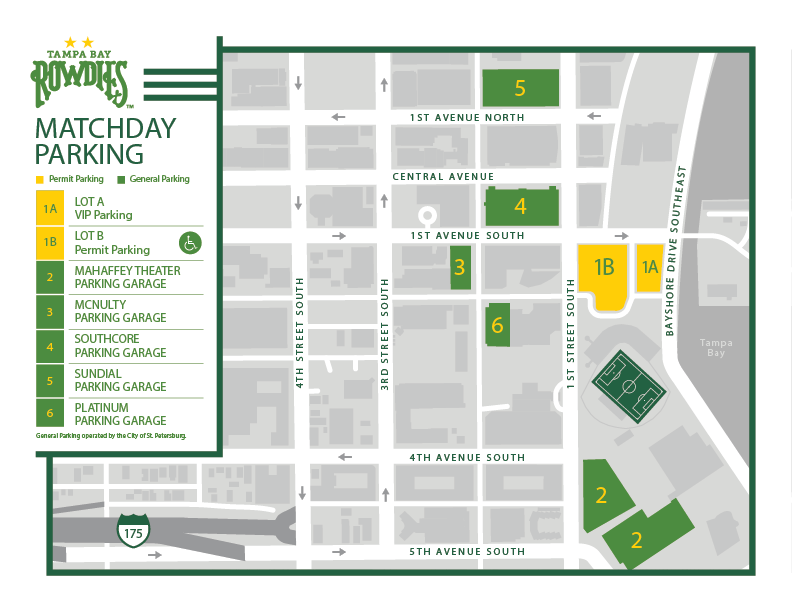 Downtown St. Pete is more rowdy than ever, so we've reserved about 1,200 parking spots for easy access to the home field. Tailgate with friends and family in the Al Lang Stadium Parking Lot.
Permit Parking
Lot A
Al Lang Stadium
230 1st Street S
VIP PERMIT PARKING ONLY
Lot B
Al Lang Stadium, includes 8 handicapped spots
230 1st Street S
PERMIT PARKING ONLY

General Parking
Fans looking for General Parking on Rowdies Game Day may also refer to DTSP's Recommended Parking Page. The Garages listed below are in close proximity to Al Lang Stadium, rates and operational hours are set by Garage Operators.

Mahaffey Parking Garage (LIMITED PARKING – ROWDIES GAME DAY PARKING UNTIL 7:00PM)
400 1st Street SE. No public parking permitted for March 11 Match.
 
Mcnulty Parking Garage
175 2nd Street S

Platinum Parking Garage, across from Al Lang Stadium
100 2nd Avenue S

South Core Parking Garage, next to Signature Place
101 1st Avenue S.

Sundial Parking Garage
117 2nd St N

DOWNTOWN LOOPER TROLLEY
Want to save energy for the game? Look for the bright red and yellow Downtown Looper trolley and hop aboard. Service is free to passengers and the Downtown Looper passes by Al Lang Stadium, with a stop located at the Hilton, 333 First St. S., every 15 minutes, and circulates between all of the city's hotels, attractions and major parking facilities.
The St. Petersburg Trolley's Downtown Looper operates 7 a.m. to 10 p.m. Monday through Friday and 8 a.m. to 10 p.m. on Saturdays and Sundays. Visit www.loopertrolley.com for map of the trolley route and more information.