About Pete the Pelican
Pete the Pelican grew up eating fish and taking pictures with tourists in downtown St. Petersburg. In early 2015, construction began on the new pier, so Pete the Pelican started swimming south in search of a new home…
Sometime after his departure and during his search for a new home, Pete ran into Raymond, his big blue bellied Sea Dog friend from the Tampa Bay Rays, on his daily swim. Pete has admired Raymond's work from a distance for quite some time. They chatted over a hotdog and some popcorn, and Raymond suggested that maybe he can come out to his upcoming birthday party. Pete did just that and had a blast with the other mascots. Pete had so much fun that he began to attend other sporting events in the area. Pete found himself outside of Al Lang one night and he loved the bright lights and loud cheering so he stopped to check out the commotion. Pete had never seen a soccer game before but quickly became a huge Rowdies fan. Pete would wake up every day to watch training and cheered on the team from behind the fence every Saturday night.
In early 2016 Pete had heard about mascot tryouts and was so excited, he slept outside of Al Lang in the water, the night before the audition. Pete the Pelican was so nervous and excited the morning of the audition, but none of that showed and with such a fun and bright personality, he was a shoe in for the audition, the owner came out to shake his feather personally and he said, "You've got the job. Come with me!"
Born: March 25, 2015
Height: 6 feet, 5 inches
Wingspan: 5 feet
Favorite Food: Fish
Favorite Band: Phish
Favorite Movie: A Dolphin Tale (featuring his cousin starring as Rufus)
About Pinnie the Pelican
Pinnie the Pelican was born in a nest built on a piling under the Sunshine Skyway Bridge. As a native St. Petersburger, Pinnie has always appreciated the beauty of the Tampa Bay area. Growing up, she loved to spend her time soaring alongside the drivers on the Howard Frankland Bridge, sunbathing at the Don Cesar and playing soccer with her friends.
Pinnie moved away from St. Petersburg to attend college far away. She studied marine conservation so she could, one day, move home and help preserve the beauty of Tampa Bay for generations of animals to come. After graduating, Pinnie moved back home to St. Petersburg to be close to her family and begin her conservation work.
Looking for love, Pinnie recently signed up for the Flock app, where she quickly matched with a handsome pelican named Pete, who just happens to work as the Rowdies mascot. Before going away to college, Pinnie loved watching Rowdies games from one of the lightposts at Al Lang Stadium, but she's looking forward to watching from up close as Pete's new girlfriend!
Born: July 27, 2016 (727 Day)
Height: 4′ 6″
Wingspan: 7.5 feet
Favorite food: Fresh grouper
Favorite band: Sheryl Crow
Favorite movie: Finding Nemo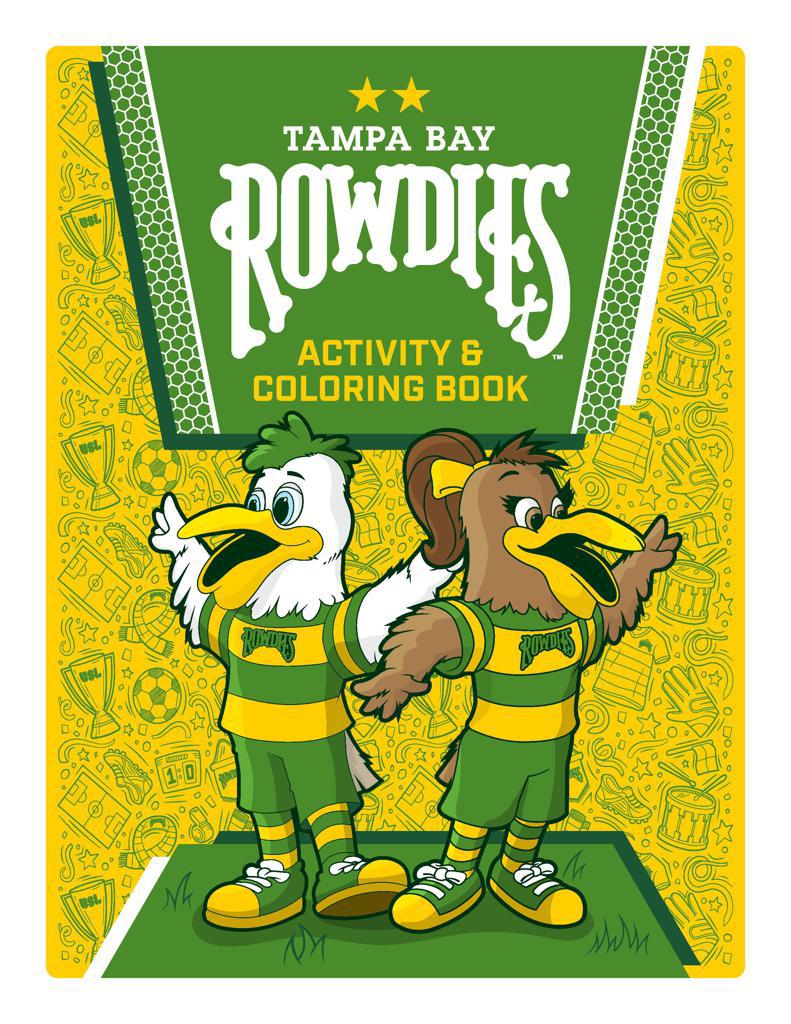 ROWDIES ACTIVITY BOOK
Pete and Pinnie have some fun activities for you to do right at home! Coloring pages, crossword puzzles and more!
Download the pages individually or the full book using the links below:
Appearance Request
Bring some fun and excitement to your next event with the addition of the official mascot of the Tampa Bay Rowdies, Pete the Pelican! Pete loves making appearances at community events, sporting matches, schools, parades, charitable functions and more.
Are you hosting an event that you would like Pete to attend? Please contact community@rowdiessoccer.com to request an appearance. Due to the large amount of requests, all requests must be made at least two weeks prior to your event.
---