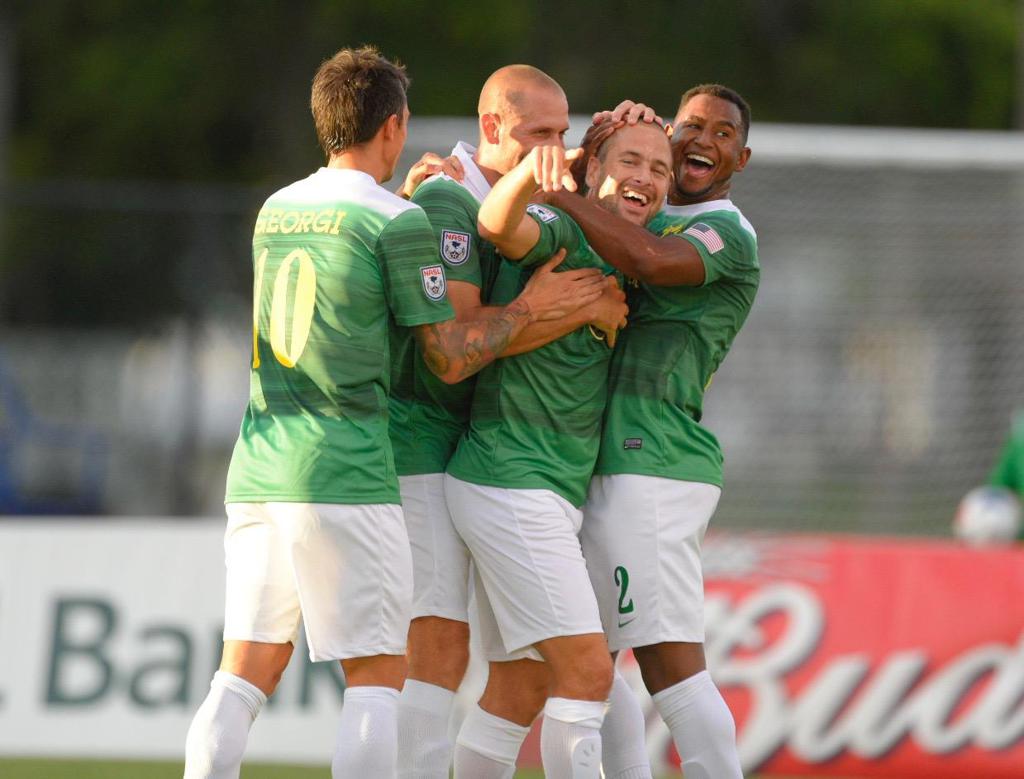 ST. PETERSBURG, Fla. (July 16, 2016) — Joe Cole and Eric Avila carried the Rowdies with a pair of spectacular goals in a 3-0 home win over Puerto Rico FC on a blockbuster night at Al Lang Stadium.
Cole's goal, in the 10th minute, must be seen to be believed, an unfathomable bicycle kick from 15 yards out that looped over PRFC goalkeeper David Meves and into the net to give the Rowdies an early lead.
"It was nice," Cole said. "It's always nice to score the first goal in a game and it was a lovely goal. It'll be a nice one to watch and send home for everyone to watch, but the main thing is that the team was excellent tonight."
Avila's goal, 15 minutes later, was special in its own right. Avila received the ball from Georgi Hristov 22 yards from goal and turned to face the net before casually bending it around Meves and tucking into in the upper 90 in pinpoint fashion.
On any other night, Avila's goal would have been a show-stopper. On this night, it was merely the second great goal of the night.
Tommy Heinemann added a third in second-half stoppage time.
Altogether, it added up to three points and a clean home win.
"It's important that we got three points to bounce back from last week," Rowdies Head Coach Stuart Campbell said. "I think there's a couple of 'Goal of the Season' contenders there and I feel bad for Eric. He had a fantastic goal. … I think Joe is going to get a bit of coverage — and quite rightly so."
Puerto Rico offered a bit going forward, but was never clinical enough to put the result in doubt, particularly because of the Rowdies' fast start. Tampa Bay goalkeeper Matt Pickens faced just two shots all night, saving both to post his fifth clean sheet of the NASL season.
Coming off a 4-1 loss to Carolina last week, Tampa Bay needed a positive result to get things moving in the right direction once again. The three-goal margin of victory was the Rowdies' largest since a 3-0 win over Atlanta last June.
"We kept pushing (even late,)" Campbell said. "The message at halftime was that I wanted to play as if it was still nil-nil and go and build from there. Apart from last Saturday, game in and game out, we've made a lot of chances and haven't capitalized. It was great to make those chances again, but to put three in the back of the net was pleasing. … We've had too many ties, especially at home, so I wanted the guys to go out and there and bounce back."
Heinemann's goal, his third of the season, came long after the result was sealed, but will be another boost for the Rowdies.
"It was good for Tommy," Cole said. "He works so hard and he's a good team member. You want your strikers scoring goals. Georgi is getting goals and he's confident. Tommy is getting goals and he's growing in confidence. We need to keep both of them fit and the team is starting to take shape. I'm proud of the performance tonight."
Tampa Bay gets back to work Monday with a stiff challenge on the docket for the weekend. The Rowdies host the first-place New York Cosmos at home next weekend in a critical early Fall Season showdown. For tickets, call (727) 222-2000 or click here. 
Attendance: 5,873
Scoring Summary
Rowdies: Joe Cole – 10th minute
Rowdies: Eric Avila (assisted by Georgi Hristov) – 25th minute
Rowdies: Tommy Heinemann (Juan Guerra) – 90th minute
Caution Summary
Puerto Rico: Rudy Dawson – 33rd minute
Rowdies: Michael Nanchoff – 63rd minute
Puerto Rico: Sidney Rivera – 76th minute
Rowdies: Darnell King – 78th minute
Starting Lineups
Rowdies XI (4-3-3): GK Matt Pickens (c); D Darnell King, D Justin Chavez, D Stefan Antonijevic, D Walter Ramirez; M Joe Cole, M Juan Guerra, M Keith Savage (Freddy Adu 88′); F Eric Avila (Tommy Heinemann 74′), F Georgi Hristov, F Michael Nanchoff
Puerto Rico FC XI (4-4-2): GK David Meves; D Ramón Martín Del Campo, D Rudy Dawson, D Cristiano Dias (c), D Ramón Soria; M Paulo Mendes, M Chris Nurse (Brian Bement 19′), M Tyler Rudy, M Evans Frimpong (Jorge Rivera 60′); F Pedro Mendes (Sidney Rivera 72′), F Hector Ramos