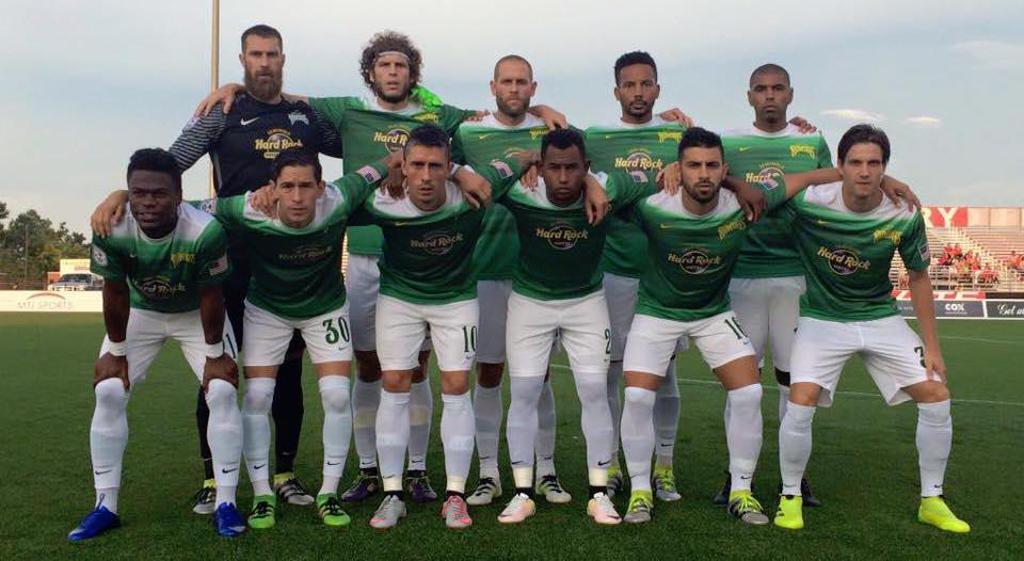 OKLAHOMA CITY (July 27, 2016) — A goalkeeping blunder cost the Tampa Bay Rowdies on Wednesday night in Oklahoma City as the Rowdies fell 1-0 to Rayo OKC.
The decisive moment of the match came against the run of play late in the first half when goalkeeper Matt Pickens misplayed a ball, allowing Billy Forbes to calmly head it into the net to put the home team up 1-0. 
The Rowdies controlled much of the first half and long portions of the second, but couldn't find the equalizer on a frustrating night at Miller Stadium.
Tampa Bay was without Head Coach Stuart Campbell and Assistant Coach Raoul Voss as both served one-game suspensions following their dismissal from Tampa Bay's match last Saturday. Assistant Coach Stuart Dobson served as head coach, with Rowdies 2 Head Coach filling in as the first team assistant.
"I don't know exactly what the stats are going to say, but the possession was outstanding," Dobson said. "The guys fought really hard and we created numerous chances but couldn't find the back of the net. One long ball down the middle beats us, something we should've taken care of. It was one of those nights."
Dobson was aggressive in the second half as the Rowdies chased the 1-0 deficit, inserting Michael Nanchoff, Carlos Preciado and Kalif Alhassan into the match, but the Rowdies couldn't find a way past Rayo OKC goalkeeper Daniel Fernandes on the night.
Tampa Bay's only previous match against Rayo OKC, a 1-1 draw on May 14, also saw the Rowdies commit a defensive error that led to OKC's only goal.
The mistake that allowed for Rayo OKC's goal Wednesday night could have been overshadowed had the Rowdies finished their chances. Pickens came out of his 18-yard box to clear a ball before Forbes could get onto it, but an awkward bounce off the artificial turf meant the ball was difficult for Pickens to kick. Forbes capitalized on the mistake, comfortably heading the ball into the goal.
"I would never blame this loss on any one player because we created enough chances to win the game," Dobson said. "Matt's been terrific all year. He made a mistake, but that was probably his first of the year. He's a top goalkeeper in this league. It was a mistake but we had enough chances to make up for it."
It's a quick turnaround for the Rowdies now, who head to Ottawa, Canada for a Saturday night tilt against the Ottawa Fury FC. Coaches Campbell and Voss will return to the sideline Saturday night.
Scoring Summary
Rayo OKC: Billy Forbes – 43rd minute

Caution Summary
Rowdies: Walter Ramirez – 21st minute
Rayo OKC: Kosuke Kimura – 23rd minute
Starting XI
Rowdies XI (4-3-3): GK Matt Pickens; D Darnell King, Justin Chavez, Tamika Mkandawire (c), Walter Ramirez; M Martin Vingaard, Juan Guerra (Carlos Preciado 66′), Keith Savage (Michael Nanchoff 57′); F Eric Avila (Kalif Alhassan 77′), Tommy Heinemann, Georgi Hristov
Rayo OKC XI (4-4-2): GK Daniel Fernandes; D Kosuke Kimura, Futty Danso, Sebastien Ibeagha, Moises Hernandez; M Sebastian Velasquez (Pecka 90+'), Derek Boateng, Michel (c), Billy Forbes (Richard Menjivar 86′); F Robbie Findley, Devon Sandoval