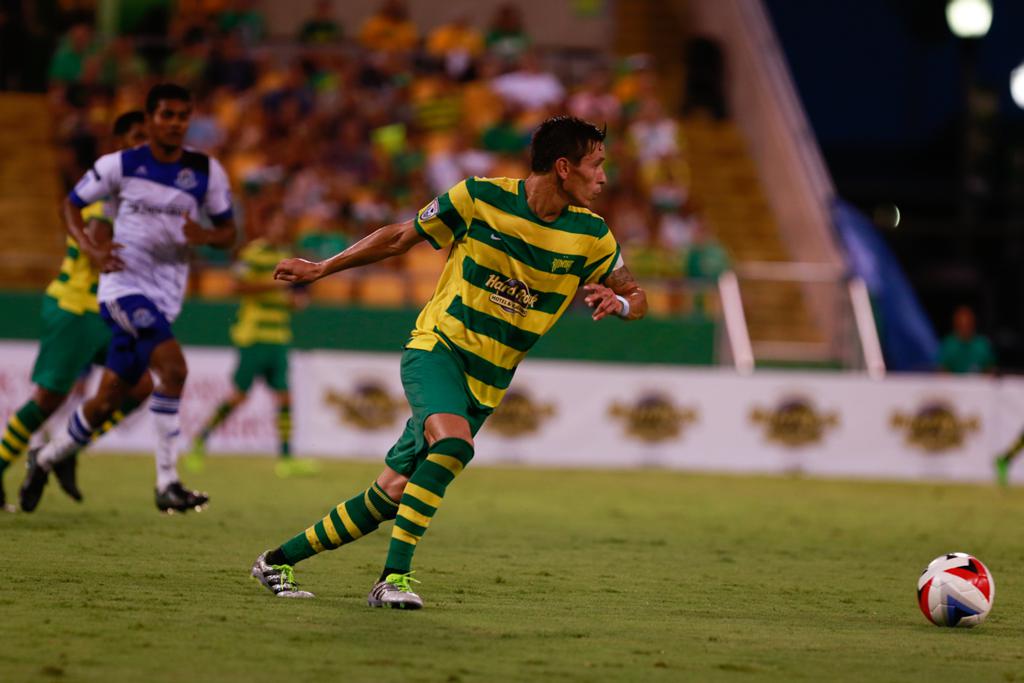 ST. PETERSBURG, Fla. (August 20, 2016) — The Tampa Bay Rowdies shot and shot and shot on Saturday night, but couldn't find a way past FC Edmonton Matt Van Oekel in a frustrating 1-0 loss.
Tampa Bay tallied 21 shots, including nine on target, but Van Oekel made the save time and time again to doom the Rowdies to defeat. The lone goal of the match came in the 74th minute when Tomi Ameobi drew a penalty kick, which was converted by Daryl Fordyce.
"I think we actually had a good performance tonight," Rowdies Head Coach Stuart Campbell said. "I liked the way we moved the ball, the way we passed it and the chances we created, but ultimately, we didn't score. We should have at least two or three goals in front before they got their penalty kick."
Van Oekel's nine saves added up to his league-high 10th clean sheet of the season in 19 matches. Goalkeepers can't have dominant statistical nights like Van Oekel's without facing a strong, threatening attack.
Tampa Bay was sharp on the night, passing the ball well and creating more than enough chances to win the game, but every time Van Oekel needed to make a save, he did.
"Edmonton are a well-organized, well-disciplined team who are on a great run, so it was a tough loss for us," Campbell said. "We have to score when we create the chances we do."
Van Oekel had five saves in the first half, highlighted by a tremendous double save in the 15th minute, denying both Eric Avila and Carlos Preciado's on-target efforts from 12 yards out within seconds of one another.
In the 28th minute, Tampa Bay's Tamika Mkandawire rose to meet a corner kick and thumped a header on target with power, but Van Oekel well positioned perfectly to catch it.
It was more of the same in the second half as Van Oekel continued to stymie the Rowdies at every turn.
With the match still tied 0-0 at the hour mark, Rowdies forward Carlos Preciado showed a tricky bit of skill to create space for a shot that he rocketed on target from just outside the 18-yard box, but Van Oekel palmed it over his crossbar to deny Tampa Bay once again.
In the 72nd minute, Joe Cole fired a shot that dipped safely into Van Oekel's waiting arms.
FC Edmonton's winner was scored in the 74th minute when Darnell King and Tomi Ameobi got tangled up in Tampa Bay's box and both went to the ground. The referee blew his whistle and pointed to the spot with Fordyce calmly converting the penalty for a 1-0 lead.
The Rowdies chased the match in the last fifteen minutes, with forward Georgi Hristov and Tommy Heinemann both entering the attack, but Tampa Bay just couldn't find a way past Van Oekel.
"I'm sorry that we lost the game, we were definitely the better team," Hristov said. "We had enough chances to win the game easily, but we couldn't score. If you don't score, (losing) is how it happens in soccer most of the time. … (Van Oekel) is a good goalkeeper but we should've scored. He's probably the Man of the Match."
Tampa Bay will seek to snap its losing streak next week at home at Al Lang Stadium against Rayo OKC on Saturday night. For tickets, call (727) 222-2000 or click here.
Scoring Summary
FC Edmonton: Daryl Fordyce (penalty kick) – 74th minute
Caution Summary
FC Edmonton: Shawn Nicklaw – 19th minute
Tampa Bay: Justin Chavez – 35th minute
FC Edmonton: Albert Watson – 69th minute
FC Edmonton: Daryl Fordyce – 84th minute
Lineups
Tampa Bay XI (4-2-3-1): GK Matt Pickens; D Darnell King, Tamika Mkandawire (c) (Tommy Heinemann 78′), Neill Collins (Stefan Antonijevic 18′), Walter Ramirez; M Martin Vingaard (Georgi Hristov 71′), Justin Chavez; M Eric Avila, Joe Cole, PC; F Carlos Preciado
FC Edmonton XI (4-1-4-1): GK Matt Van Oekel; D Shawn Nicklaw, Pape Diakite, Albert Watson (c), Adam Eckersley; M Nik Ledgerwood (Nicolas Di Biase 64′); M Dustin Corea (Sainey Nyassi 71′), Shamit Shome (Cristian Raudales 78′), Daryl Fordyce, Jake Keegan; F Tomi Ameobi