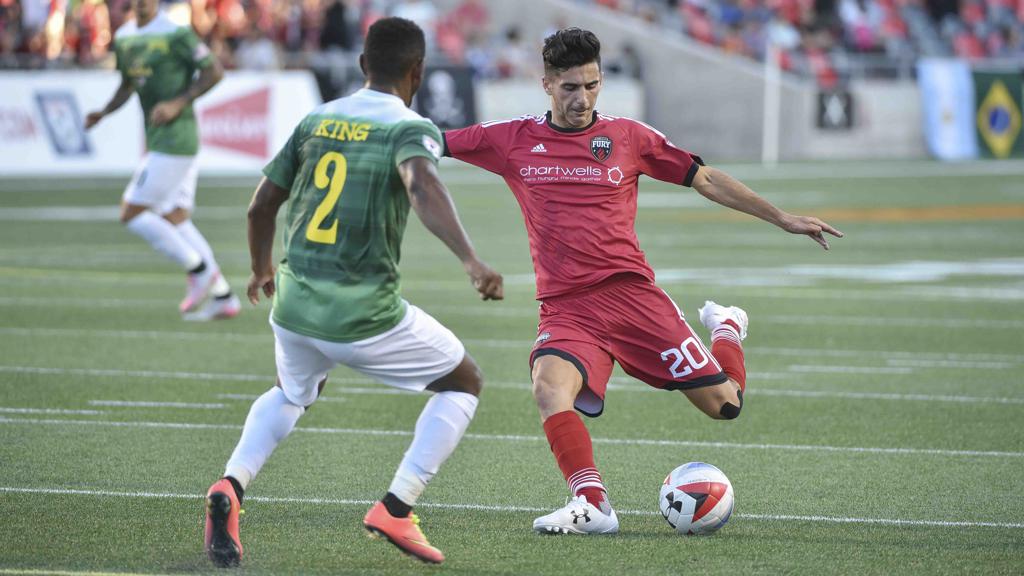 OTTAWA, Ontario, Canada — A difficult week for the Tampa Bay Rowdies hit another speed bump Saturday with a 2-0 defeat to the Ottawa Fury FC in Canada's capital city.
Mallan Roberts scored Ottawa's opener in just the second minute of play and Tamika Mkandawire scored an own goal in the 36th minute to put the Rowdies down a pair. Ottawa recorded just one shot in the entire first half, but led 2-0 at the break regardless.
The match could hardly have started worse for Tampa Bay, with a seemingly harmless ball looped into the box by Maxim Tissot following an Ottawa free kick.
Rowdies midfielder Joe Cole cleared the free kick delivery out of the box, but Tissot put it back in with his first touch and Roberts found an open path to the ball. His first touch was on target, sneaking under Matt Pickens and into the net for an early Ottawa lead.
"We defended the free kick well and cleared it, but in the second phase, we switched off and got caught sleeping," Rowdies Head Coach Stuart Campbell said. "After a couple of minutes, the whole gameplan changes. The boys responded well and we were pushing and pushing for a goal before the own goal."
Matters got worse half an hour later when Mkandawire, retreating toward his own goal, attempted to head a ball back to the safety of Pickens.
Pickens, however, was not where Mkandawire expected him to be and it was immediately clear that neither player could recover in time to prevent the own goal. Pickens made a heroic dive to get a touch on it, but couldn't deflect it wide enough.
Tampa Bay didn't give up on the match, consistently putting pressure on Fury FC goalkeeper Romuald Peiser. The Rowdies ended up with three shots on target, more than Ottawa's two, but couldn't recover from the wobbly start.
Rowdies Head Coach Stuart Campbell used all three of his substitutions on attacking players, but with a two-goal lead, Ottawa could afford to sit back and safely absorb pressure as time ticked away.
Some of Tampa Bay's best chances on the night came from set pieces, including a Mkandawire effort on target in the 54th minute, but Peiser was correctly positioned at every time of need.
Five minutes later, Tommy Heinemann had a chance to score in his former home stadium, but he sprayed a shot wide of target.
Tampa Bay's last good chance of the match came in the 84th minute when Cole received a pass from second-half substitute Freddy Adu and fired a left-footed curling shot to the back post. It was deflected out for a corner kick and the Rowdies were unable to capitalize.
"We're in one of those runs at the minute where things are going for us," Campbell said. "We're not getting the roll of the ball. The week we've had caught up on us. I think for the first time really we looked fatigued toward the end. We had a tough couple of days on the road so we're definitely looking forward to getting back home and starting a new week to build for a great home game."
Up next, the Rowdies return home to the friendly confines of Al Lang Stadium to host the rival Fort Lauderdale Strikers next Saturday night at 7:30 p.m. For tickets, call (727)222-2000 or click here.
Scoring Summary
Ottawa: Mallan Roberts – 2nd minute (Assited by Maxim Tissot)
Rowdies Tamika Mkandawire – 36th minute (Own Goal)

Caution Summary
Ottawa: Jamar Dixon – 16th minute
Rowdies: Georgi Hristov – 38th minute
Rowdies: Darnell King – 70th minute
Starting Lineups
Rowdies XI (4-3-3): GK Matt Pickens; D Darnell King, Justin Chavez, Tamika Mkandawire (c), Walter Ramirez; M Martin Vingaard (Junior Burgos 64′), Joe Cole, Michael Nanchoff; F Eric Avila (Tommy Heinemann 46′), Georgi Hristov, Kalif Alhassan (Freddy Adu 74′)
Ottawa Fury FC XI (3-5-2): GK Romuald Peiser; D Mallan Roberts, Rafael Alves, Lance Rozeboom; M Jamar Dixon, Julian De Guzman, Mauro Eustaquio, Bryan Olivera (Giuseppe Gentile 84′), Maxim Tissot (Eddie Edwards 66′); F Carl Haworth (Ryan Williams 75′), Thomas Stewart