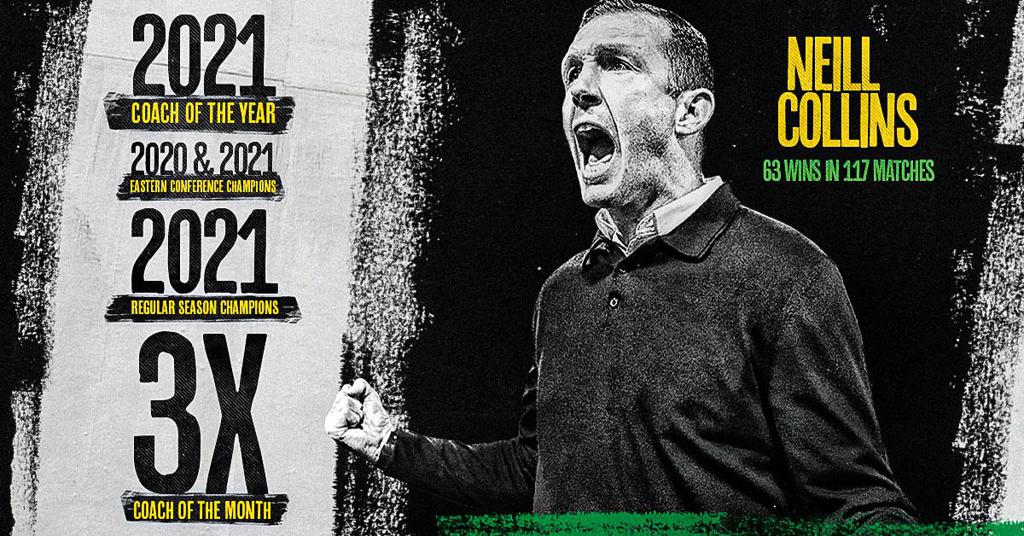 ST PETERSBURG, FL (December 10, 2021) – Since Neill Collins took charge as Head Coach of the Tampa Bay Rowdies midway through the 2018 season, the positive strides taken by the club on the field have been apparent to all. Collins will now have the chance to continue that progression in 2022 and beyond after inking a new multi-year extension to remain in Tampa Bay.
"I'm just grateful I've got people that see me as the best person to keep moving the club forward in the right direction," said Collins. "I see myself as a young coach in the best environment to be successful and to keep improving. That's no different to some of our young players and some of our old players. We can all improve and that's what we're striving to do. If I didn't think we could still improve and that I couldn't still get better, then I would have looked at another opportunity. For me here, I wouldn't say we've just scratched the surface, I think we've maybe done a little bit more than that, but we've still got lofty ambitions that we want to achieve and that's what we've started working on pretty much immediately once the season finished."
Under Collins, the Rowdies have developed into one of the USL Championship's top teams, claiming back-to-back Eastern Conference titles to earn two straight appearances in the league's championship final the last two years. Collins was named 2021 USL Championship Coach of the Year after guiding the Rowdies to the best regular season record in the league for just the second time in club history. Prior to this year, the 1976 Rowdies were the last team to finish on top in the regular season. 
Tampa Bay's 71-point total this season ranks third all-time in league history and the club's 13 wins at Al Lang Stadium in the regular season matches a league-record for home victories. The Rowdies also continued to dominate defensively for the second season in a row, posting a league-best 15 shutouts in the regular season and recording a record-breaking 891-minute streak without conceding a goal.
 "It did not take long at all to realize Neill was a different breed of coach when he took over several years ago, one that this club needed to reach a level worthy of the Rowdies name and our dedicated supporters," said Rowdies President Lee Cohen. "Neill's hunger and desire to wake up every day and find a way to get better exemplifies everything we are about as a club. We could not be happier to know Neill will be continuing to lead our club and working tirelessly to bring another championship home to Tampa Bay."
Collins came to the Rowdies as a player in 2016 and quickly established himself as an anchor of the defense and one of the best players on the squad. However, the Scotsman gave up his playing career when the opportunity to step in as head coach presented itself during the 2018 season. Now, at only 38 years old, Collins is already the winningest coach in the Rowdies' modern era. As he heads into his fourth full season at the helm, the young coach has recorded 63 wins and 23 draws in 117 matches from the sideline.
"The results on the field speak for themselves," said Rowdies Vice Chairman Brian Auld. "What truly separates Neill as a coach and as a leader is his ability to take in the whole picture. He takes the time to connect not just with every player, not just every staff member, but with just about every fan too. He truly cares about our entire organization and our community and for that we are fortunate, grateful and proud."
While Collins remains firmly in his position as head coach, Tampa Bay's coaching staff will undergo some changes ahead of the 2022 season. Assistant Coaches Kevin Foley and Chad Burt have both departed the club after two seasons of faithful service, leaving the door open for two new coaches to join the technical staff. Meanwhile, Assistant Coach Stuart Dobson and Performance Coach Pete Calabrese will both continue in their roles at the club after signing extensions.
"Chad and Kevin have both helped take this club to another level," said Collins. "They've certainly helped me as a coach to really support me in everything I'm trying to do. People that get to work with these guys day-to-day, not just the players but the staff, can see they're 100 percent bought into what we're trying to do. They're just great people, and you can't underestimate the impact they've had on not just the players but the people around them. They're just willing to do whatever it takes. They'll be missed, but it's part and parcel of being part of a professional organization. Good people come and good people go, and you've got to just try and find people to replace them so that we can keep moving forward. From a personal point of view and then a team point of view, we're better off having had them for two years. There's no doubt about that."
The new additions to the Rowdies' coaching staff will be announced at a later date. Additionally, announcements regarding returning players and new players for the 2022 season will be made in the near future.