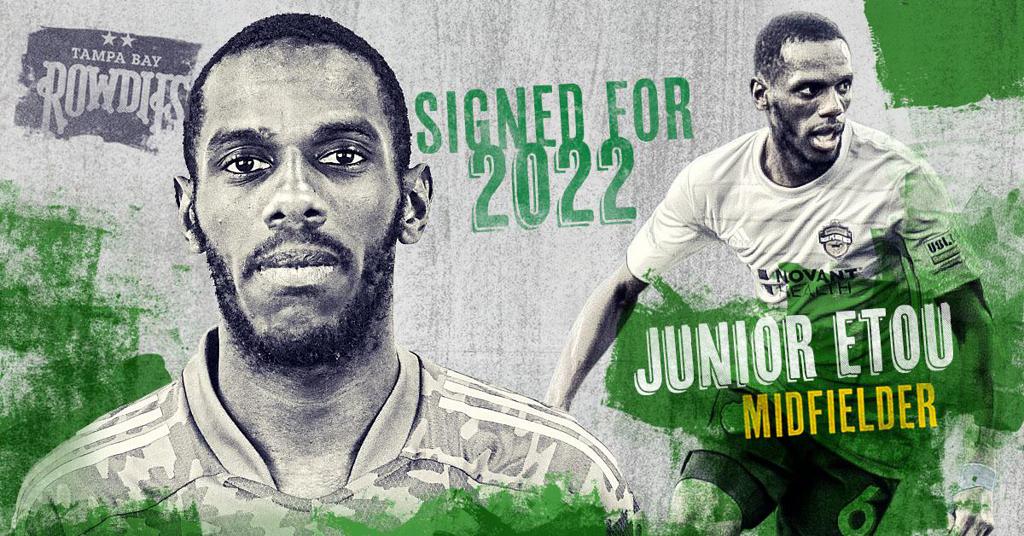 ST PETERSBURG, FL – The Tampa Bay Rowdies roster grew again on Tuesday with the announcement that midfielder Brunoallergene Junior Etou has signed with the club for the upcoming 2022 USL Championship season.
Etou is the second former member of the Charlotte Independence to join the Rowdies this off-season, following the addition of ex-Independence midfielder Jake Areman on Monday. The 27-year-old central midfielder joined Charlotte in early 2020 and was a regular in the lineup that year, starting in all 17 of his appearances. He then made 6 appearances for Charlotte in 2021, and even recorded a game-winning goal against the Rowdies.
Etou made himself an important cog in Charlotte's system with his sound technical abilities and sturdy defensive work to hold the team together in the center of the field. These are the skills Rowdies Head Coach Neill Collins hopes to see Etou bring to the Green and Gold.
"When you play against players, it's obviously easy for them to catch your eye. It can also happen when you're scouting teams and watching so much of their footage playing against other teams. People catch your eye with the things that they do and Junior was one of those players," said Collins. "I felt that when we played Charlotte, he was annoying. He was annoying because he kept disrupting the game, winning the ball and never really giving it away."
Born in Brazzaville, Republic of the Congo, Etou moved to France as a young child and steadily worked his way up the ranks of the country's amateur soccer scene. As a teenager, he landed at J.A. Drancy in the lower tiers of French soccer. He remained with the club for five years before eventually moving on to Monts d'Or Azergues in 2017. The following season, Etou made his professional debut for AS Béziers, making 17 appearances for the second division side. Shortly after making his debut, Etou was called up by the Republic of Congo's national team for an Africa Cup of Nations qualification match.
With his skillset, Etou provides the Rowdies positive competition in midfield. His work rate and ability to operate from box to box makes him an ideal player for the middle of the field.
"Junior can carry the ball quite similar to Yann," Collins noted. "They're both French, so maybe it's something in the water in France. He drives the ball forward into space and carries the game up the field. So I think he can compliment our midfielders and give them competition. He gives us someone that can play as a number six, or play as a number eight, and then he also knows the league. Again, that's a big thing for me. He's played overseas in France and he's played in the USL as well. He's someone that we're excited about. We looked into bringing him in last year and couldn't make it happen. I'm glad we were able to bring him home now."
Confirmed 2022 Rowdies Roster so far:
Goalkeepers: Raiko Arozarena.
Defenders: Jordan Scarlett, Timmy Mehl.
Midfielders: Conner Antley, Yann Ekra, Sebastian Dalgaard, Dayonn Harris, Jake Areman, Junior Etou.
Forwards: Steevan Dos Santos, Lucky Mkosana, Jordan Adebayo-Smith.
Stay tuned to the Rowdies social media channels on Twitter, Facebook, Instagram for more new additions to the roster as well as more announcements regarding returning players.
The USL Championship recently announced that the Rowdies home opener is set for Saturday, March 19 versus Indy Eleven. Tampa Bay will kick off the season the prior week at Birmingham Legion FC. The full 34-match regular season schedule will be revealed on Wednesday, January 12. Season tickets for 2022 start as low as $170 for the slate of 17 home matches set to be played at Al Lang. Fans can lock in their season tickets today to ensure they don't miss a moment of action by calling 727-222-2000 or by visiting https://www.rowdiessoccer.com/tickets.