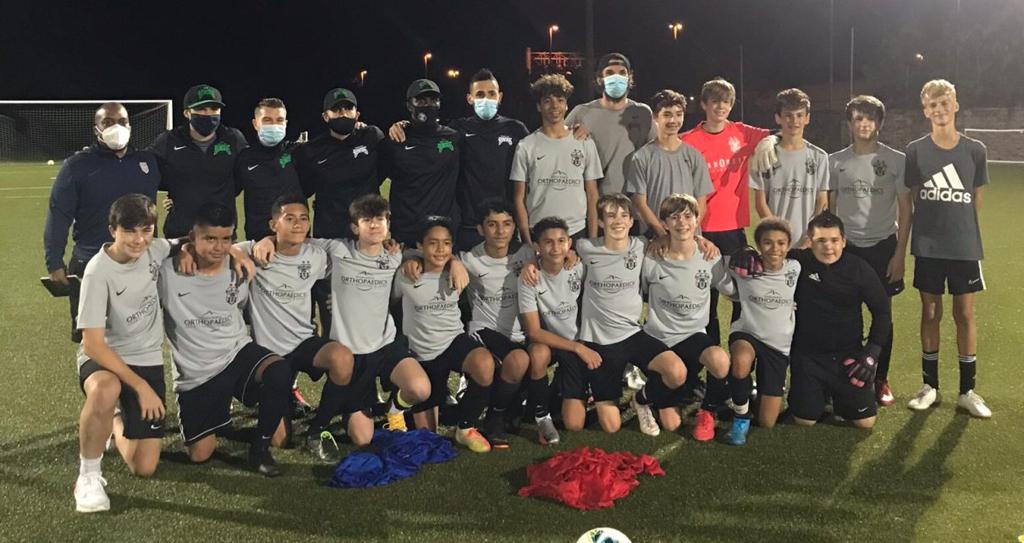 A handful of Tampa Bay Rowdies players have not remained idle in the offseason.
Sebastian Guenzatti, Leo Fernandes, Forrest Lasso, Yann Ekra, Zach Steinberger, Lewis Hilton and Lucky Mkosana all are among a class of 31 active USL Championship players participating in a coaching course that allows them to pursue their first coaching licenses. The course is a collaborative effort between the USL and US Soccer Federation to open up more opportunities for players to get into coaching. This is the second year that the course has been offered.
The USL's Seniors Director of Youth Devlopment Liam O'Connell shared a few images of the Rowdies players working with youth players from Tampa Bay United as part of their course last week.
The web of Rowdies players involved in coaching at the youth level continues to grow. While helping out with his son's youth team recently in St. Petersburg, Tampa Bay Rowdies Head Coach Neill Collins even ran into midfielder Yann Ekra, who was coaching his own team on the adjacent field.
"When I got the opportunity to speak at a committee meeting two years ago I told the USL I felt they needed to do more to help our players get on these licenses because up til that point they weren't very accessible during the season," Collins said. "The USL have done a fantastic job of creating this opportunity for all pro players to start their coaching. The C Licenses are a really good start. The boys have really enjoyed it. They've been talking about it a lot. I think it'll really help us a lot because you get a deeper appreciation of football in general by going through these courses. I'm delighted. I think we're a club where we want to promote our players learning and who knows what player will be sitting in my seat in years to come. Chad Burt's an assistant and he played here and obviously I played here. We talk about trying to create these elite pathways (for youth players), who better to be a part of that than guys who know how we want to play and how we want to operate?"
That last point seems important in particular. By opening up this chance for players to get involved with coaching, the local talent pool can also benefit. Former Rowdies defender Andres Arango is a well-respected academy coach at Chargers Soccer. On top of being a former striker for the Rowdies, current Rowdies Assistant Coach Chad Burt is a St. Petersburg native and has been a longtime fixture in the area with Strictly Soccer.
"I do think that's the kind of people that you want to help and educate because they've not only played the game, they've experienced the pathway as a young player as well," Collins said. "It's good to see (USL) starting to do a better job in that. My son is going through grassroots soccer right now. I think the more coaches you can get at that level that have been through and played the game the better. Because right now you've got people that have not necessarily played at a high level and what they do is tend to coach to the level that they played. You want to try and get these kids to reach their potential, which is probably unlimited, as opposed to the way you were maybe coached in high school or middle school. That then ends up being their ceiling."
Collins has also been furthering his education as a coach this offseason. He's continued on with his course to earn his UEFA Pro License. He was one of 20 candidates chosen last year to take part in the 2-year course offered through the Scottish FA. The plan was for the candidates to observe the UEFA Champions League for a week in May, but the uncertainty due to the pandemic means Collins isn't sure he'll be able to travel to Europe.
In the meantime, though, Collins recently used the connections from Rowdies ownership to snag an interesting interview with a coach from a different sport — Tampa Bay Rays Manager Kevin Cash.
"I was fortunate to get the chance to speak with not just a coach but someone that's operating at a high level, has done a great job and kind of took the job under similar circumstances to myself as a young coach. That was great to use the UEFA Pro License to get the chance to speak with him was very good."
For his assignment in the UEFA License course, Collins picked Cash's brain on the topic of leadership.
"Kevin was really open,"he said. "The interview was really based around leadership and management and his approach to that. You can tell from the 30 minutes I got to speak with him why the Rays run such a great team under him. He's very open minded and forward thinking. I definitely learned a couple things. Coaching is coaching no matter the sport. You take away the X's and O's,  and how you coach players is pretty similar."