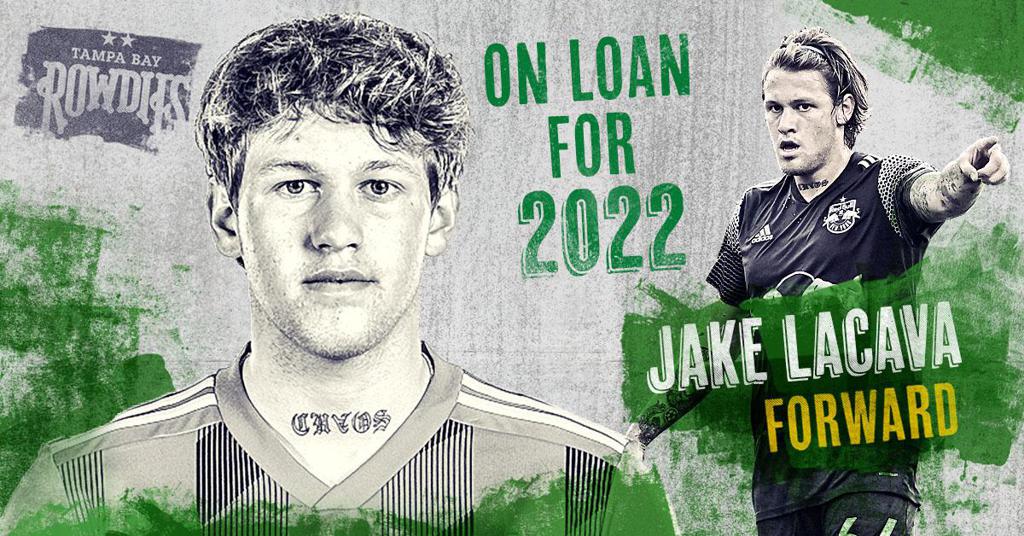 ST PETERSBURG, FL – The Tampa Bay Rowdies have picked up a potent attacking option for the upcoming 2022 USL Championship season. On Thursday, the Rowdies announced the addition of forward Jake LaCava on loan from Major League Soccer's New York Red Bulls.
"Jake is someone we highlighted early on," said Rowdies Head Coach Neill Collins. "Thankfully, we were fortunate New York allowed him to come here and continue his development to get to that next step up to MLS, which is great."
LaCava celebrated his 21st birthday this month and already has two seasons of professional soccer under his belt with New York Red Bulls II. In two seasons with New York, LaCava bagged 11 goals in 46 appearances. A native of New Jersey, LaCava spent two years developing at Barça Academy before moving on to LA Galaxy's academy and then eventually the New York Red Bulls academy.
LaCava's contract with New York Red Bulls II in the USL Championship ended at the conclusion of the 2021 season, but the young attacker's performance and growth as a player over the last two seasons convinced the organization to secure him to a MLS deal. For Collins, LaCava's fitness and work ethic on both sides of the ball made the young players an appealing addition.
"Jake has the attributes we like in a number 10," said Collins. "The thing that always comes to people's minds when it comes to a number 10 is what they bring on the ball, and he brings a lot on the ball. He's direct, he can shoot from distance, he can go by players, he's strong, he's quick. He's really exciting to watch. But then the next bit is, to play on our team you need to bring something against the ball and he definitely brings that. He really works hard. He can get around the field and he's not gonna have a problem playing in our stadium and on our field because he's a fit player. He brings both sides to it. We're so excited to have him."
Stay tuned to the Rowdies social media channels on Twitter, Facebook, and Instagram for announcements on more additions to the squad for 2022.
Confirmed 2022 Rowdies Roster so far:
Goalkeepers: Raiko Arozarena.
Defenders: Jordan Scarlett, Aaron Guillen, Timmy Mehl.
Midfielders: Conner Antley, Lewis Hilton, Laurence Wyke, Yann Ekra, Leo Fernandes, Sebastian Dalgaard, Dayonn Harris, Jake Areman, Junior Etou.
Forwards: Steevan Dos Santos, Lucky Mkosana, Juan Tejada, Jake LaCava, Jordan Adebayo-Smith, Kyle Greig, Sebastian Guenzatti.
The USL Championship recently unveiled the full 2022 schedule for all 34 teams across the league. Following their season opener at Birmingham Legion FC on Sunday, March 13, the Rowdies will kick off their slate of 17 home matches with a matchup against Indy Eleven on Saturday, March 19. The best way for fans to ensure they don't miss a second of the action at Al Lang Stadium is by securing season tickets today. Packages start as low as $170 for all 17 home games and can be purchased by calling 727-222-000 or by visiting https://www.rowdiessoccer.com/tickets.