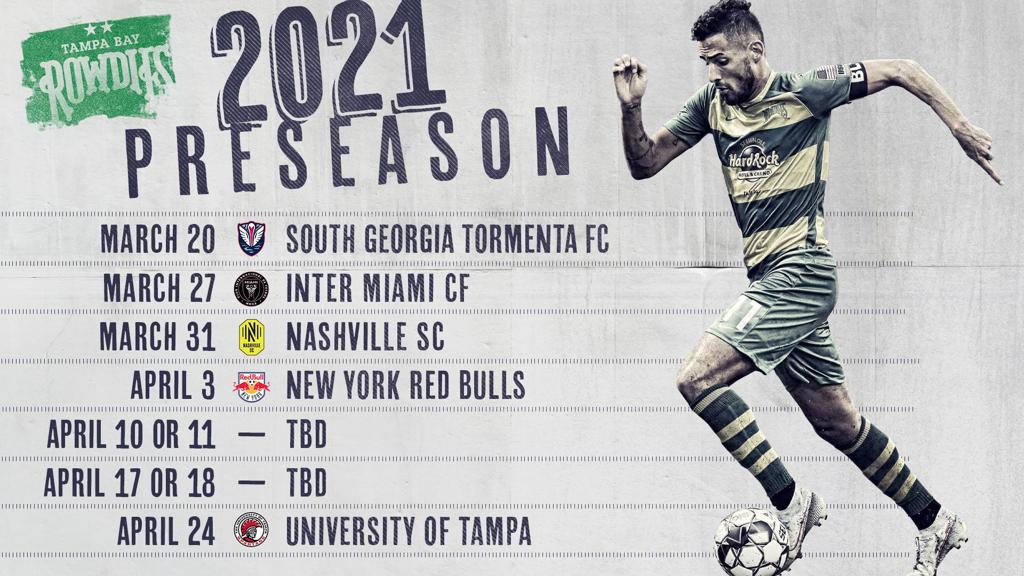 ST. PETERSBURG, Fla. (March 10, 2021) – The Tampa Bay Rowdies have announced a preseason schedule of at least six games to kick off on March 20, concluding on April 24.
Preseason opponents include three MLS teams, two USL League One teams and one collegiate team. For 2021, preseason games will not be open to the general public or media.
"It's been harder than normal to arrange a preseason schedule, but I think the club has done a fantastic job of putting together an exciting set of fixtures that will help us prepare for the season ahead," said Rowdies Head Coach Neill Collins. "Plus, playing multiple MLS teams will leave our roster hungry for the season, and I have no doubt they will relish the challenge of testing themselves against teams at higher levels." 
Matches against Tormenta FC on March 20, Inter Miami CF on March 27 and two additional matches still to be scheduled will all be played at Al Lang Stadium. IMG Academy will play host to matches against Nashville SC on March 31 and the New York Red Bulls on April 3. Finally, the match against the University of Tampa on April 24 will be held on campus. 
2021 Preseason Schedule 
March 20 – South Georgia Tormenta FC –  5 p.m.
March 27 – Inter Miami CF –  7 p.m.
March 31 – Nashville SC – 7 p.m.
April 3 –  New York Red Bulls  –  1:30 p.m.
April 10 or 11 – TBD
April 17 or 18 – TBD
April 24 – University of Tampa Men's Soccer – 7 p.m.
Schedule may be subject to change.