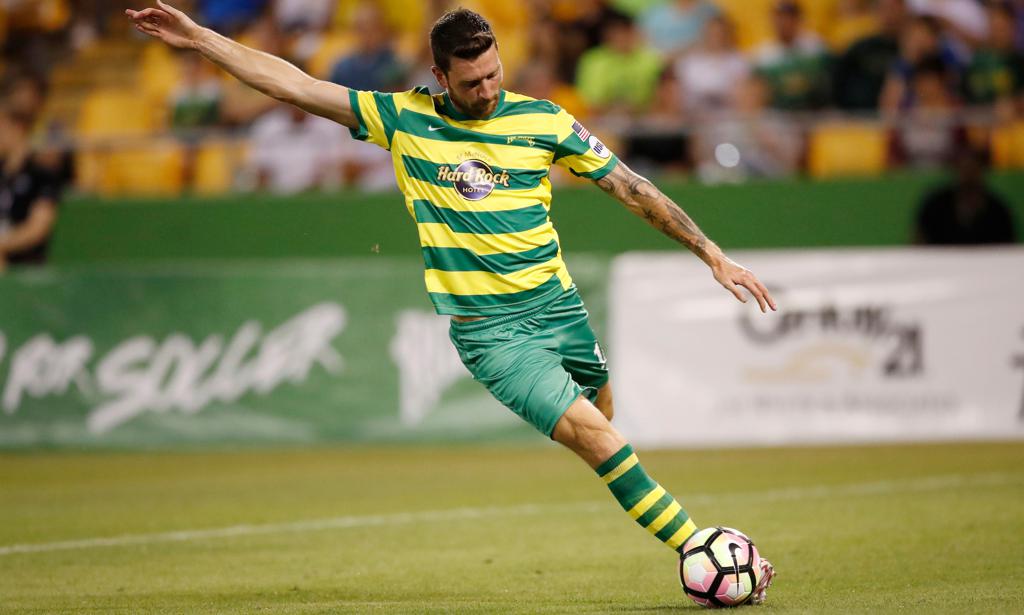 ST. PETERSBURG, Fla. (April 13, 2017) — After spending the previous six years in Orlando, Luke Boden joined the Tampa Bay Rowdies in January, making him the new guy on the block for the first time since 2011. 
The transition to a new locker room was as seamless as Boden could have ever imagined with everyone from Rowdies Owner, CEO and Governor Bill Edwards to the kit man being extremely welcoming from the first day he walked through the dressing room as the Rowdies were hosting VfL Wolfsburg in the Florida Cup.
"I was in Orlando for six years so I hadn't walked into a locker room where I didn't really know anybody for a while," Boden said this week. "It can be pretty nerve wracking. It's like going to a new school for the first time, but everybody at the club has been so welcoming.
"Being a new player and coming into a new environment, that was really important to me that everyone was so welcoming and helpful. It was massive for me to help me get settled down here and not having to worry about the stuff outside of the game."
The standout left back has made his presence felt in the starting eleven, starting the first three games of the season and helping anchor a defense that has not allowed a single goal during the first 270 minutes of the 2017 campaign.
Head Coach Stuart Campbell had nothing but praise for the new addition to his squad who also was named to the United Soccer League's Team of the Week on Tuesday.
"I've got to be honest, it's no surprise really," Campbell said of Boden's quick adjustment to his new team. "I've known Luke a long time and I've watched him on numerous occasions when he was just up the road in Orlando. I know what a good player he is and I've been trying to sign him for years."
Luckily for Boden, he didn't necessarily have to learn a new system, as Campbell likes for his fullbacks to get forward and be playmakers so that his goal scorers can make runs into the penalty area, something the Sheffield, England native was accustomed to from his time with Orlando City SC.
Not only did Boden have to adapt to a new team, but he also had to acquaint himself with a brand new city that was vastly different than the city 108 miles east of St. Petersburg that he called home for so long, but it's safe to say he's loving the Sunshine City so far.
"I said when I moved down here that I wanted to do more stuff outdoors," Boden continued. "When I was back in Orlando, my little boy had just been born. So obviously you're indoors a lot because it's difficult to take young babies everywhere, but now he is a 2-year old where we can go to the beach, we can go on the kayak, and a bunch of other things.
"There's no better place in the world than St. Petersburg for the amount of stuff you can do outdoors here. We are really enjoying it. I love it."