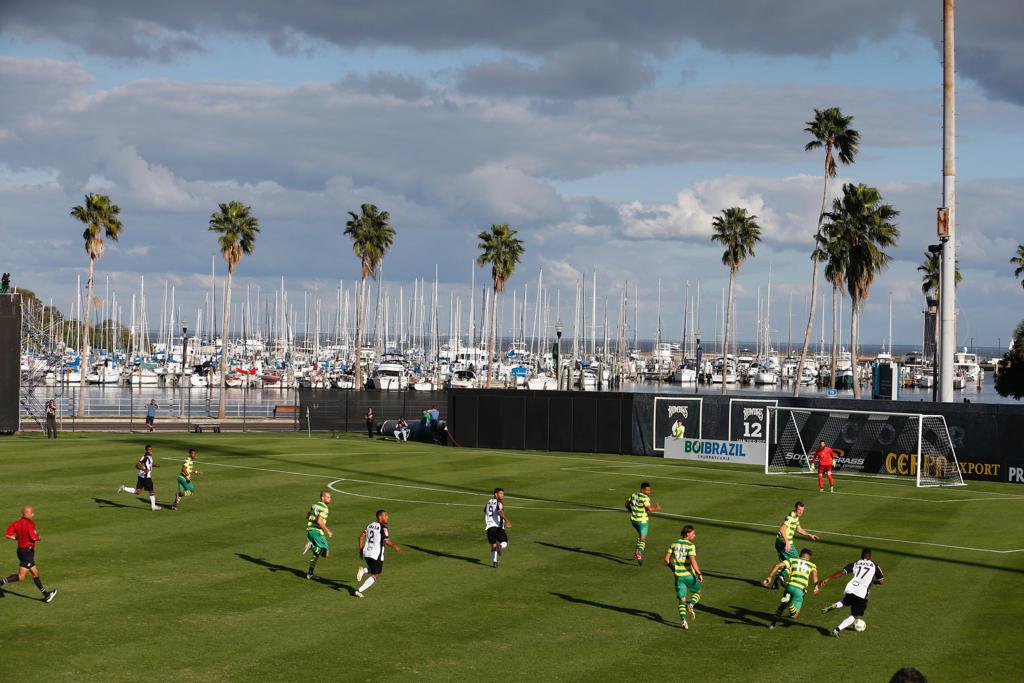 ST. PETERSBURG, Fla. (January 14, 2017) — The Tampa Bay Rowdies were beaten 2-0 Brazil's Clube Atletico Mineiro at Al Lang Stadium in the Rowdies' final match of the 2017 Florida Cup on Saturday afternoon.
Atletico Mineiro's Leonan Jose gave his side an early 1-0 lead, tapping in a rebound in the sixth minute after Tampa Bay goalkeeper Matt Pickens had made an initial save. Rodrigo Prado scored Atletico's other goal in the 52nd minute, nodding in a Patric Cabral free kick.
"I thought it was an ok performance," Rowdies Head Coach Stuart Campbell said. "(Atletico) looked a lot fitter and sharper than us, which is to be expected, given we're so early into preseason. They're a good team the way they move the ball and the way they move themselves."
Tampa Bay fielded a strong Starting XI featuring 10 signed players with one trialist, but both sides made plenty of substitutions in the second half with eight unsigned trialists featuring in the match for the Rowdies.
"I thought our signed players did ok, considering they've not had much practice together," Campbell said. "The trialists did well, too. It's hard coming in, not just from a physical standpoint, but a mental one too, because they think they've got to set the world on fire."
Rowdies star midfielder Joe Cole made his preseason debut in the match, impressing in his first 45 minutes of action in 2017.
Tampa Bay was dealt an early blow in the 7th minute when Atletico raced out to a quick counterattack. Matt Pickens saved a quick shot, but the rebound fell into the path of Leonan, who slotted it home from close range to put the Galo ahead inside of 10 minutes.
The Rowdies showed some good early chemistry in the first half, with Cole displaying a strong connection with new teammate Alex Morrell in the 13th minute on a long diagonal ball to the right wing.
Rowdies midfielder Martin Vingaard had Tampa Bay's first chance of the match in the 17th minute, but his shot from distance was saved.
Atletico nearly doubled its lead in the 32nd minute when Leonan whipped a mean free kick on target, but Pickens, making his preseason debut, made a spectacular save diving to his left-hand side.
Down 1-0 at the half, Campbell made his first four substitutions at the break, including giving new signing Luke Boden his Rowdies debut.
The Rowdies fell further behind in the 52nd minute, when Prado headed home a goal from a free kick. It would be the final goal of the match.
"We limited their chances, but that's the difference when you play teams at this level," Campbell said. "They don't need a bunch of chances to score, they just need one and they take it. You could see that tonight. They were very clinical."
Tampa Bay nearly provided a quick response, with Boden swinging in a cross for Morrell, who put it back across the face of goal, but trialist Jaime Siaj was unable to put his effort on target.
The Rowdies' best chances of the night came from Michael Nanchoff corner kicks, with Tamika Mkandawire and Siaj each rising to put headers on the ball, but both going wide of target.
Tampa Bay's Florida Cup is now over, but Al Lang Stadium will host one more match, with Brazil's Sao Paulo FC taking on either River Plate (Argentina) or Millonarios FC (Colombia) this coming Thursday. Tickets for that match are available here.
Scoring Summary
Atletico Mineiro: Leonan Jose – 6th minute (unassisted)
Atletico Minerio: Rodrigo Prado – 52nd minute (assisted by Patric Cabral)
Caution Summary
Tampa Bay: Michael Nanchoff – 29th minute
Tampa Bay: Martin Vingaard – 45th minute
Atletico: Nathanael Ananias – 53rd minute
Rowdies: Luke Boden – 68th minute
Starting Lineups
Tampa Bay XI: GK Matt Pickens (Nico Campbell* 46′); D Darnell King, Tamika Mkandawire, Neill Collins, Zac Portillos (Luke Boden 46′); M Keith Savage (Eion Wearen* 46′), Martin Vingaard; M Alex Morrell (Jacques Francois* 69′), Joe Cole (Jaime Siaj* 46′), Michael Nanchoff; F Jonathan Glenn*
Atletico Mineiro XI: GK Uilson Pedruzzi; D Patric Cabral, Jesiel Cardoso, Rodrigo Prado, Leonan Jose; M Nathanael Ananias (Matheus Roldan 74′), Lucas Candido, Ralph Machado (Daniel Penha 68′); F Carlos Alberto (Joao Figueiredo 79′), Elder Santana (Thalis Henrique 55′), Joao Vitor (Cicero Clebson 84′)