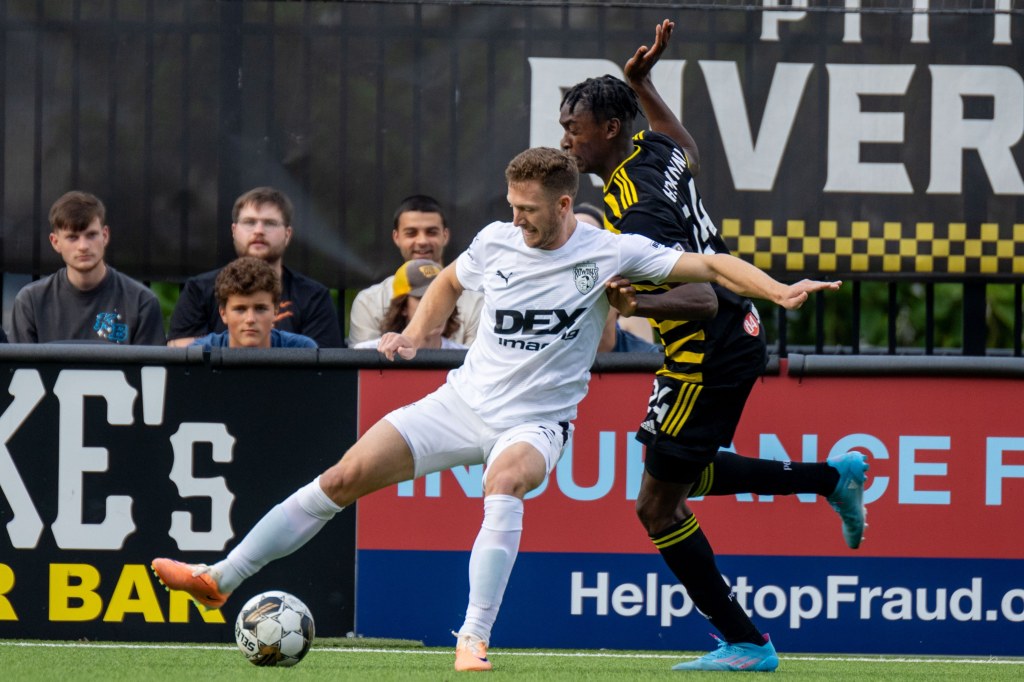 The Tampa Bay Rowdies fell 1-0 to Pittsburgh Riverhounds SC on Saturday night at Highmark Stadium, the first of two regular season meetings between the two Eastern Conference foes. An early tally by Albert Dikwa was all Pittsburgh need to seal all three points.
"Tonight's performance was everything I asked from an effort and fight standpoint," said Rowdies Head Coach Nicky Law. "They fought for every ball. They won first contact, second contact I thought better than Pittsburgh tonight. The disappointing part for me and the frustrating part is just the lack of belief and real quality. We didn't have any of that tonight.
Three minutes into the match, a clearance from Rowdies captain Aaron Guillen deep in Tampa Bay's corner was intercepted and immediately launched back into the final third by Pittsburgh. Guillen and center back Freddy Kleemann were both drawn in by Tola Showmuni, who threaded a pass between the two defenders to find the unmarked Dikwa for the finish.
"Those first few minutes were everything we didn't want to see," said Law. "We needed to be direct, play smart in the first five, ten minutes and we did not. We underhit a clearance and didn't get up the pitch quick enough. It was a really poor goal to give up from our standpoint. Your back's against the wall at that point and it's a really difficult pitch to come and create real clear cut chances."
Dikwa's strike was the only effort on target all night for Pittsburgh. Unfortunately for the Rowdies, they also only managed one shot on frame. In the 44th minute, forward JJ Williams did well to turn at the top of the box and shake off a defender before firing a shot into the arms of keeper Jahmali Waite.
Despite finishing the night with 60 percent of the possession in the match, the Rowdies struggled to break through Pittsburgh's defensive line. Tampa Bay's attack was hampered a bit early in the first half when wingback Dayonn Harris was forced out by injury.
"There's no excuse for how we attacked tonight," said Law. "We kept the ball, we moved it around quite nicely but there was no real cutting edge to us. That there was just no belief was the biggest thing for me.Three road games with no goals now. That's something we need to improve and rectify quite quickly."
With the result, Pittsburgh moves six points ahead of the Rowdies for the top spot in the Eastern Conference standings. However, Tampa Bay has two crucial games in hand on Pittsburgh and one more head-to-head matchup back at Al Lang remaining.
Next up, the Rowdies return home to host Monterey Bay FC for Fireworks Night at Al Lang Stadium on Saturday, August 12 at 7:30 p.m. ET. Tickets for the match can be purchased by clicking here.
Scoring Summary
PIT – Dikwa (Showunmi), 3rd minute
Lineups
TBR: Sparrow, Antley, Kleemann, Guillen, Harris, Doherty, Ekra, Areman, Dennis, Williams, LaCava
PIT: Waite, Ordonez, Farrell, Dos Santos, Rovira, Griffin, Ybarra, Forbes, Biasi, Showunmi, Dikwa