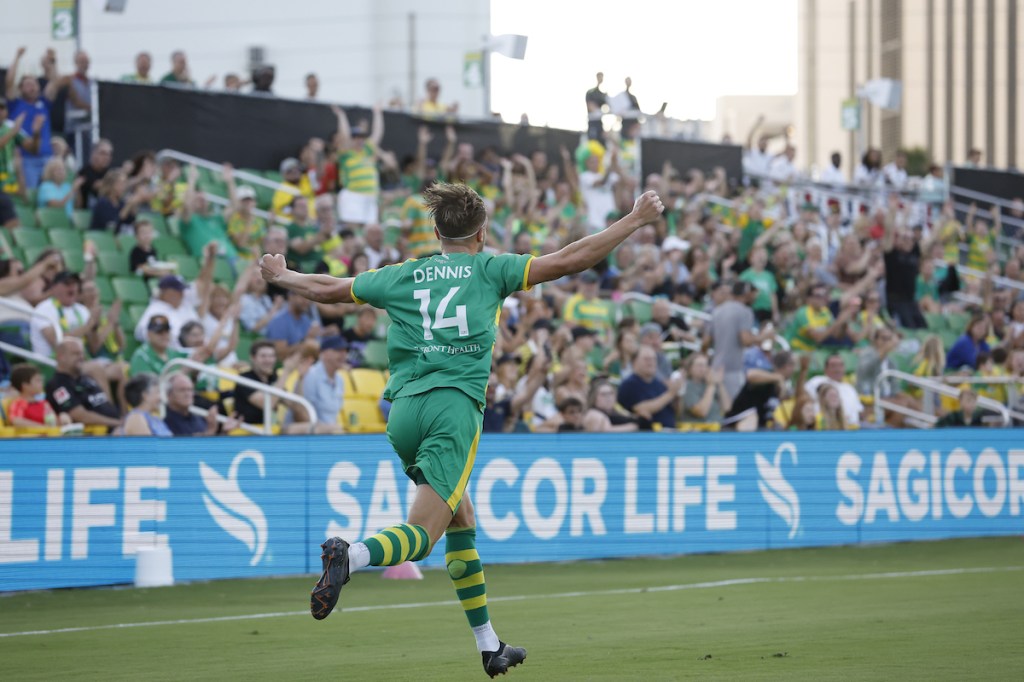 The Tampa Bay Rowdies increased their winning streak to five straight matches on Saturday night at Al Lang Stadium, knocking off the visiting Colorado Springs Switchbacks FC 2-1.
"So proud of the team tonight," said Rowdies Head Coach Neill Collins. "We're on a great run, but what I think people can overlook is how these lads have been relentless. We're light right now. We've got key guys out right now, but these guys have been going out and putting in performance after performance in."
As did in their last two outings at home, the Rowdies grabbed an early lead to lay the groundwork for another positive result. In the 7th minute, Midfielder Charlie Dennis curled in a dangerous corner kick that Colorado Springs keeper Chirstian Hererra attempted to punch away but only managed to redirect it across his own line.
The Rowdies continued to push for a second and came close several times throughout the first half. Center back Forrest Lasso sent a header wide of the frame in the 14th minute, while a rocket from midfielder Jordan Doherty ten minutes laters was parried into the crossbar by Hererra.
In the 40th minute, Ryan Spaulding found an unmarked JJ Williams on the back post but the forward sent his attempt wide right. Williams made the most of another delivery from Spaulding four minutes later, though. Spaulding slotted a perfect ball between a defender and the keeper for Williams to convert with a sliding finish.
"Tonight, some of the attacking play was really exciting," said Collins. "I was so pleased to get that goal just prior to halftime. I think to come in one-nil maybe would not have been a fair reflection on our performance. But to be fair, you aren't given goals. You have to earn them and we got that, which was great."
Tampa Bay started the second half brightly but failed to add a third goal. After keeping the visitors at bay for most of the night, Jairo Henriquez landed a blow with a well-struck shot from outside the box in the second minute of stoppage time.
"I have so much admiration for the players' performance levels, but there's still so much more potential to keep getting better and keep working," said Collins. "The first half performance was excellent. The only negative being that we could have been more ruthless and had a little bit more quality. Even for the first 20 minutes of the second half I felt we should have taken a lot more opportunities. That's me nitpicking. The boys are doing fantastic right now. They're earning those points."
Next up, the Rowdies will host the current top team in either conference, Sacramento Republic FC on Saturday, June 3 at 7:30 p.m. ET. Tickets for the match can be purchased by clicking here.
Scoring Summary

– TBR Hererra (Own Goal), 7th minute
– TBR Williams (Spaulding), 44th minute
– COS (Henriquez), 90+2th minute
Lineups
TBR: Sparrow, Antley, Kleemann, Lasso, Guillen, Doherty, Ekra, Harris, Dennis, Spaulding, Williams

COS: Hererra, Lacroix, Agren, Seagrist, Mahoney, Skundrich, Williams, Echievaria, Foster, Magee, Beckford