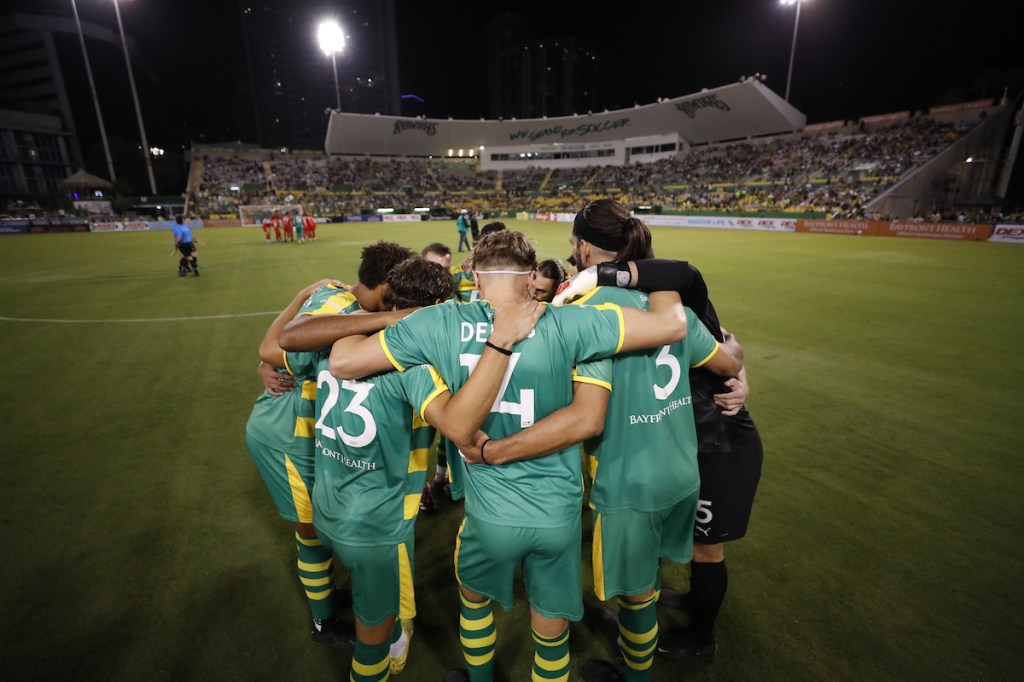 ST. PETERSBURG, FL – The Tampa Bay Rowdies were just a few minutes away from claiming victory in their season opener against Indy Eleven on Saturday night in front of 6,983 fans at Al Lang Stadium. A controversial penalty deep into stoppage time, though, allowed the visitors to find an equalizer and finish 1-1.
"A lot of work to do based on tonight," said Rowdies Head Coach Neill Collins. "This is where we start learning about the group. I think we've got some really good players that will settle down and go on to do good things."
Tampa Bay suffered a blow only nine minutes into the match when stalwart midfielder Lewis Hilton was forced out with an injury. Veteran Yann Ekra stepped in to fill the gap, but the Rowdies struggled to put consistent pressure on Indy.
Rowdies newcomer Cal Jennings had a chance to grab a go-ahead goal after Indy defender Jesus Vasquez handled the ball in the box. Jennings powered his attempt from the penalty spot toward the left side of the goal, but keeper Yannik Oetti made a diving save.
Substitute Jake Areman broke the deadlock in the 57th minute with an assist from wingback Sebastian Dalgaard. Whipping a cross in from the right flank, Dalgaard found Areman streaking toward the far post for an emphatic finish.
"A great goal, the typical kind of Rowdies goal that we'd expect,' said Collins. "Jake took it really well. That's a positive for tonight, getting Jake Areman back and him coming on and scoring the goal, and also Seb Dalgaard provided the assist. If we'd had a bit more quality in some of those moments we would have had one or two extra goals."
The visitors made the most of the five minutes of stoppage time to get back level terms. Former Rowdies forward Sebastian Guenzatti shielded Rowdies Center back Forrest Lasso from the ball a few yards outside of Tampa Bay's box and the defender was whistled for the foul. To the protestations of the Rowdies and all those at Al Lang, the referee pointed to the penalty spot. Aodhan Quinn stepped to the spot and converted.
"I could've done a lot better, but he used his body well," said Lasso. "The ref made a decision and you've got to respect it. It is what it is. I can just do better there to keep him out of threatening positions. It's a mistake, but mistakes happen. All you can do is learn from it and keep moving forward."
The Rowdies make their first road trip of the year next Saturday to face Orange County SC.
"We've got 33 games ahead of us," said Collins. "There's going to be lots of points up for grabs. We always try to come in and get better on Monday whether we win, lose, or draw. Nothing's changed tonight. It's a stark reminder for the players that you've always got to perform and take care of the details."
Scoring Summary
TBR – 57th minute, Jake Areman (Sebastian Dalgaard)
IND – 95th minute, Aodhan Quinn (Penalty)
Lineups:
TBR: Breno; Doherty, Lasso, Guillen; Antley (Areman, 46′), Herivaux, Hilton (Ekra, 9′[Martinez, 85′]), Dalgaard, Dennis; Jennings (Harris, 76′), Williams (Kleemann, 86′)
IND: Oetti; Boudadi, Diz Pe, Vazquez, Rissi (Rebellon, 60); Blake, Lindley (Robledo, 84′), Quinn; Fjeldberg (Tejada, 68′), Guenzatti, Asante