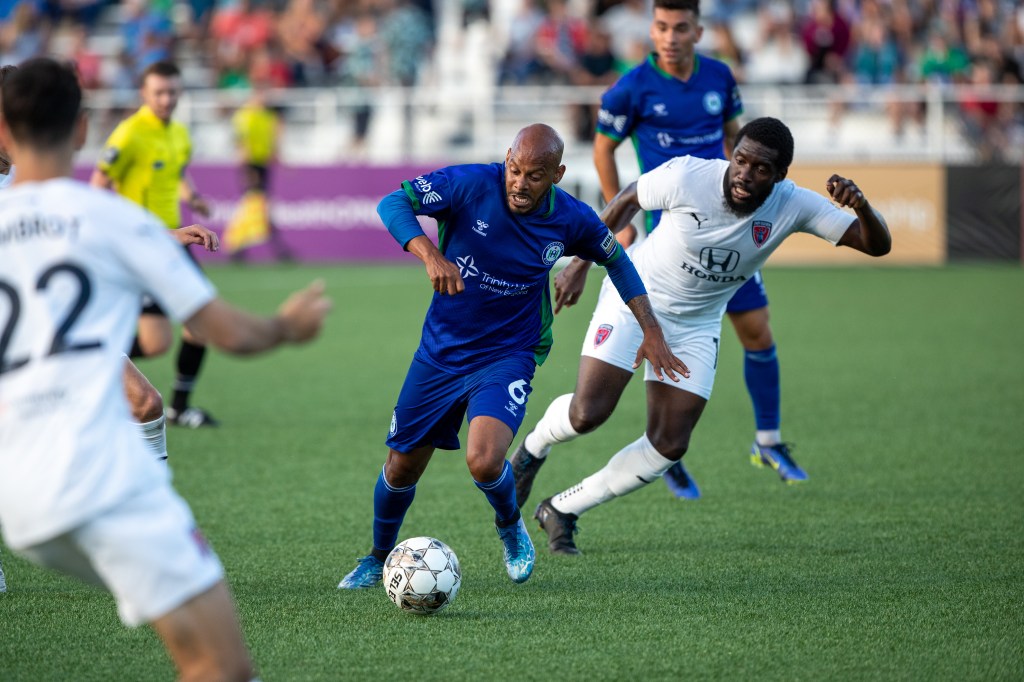 ST. PETERSBURG, Fla – On Thursday, the Tampa Bay Rowdies added a veteran attacking option for the upcoming USL Championship season with the announcement that the club has signed Ariel Martinez. The deal is pending league and federation approval.
"I am very happy because this is a team that has the right mentality and it'll help my mentality grow as well," said Martinez. "I am going to be around players who have the same mentality as mine and the same hunger as mine. In the last few seasons, the title has slipped away from Tampa Bay and I am here to help the club reach that goal. Personally, that is my goal, and what better way to do that than to be in the right place and with the right people."
Martinez spent the 2022 season with Hartford Athletic, where he bagged a team-leading nine goals in 22 appearances. Prior to joining Hartford, the 36-year-old attacker also played for the Charleston Battery, FC Tulsa, and Miami FC. Martinez has netted 17 goals and 11 assists total in his time in the USL Championship.
"Ariel is a real creative player," said Rowdies Head Coach Neill Collins. "Whenever we faced him, I felt we always had to be mindful of him. His desire to come here and his desire to be a part of a team that wants to achieve success played a big part in his signing. Ariel is a player that can play in a lot of positions, but he really does the most important things, and that's creating and scoring goals."
Born in Sancti Spíritus, Cuba, Martinez has a robust resume for his home country on the international stage, notching 34 goals in 55 starts. Martinez defected from Cuba during the 2015 CONCACAF Gold Cup and went on to make his American debut with Charleston later that year. Between 2016 and 2019 Martinez played for Miami FC in the NASL and NPSL, recording 23 goals and 16 assists.
The Rowdies are set to kick off their 34-match campaign at home on Saturday, March 11 versus Indy Eleven. View the full schedule here. Single-game tickets will go on sale to the public in February. Fans can secure season ticket packages by visiting rowdiessoccer.com/seasontickets or calling 727-222-2000.
Current 2023 Rowdies Roster
Goalkeepers: Raiko Arozarena, Connor Sparrow
Defenders: Conner Antley, Aaron Guillen, Freddy Kleemann, Forrest Lasso
Midfielders: Jake Areman, Sebastian Dalgaard, Charlie Dennis, Jordan Doherty, Yann Ekra, Leo Fernandes, Dayonn Harris, Zach Herivaux, Lewis Hilton
Forwards: Ariel Martinez, JJ Williams