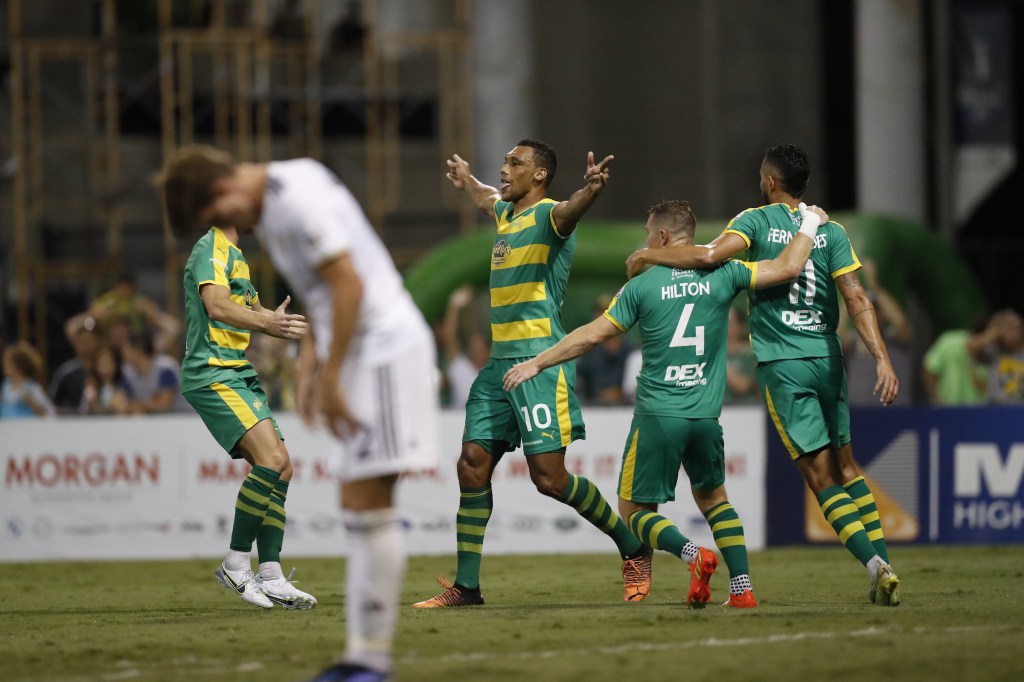 ST. PETERSBURG, FL – The Tampa Bay Rowdies are now unbeaten in thirteen straight matches after a gritty 1-0 victory over Detroit City FC at Al Lang Stadium on Saturday night. Forward Steevan Dos Santos notched his fifth goal in four matches to secure Tampa Bay's seventh straight win.
For the second home match in a row, the Rowdies fired off 29 shots on the opposition. The last time they took that many shots, the Rowides netted three goals. This, though, it took a little longer to break through and the Rowdies only notched one goal.
"Sometimes you've just gotta be patient," said Rowdies Head Coach Neill Collins. "We play a 90-minute game for a reason. You know the gaps will appear, and they did and we took it."
Detroit's keeper Nathan Steinwascher showed why he tops the USL Championship in saves. Steinwascher denied the Rowdies 9 times on Saturday night, including a leaping denial on Yann Ekra in the 9th minute and then a strong stop on a Sebastian Dalgaard blast to the near post in the 15th minute.
Steinwascher did need an assist from a teammate in the 11th minute, though. Dos Santos shook off a defender and chipped the ball past the keeper only for defender Matt Lewis to swoop in and clear the ball off the line.
Dos Santos got his goal just past the hour mark, pouncing on a rebound opportunity in the box. Lewis Hilton guided a low strike on frame from distance that forced Steinwascher to lay out for a save. Sensing the moment, Dos Santos jumped on the loose ball and clipped the ball over Steinwascher.
"That's where a striker that has scored over a hundred goals would expect to be, in the box, ready for the keeper to make a good save and put it back into play," said Collins. "He's on a great run. In the second half, I thought he was terrific. The first half, we expected a little bit more, but he really raised his game and set the platform for us to win the game."
With the win, the Rowdies remain one point back of Louisville City FC for the top spot in the Eastern Conference. The two sides will meet next Saturday night at Lynn Family Stadium.
"These guys gave us everything tonight," said Collins. "Detroit must be knackered because they gave everything as well. I can't be hard on the boys tonight because they pushed all the way."
Scoring Summary
TBR – Dos Santos, 64'
Lineups
TBR: Cochran: Wyke, Scarlett, C. Antley, Guillen; Dalgaard, Hilton, Ekra (Law, 33'); Fernandes (Guenzatti, 87′), Dos Santos (Mkosana, 76′), LaCava (Harris, 46′)
DET: Steinwascher; Lewis, Carroll, Ouimette; WIlliams, Diop, Rodriguez (Dunwell, 69′), Wynne (Tanyi, 87′); Rutz, Bottello Faz (Atuahene, 64′), Hoppenot