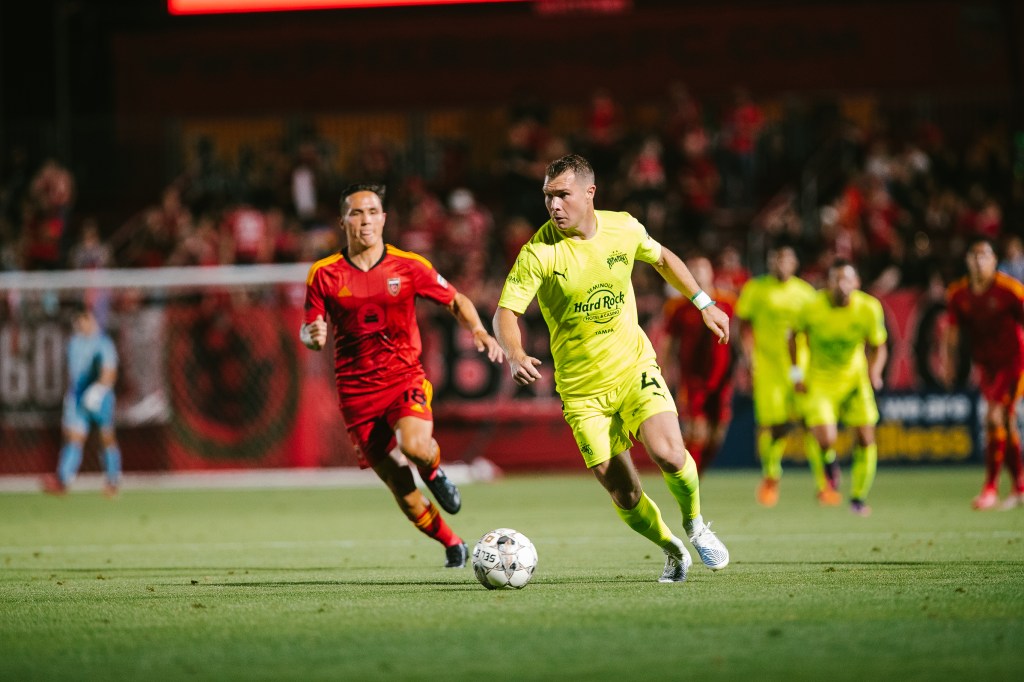 The Tampa Bay Rowdies recovered from an early concession to Phoenix Rising FC on Sunday night at Wild Horse Pass, putting five unanswered goals past their hosts to record a 5-1 result and claim their first victory in a month.
"Watching training this week is the biggest thing that gave me belief that we're going to come through this period because you can't play and train the way our boys have this week and not take that onto the field at some point," said Rowdies Head Coach Neill Collins. "I'm glad it was tonight, and now we need to build on it. We've come through a really difficult schedule… We've shown tonight we've got all the makings of being a top team and we just need to do that consistently."
The opening stages of Sunday's match felt familiar to many of Tampa Bay's matches so far this season. Despite holding the majority of possession and keeping Phoenix under pressure up top, the Rowdies found themselves down after Phoenix converted their first look at goal of the night. Santi Moar centered a cross from the left flank for Arturo Rodriguez, who tapped it further across goal for teammate Luis Seijas to bury into the net.
Tampa Bay answered Phoenix's opening goal nine minutes later. A lofted cross from Dayonn Harris was parried out of the box by keeper Ben Lundt, but the Rowdies' Jake Areman collected the ball and passed it off to Jake LaCava, who then executed a textbook give-and-go with Leo Fernandes. LaCava found Fernandes just inside the box and then sprinted forward to latch onto a superb backheel pass from Fernandes and smash the ball past Lundt at the near post. The tally is LaCava's club-leading fifth goal of the season so far.
The Rowdies showed no signs of relenting after the equalizer. In the 30th minute, Lewis Hilton threatened to put the Rowdies up when he sent a scorcher shot from 30 yards out just wide left of goal. CJ Cochran was called on to keep things level three minutes later when Seijas volleyed an attempt from the center of the box on frame.
A breakthrough moment finally came for the Rowdies in the 36th minute. Midfielder Lewis Hilton broke Phoenix's defense wide open with an outstanding pass into space for right wingback Dayonn Harris, who sped into the final third and weighted the perfect chip past Lundt with his first touch. Unfortunately, Harris' night ended five minutes later when he was forced to the bench with a knock. To replace Harris, Collins inserted Sebastian Dalgaard, who had sidelined since Tampa Bay's last win back on April 16.
The closing seconds of the first half and opening seconds of the first are likely where Sunday's match was won by Tampa Bay. Rather than settle for a one-goal lead at the break, the Rowdies third just before heading into the locker room and then bagged a fourth a little over a minute into the second half.
Areman initiated and capped off the sequence on the third goal, intercepting a pass in Tampa Bay's defensive half and redirecting it up field for LaCava, who returned the ball to Areman in the box for a low strike into the back of the net. Sebastian Guenzatti sparked the fourth goal when he stripped the ball off a defender and swiftly played Steevan Dos Santos into the box. Dos Santos fired an effort that may have been on its way into the goal but was emphatically put there anyway by a miscued clearance by Phoenix's Sivert Haugli.
"The cliche is goals change games but I thought the third goal was clinical from us and definitely gave us a real good foothold coming out in the second half," said Collins. "It's something I think we've not done a lot of this season. We've created a lot of chances, probably up there in the top three or four in the league, and we've not punished other teams enough but tonight we have. We know how important these moments are in games at either end of halftime and thankfully we capitalized on both of them tonight."
Phoenix was the victim of friendly fire again in the 68th minute when Dalggard sliced open space for a cross from the right edge of the box that was redirected into the goal by defender Ryan Flood. With Phoenix's Joey Farrell getting sent off after picking up his second yellow card of the night for a violent challenge trying to impede LaCava on the counter, the hosts really lost all hope of catching up to the Rowdies.
Next up, the Rowdies return home to host Pittsburgh Riverhounds SC on Saturday, May 21 at Al Lang Stadium. Pittsburgh currently sits second in the Eastern Conference standings with 22pts, six points ahead of the Rowdies, who moved into fifth in the conference with their win in Phoenix.
"We've set a standard tonight that we have to replicate," said Collins. "Hopefully the boys use that to boost their confidence. We know we play another top team next week that we know will be very, very difficult. For me, it's just good that the boys have shown what they're capable of. Everyone needs payback at times for their hard work and they got some payback tonight but come Tuesday the focus has got to be on how we do the same against a really, really tough Pittsburgh side."
Tickets for the match against Pittsburgh can be purchased here or by calling the Rowdies ticket office at 727-222-2000.
Scoring Summary
PHX – Luis Seijas (Arturo Rodriguez) 15'
TBR – Jake LaCava (Leo Fernandes) 24'
TBR – Dayonn Harris (Lewis Hilton) 36'
TBR – Jake Areman (Jake LaCava) 45+3'
TBR – Sivert Haugli (Own Goal) 47'
TBR – Ryan Flood (Own Goal) 68'
Lineups
TBR: Cochran; Scarlett (Mehl, 89'), Wyke, Guillen; Harris (Dalgaard, 41'), Hilton, Ekra, Areman (Guenzatti, 45'); Fernandes, Dos Santos (Mkosana, 79'), LaCava (Tejada, 79')
PHX: Lundt; King (Epps, 53'), Madrid (Anguiano, 54'), Farrell (RED CARD, 39' YC & 69' YC), Flood; Haugli, Sejias, Calistri; Moar (Antwi), Hurst (Repetto, 75'), Rodriguez (Harris, 75')