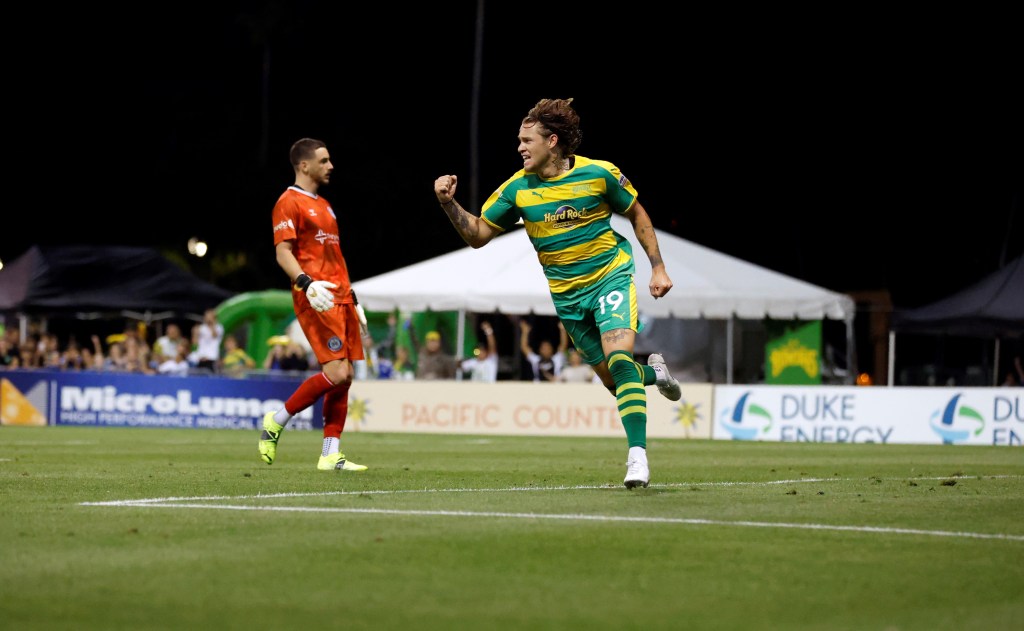 ST. PETERSBURG, FL – The Tampa Bay Rowdies capped a busy week on Saturday night with a 1-1 draw against Hartford Athletic in front of 6,061 supporters at Al Lang Stadium. Rowdies attacker Jake LaCava notched his third goal in as many matches, leveling the match just before halftime after the visitors grabbed an early go-ahead goal.
"We played them on two days' rest and they had a full seven days rest," said Rowdies Head Coach Neill Collins. "I credit our players that they came on and pushed right until the very end. I thought we could have done with a bit more quality but we'll look at that. I thought we might get something but it wasn't meant to be tonight."
Hartford dealt the opening blow to the Rowdies in the 6th minute. After having an initial shot blocked, the visitors retained possession and quickly worked the ball centrally for Joel Johnson to collect the ball and launch a shot from 25 yards out that nestled into the top corner.
Once the match progressed past the first 15 minutes, the Rowdies largely controlled the play. Steevan Dos Santos freed LaCava for a breakaway run on goal in the 19th minute, but Hartford keeper Austin Pack did well to cut down the angle and snuff out his low strike.
LaCava capitalized on a careless error from Pack to put the Rowdies back on level terms in the 39th minute. Pack ventured way off his line to intercept a through ball and then played the ball to a teammate, who attempted to quickly play the ball away as he felt the pressure from the Rowdies front line. LaCava, though, stuck his foot in to redirect the clearance back toward goal and Hartford had to watch the ball take a couple bounces before crossing the line.
"With the way we play we expect to get a goal off the press," said LaCava. "It doesn't always work out like that, but it's always nice when they do. You catch a little bit of a break and tonight we read that moment right… You catch a little bit of a break and things go back to level."
Tampa Bay's momentum carried on into the second half, but a second goal eluded them the rest of the night. Leo Fernandes and Sebastian Geunzatti had a nifty give-and-go in the 49th minute to spring Fernandes for a shot inside the box that ended up over the bar. Center back Jordan Scarlett got his head on a dangerous corner kick sent in by Lewis Hilton but his attempt skidded wide of goal. Substitute Juan Tejada had the most promising look as he guided a glancing header toward goal only for Pack to tip it away from danger.
The Rowdies next return to the field next Saturday, April 2 as they travel to face Oakland Roots SC. They then return home to battle in-state rival Miami FC on Saturday, April 9. Tickets for the match can be purchased here or by calling 727-222-2000.
Scoring Summary
HFD – Joel Johnson (Prince Saydee) 6'
TBR – Jake LaCava 39'