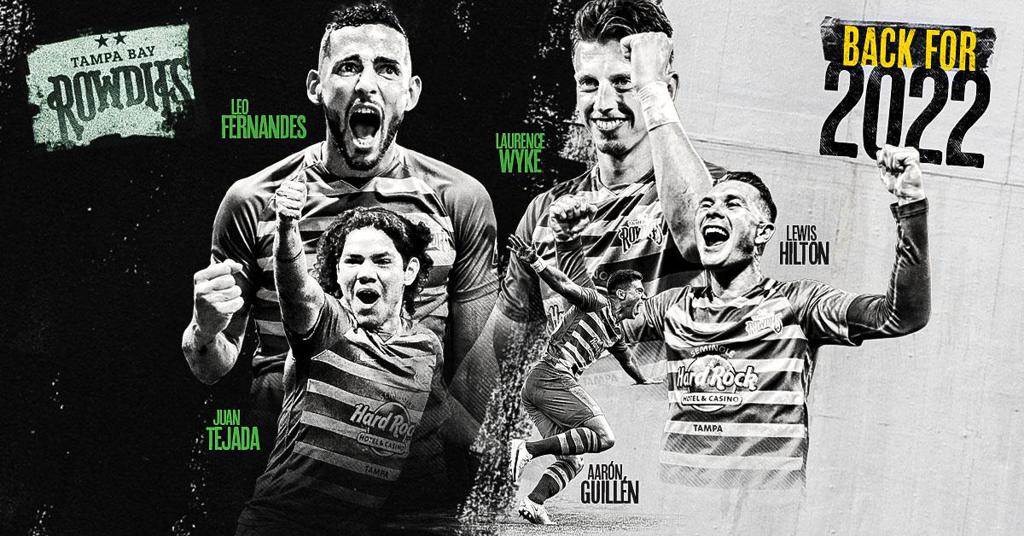 ST PETERSBURG, FL – The Tampa Bay Rowdies added to the club's list of returning players from the record-setting 2021 squad on Thursday with the announcement of five more for the upcoming season. The latest group of returning players includes center back Aaron Guillen, midfielders Lewis Hilton and Laurence Wyke, attacker Juan Tejada, and the longest serving Rowdies player, Leo Fernandes. All five players have agreed to new contracts to continue representing the Rowdies on the field.
"We've worked as hard to bring these guys back as we have to make any new signings that we're making," said Rowdies Head Coach Neill Collins. "We said this time last year, that continuity is just so key to what we want to keep achieving. These are the guys that have put us in the positions we've been in, so we're keen to bring them back and keep building on that."
Fernandes, 30, has been with the Rowdies since the club joined the USL Championship in 2017. This past season, Fernandes surpassed 100 matches played for the Green and Gold. As he heads into 2022, Fernandes' 119 appearances for ranks him fifth in the club's modern era. The veteran creative midfielder was as reliably productive as ever in 2021, bagging nine goals and five assists. With 21 total assists in his time with the Rowdies, Fernandes also now ranks second all-time in assists for the club.
Hilton, 28, will be returning for his third season in Tampa Bay. After finding himself in and out of the starting lineup throughout the 2020 season, Hilton took hold of the starting spot in central midfield in 2021 and never let go. Hilton started in 34 out of 36 matches for the Rowdies in 2020, working tirelessly to marshal the middle of the field while also providing pin-point set piece deliveries. With Hilton's stellar service, the Rowdies were again one of the most potent teams on set pieces. The English-born midfielder accounted for five assists in 2020 and notched a goal himself directly off a free kick.
Guillen also returns for his third season in Tampa Bay. The 28-year-old defender has been as steady and consistent as they come as the left-sided center back in Tampa Bay's three-man back line. Guillen started in all but one match for the Rowdies this past year as the club posted a league-best 16 clean sheets, including a record-setting 891-minute streak without allowing a goal which set the stage for the Rowdies to finish with the best record in the regular season. Guillen's performance in 2021 earned him a spot on the USL Championship's All-League Second Team.
"Lewis and Leo have just had fantastic seasons, and Aaron as well," said Collins. "The three of those guys have been so consistent, and I think consistency can't be overrated, because that's what gets you through those tough summer months. These are the guys that constantly produce."
Tejada, 24, will be entering his fourth season for the Rowdies. While injury sidelined him for much of 2021, Tejada was a valuable asset for the Rowdies up top when he returned to full health in the last few months of the season. Collins believes the former Eckerd College star, who tallied 12 goals in his first two seasons for the Rowdies, has yet to reach his ceiling.
"We all know what Juan is capable of," noted Collins. "Hopefully he can get a little bit of a break and stay fit. He showed last year when he started what a tremendous job he can do for the team. We all believe he's got even more to offer."
Wyke is the only player among Friday's batch of announcements who made his Rowdies debut in 2021. He entered preseason camp late last year as a trialist and the club signed the Englishman with the idea of having him as depth primarily on the back line. Instead, the 25-year-old gained the confidence of the coaching staff to become a regular starter in the center of the field next to Hilton, busting up opposing attacks and feeding into Tampa Bay's own attack. Expectations for Wyke in midfield are even higher now that he has a year of experience in the role to lean on.
"I enjoy watching Laurence play, just the energy he plays with," said Collins. "I think playing in midfield last year, he made it look as if he'd played there for a long time, but he hasn't. So, I suspect we can see him even more improved next year having had a year under his belt and a year in this environment. I expect to see him score more goals because he was very unfortunate in certain circumstances not to get more. I see in training how good he is, so I think we can see more goals from him as well."
With this latest batch of returning players, the Rowdies now have 17 players confirmed for the roster for 2022.
Confirmed 2022 Rowdies Roster so far:
Goalkeepers: Raiko Arozarena.
Defenders: Jordan Scarlett, Aaron Guillen, Timmy Mehl.
Midfielders: Conner Antley, Lewis Hilton, Laurence Wyke, Yann Ekra, Leo Fernandes, Sebastian Dalgaard, Dayonn Harris, Jake Areman, Junior Etou.
Forwards: Steevan Dos Santos, Lucky Mkosana, Juan Tejada, Jordan Adebayo-Smith.
Departures: Defender Forrest Lasso will not return to the Rowdies after signing with GIF Sundsvall in Sweden.
Stay tuned to the Rowdies social media channels on Twitter, Facebook, and Instagram for more news roster announcements in the coming days.
The USL Championship recently revealed the league's full schedule for the 2022 season on Wednesday. View the Rowdies full schedule. The Rowdies kick off their 34-game season on Sunday, March 13 at Birmingham Legion FC and return home to Al Lang Stadium to face Indy Eleven on Saturday, March 19. Season tickets for 2022 start as low as $170 for Tampa Bay's slate of 17 home matches at Al Lang. Fans can lock in their season tickets today to ensure they don't miss a moment of action by calling 727-222-2000 or by visiting https://www.rowdiessoccer.com/tickets.