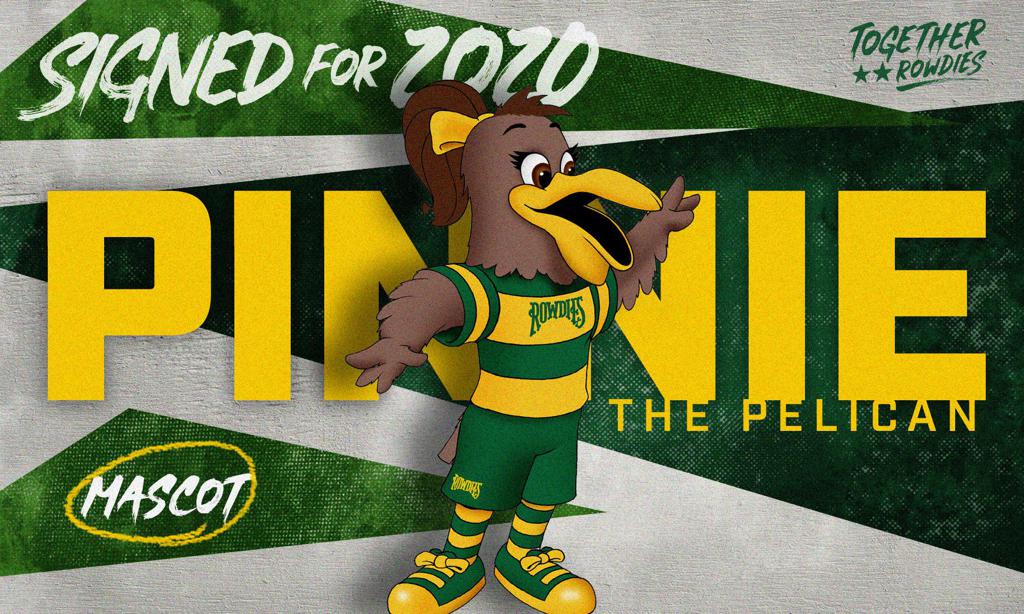 ST. PETERSBURG, Fla. – Love is in the air this Valentine's Day as the Tampa Bay Rowdies introduce Pinnie the Pelican, their newest mascot, on Friday. Pinnie is a blossoming love interest for Pete the Pelican, who was introduced as the Rowdies official mascot in 2016.

Pinnie is a female brown pelican native to St. Petersburg, and she will make her debut at Tampa Bay's home opener Saturday, March 21. Pinnie joins the team to celebrate the cultural diversity of Tampa Bay, and to celebrate the region's unique wildlife and environment. Last month, the City of St. Petersburg
announced the adoption of the brown pelican as the official city bird.

"We're thrilled to have Pinnie join Pete this season," said Lee Cohen, president of the Tampa Bay Rowdies. "She brings excitement and passion to the team, and I expect she will be a fan favorite very soon."

Pinnie's Story
• Pinnie was born in a nest built near the Sunshine Skyway Bridge.
• She grew up admiring the beauty of the Tampa Bay area, flying alongside drivers on the Howard Frankland Bridge and basking in the sun on Pass-A-Grille Beach.
• Pinnie studied marine conservation in college to help preserve the Bay Area for generations of future wildlife.
• Pinnie joined the Flock app in search of a companion and was matched with Pete the Pelican, who has been the Rowdies mascot since 2016.
• Pinnie always loved watching Rowdies matches from a light post at Al Lang Stadium, and now she is excited to join her "birdfriend" as part of the team in 2020.
To read more about Pinnie's biography, visit www.rowdiessoccer.com/PeteAndPinnie