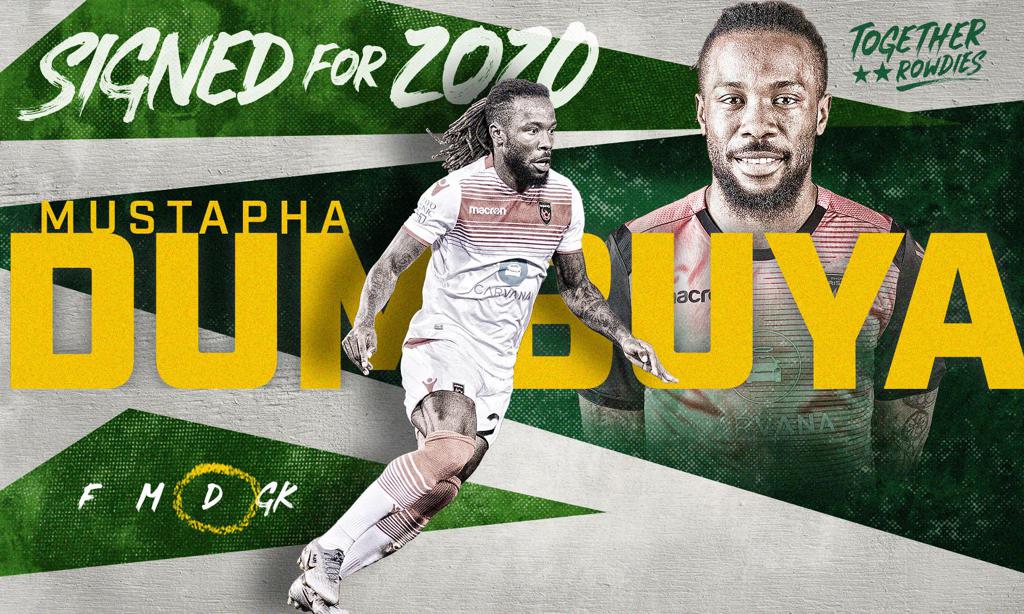 ST. PETERSBURG, Fla. (December 20, 2019) — The Tampa Bay Rowdies closed out of a week of player signings Friday with the addition of defender Mustapha Dumbuya on a one-year contract with a club option in 2020, pending league approval. Per club policy, further contract details were not disclosed.
Dumbuya, 32, played last season with Phoenix Rising FC in the USL Championship's Western Conference. He made 28 appearances as Phoenix's first-choice right back in a record-setting season that saw Rising FC set a league record with 78 points.
Prior to coming to the United States, Dumbuya played for more than a decade in the United Kingdom with stops at Doncaster Rovers, Portsmouth and Notts County among other clubs.
"Mustapha was a player I first came across many years ago playing in the UK and his pace frightens defenders just as much now as it did back then," Rowdies Head Coach Neill Collins said. "The fact that Mustapha was a standout for one of the best teams in the league last year should tell you all you need to know about his quality. 
"He's A very athletic player that also has no shortage of quality in the final third," Collins said. "I felt we were short in competition at wing back last year and Mustapha definitely makes us much stronger in that department. Again it is important to mention that Mustapha showed a great enthusiasm to be part of things at the Rowdies which is a sign of the type of players the club can attract." 
Dumbuya made 13 key passes last year, though just one was converted into an assist. He also scored one goal.
A native of Sierra Leone, Dumbuya has made 12 appearances for his national team in FIFA World Cup and African Cup of Nations qualifying matches.
"With such a rich history in North American soccer, I am truly honored to be joining the Rowdies organization," Dumbuya said. "I have already had great conversations with Coach Collins and I'm so excited to meet my new teammates and give the club and you the fans everything I have. I can't wait to get going."
Dumbuya is the fourth defender on Tampa Bay's 2020 roster, which now stands at 16 players. The full roster is below:
GK (1): Macklin Robinson
D (4): Mustapha Dumbuya, Aaron Guillen, Forrest Lasso, Jordan Scarlett
M (6): Yann Ekra, Leo Fernandes, Lewis Hilton, Kevin Mendoza, Dom Oduro, Zach Steinberger
F (5): Sebastian Guenzatti, Malik Johnson, Lucky Mkosana, Kyle Murphy, Juan Tejada