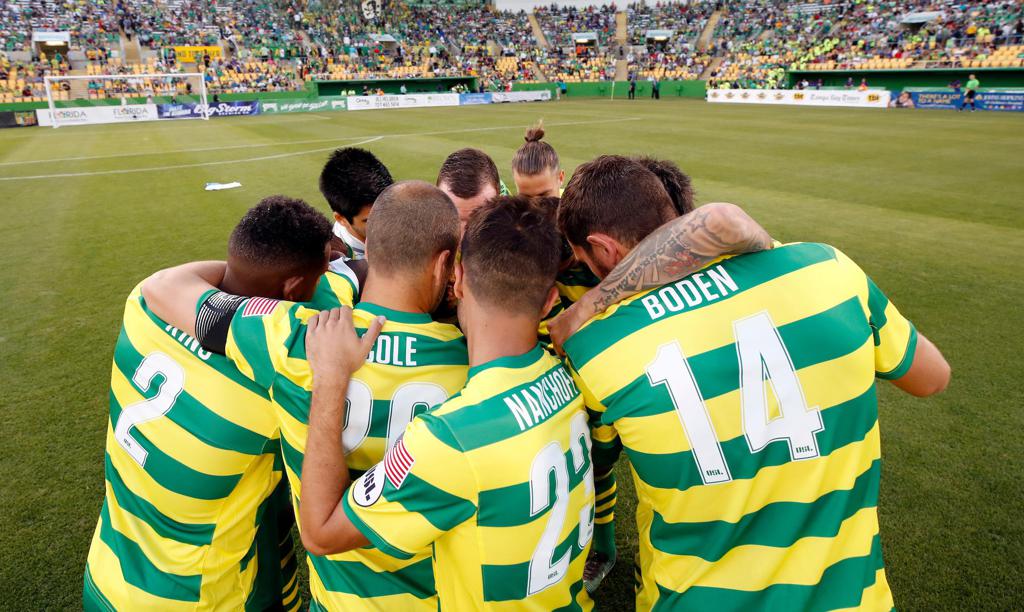 ST. PETERSBURG, Fla. (April 26, 2017) — For fans, players are often synonymous with the number they wear on the back of their jersey. As an example, it's hard to imagine the name "Savage" on the back of a jersey with anything other than a "22" below it. The same could be said for the pairing of "Hristov" and "10."
But for the players themselves, numbers don't always carry a lot of weight. For a handful of players on the Rowdies' roster this year, the number doesn't mean much more than just being the number a player in their position should wear. Leo Fernandes and Darwin Jones, for example, wear 11 and 7, respectively, because those numbers are strongly associated with wide attacking players.
Often times, when a player signs with the Rowdies makes a huge impact on what number they choose. Sign early in the offseason and you may get your favorite number, sign late in the offseason or mid-year and the choices are limited.
Here's a little more insight into why the Rowdies wear the numbers they wear.
No. 1 – Nico Campbell: "It's a standard number for goalkeepers. I wore it as a kid." If Campbell didn't get the No. 1 jersey, he likely would've taken 21, the number he wore for Jamaica at the FIFA Under-17 World Cup in 2011.
No. 2 – Darnell King: "I wore 21 in Fort Lauderdale, but it was taken when I signed with the Rowdies, so I picked 2 because it's the number I wore when I was a young player."
No. 3 – Neill Collins: "I was assigned 3 when I signed with Wolves. I've worn a bunch of different numbers in my career, but 3 was available when I came here, so I took it."
No. 4 – Marcel Schäfer: "I always wore 4 at VfL Wolfsburg. It's a special number for me because two of my kids were born on the fourth of a month and my other kid was born on the 24th."
No. 7 – Darwin Jones: First time wearing 7, just chose it because of where he plays on the field.
No. 8 – Deshorn Brown: First time wearing 8. "My favorite number is 26. That's what I wore in Colorado and Norway, but that's taken here. I wore 9 in China, but that was also taken."
No. 9 – Alex Morrell: "I wore 9 as a youth player, but it's usually one of the first numbers taken because of the famous players that have worn it. I was surprised it was available when I signed with the Rowdies."
No. 10 – Georgi Hristov: "When I joined the Rowdies, it was the only number available that I liked. Throughout my career, I always wore 9 or 11, and 10 is right between them."
No. 11 – Leo Fernandes: First time wearing 11, just chose it because of where he plays on the field.
No. 13 – Justin Chavez: "I took 13 when I signed with Fort Lauderdale because it was either 13 or a really high number. I wore 6 as a kid and in college, but that number is retired here."
No. 14 – Luke Boden: "There's no real significance to the 14 shirt for me. Before our first preseason game in Orlando in 2011, they laid out all the jerseys that were available and I just picked 14."
No. 15 – Zac Portillos: "I've never worn 15 before, but now it's my first professional number."
No. 17 – Tamika Mkandawire: "I was given 17 when I went to Hereford United on loan and I played well, so I stuck with it for a while. My favorite number is 7, but you can't play center back and wear 7. That just wouldn't be right. I came to the Rowdies in the summer in 2014 and had to take 27, but I moved down to 17 after that first year."
No. 18 – Matt Pickens: "When I was really young, I was a field player that wore 8. When I started playing goalkeeper around 11 years old, I switched to 1 and when I turned pro, I put them together as 18."
No. 19 – Martin Paterson: "My youngest son was born on the 19th and 19 was available when I signed with the Rowdies, so I took it."
No. 22 – Keith Savage: "My dad, Bruce Savage, wore 22 throughout his career for both club and the US national team, so I've always worn it. When I was getting ready to sign with the Rowdies, another player had 22, but it all worked out."
No. 26 – Joe Cole: "When I signed with West Ham, I was given 26. At Chelsea and Liverpool I wore 10. When I went to Lille in France, 10 was taken by a guy called Eden Hazard, so I went back to 26. I've always tried to wear 10 or 26."
No. 31 – Damion Lowe: "My dad, Onandi Lowe, wore 31 in his career for club teams and the Jamaican national team. I've worn 31 most of my career, but if not 31, I wear 17, another number my dad wore."
No. 32 – Martin Vingaard: "I joined the Rowdies in the summer last year and there weren't many numbers left. I used to wear 20, but it was already taken, so I picked 32, the number David Beckham wore for PSG. I'm Danish and there's a famous Danish striker named Peter Møller that wore 32 as well."
No. 50 – Akira Fitzgerald: "I used to wear 1, but I switched to 50 to honor my mother because that's the year she was born in."
No. 90 – Kyle Porter: "I wear 90 because my dad encouraged me to pick a unique number and I was born in 1990."