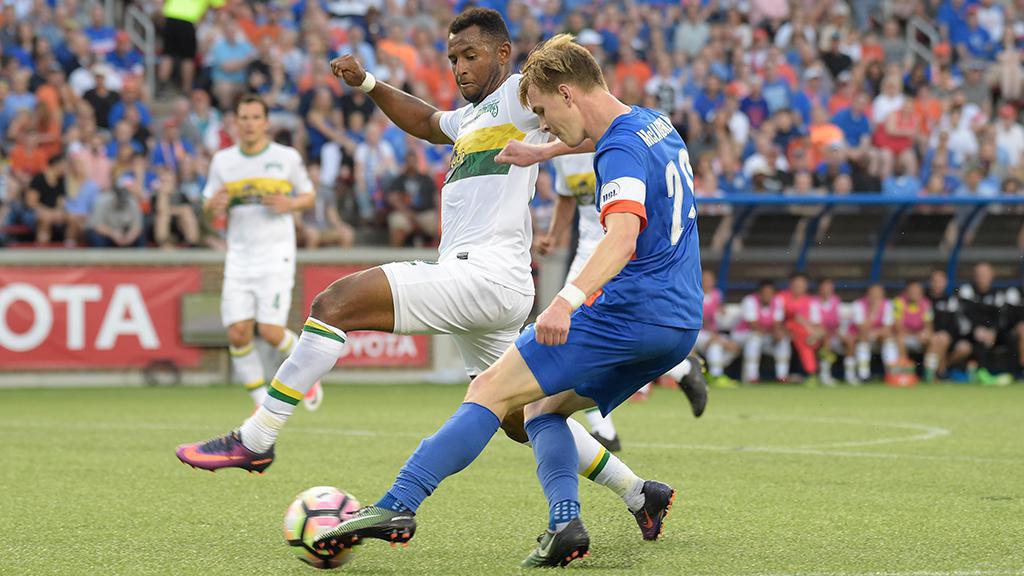 ST. PETERSBURG, Fla. (April 20, 2017) — The Tampa Bay Rowdies are coming home atop the Eastern Conference standings, though, admittedly, their lead is tenuous at best. The Rowdies endured what may prove to be their most difficult road trip of the season, playing two matches in five days in two of the USL's most hostile environments in Louisville and Cincinnati.
Here's Three Things from Wednesday night's 1-1 draw against FC Cincinnati.
1. Without the leaders
From the day Joe Cole made his Tampa Bay Rowdies debut on May 14 last year until Wednesday night's match against Cincinnati, the Rowdies had played 33 competitive matches in league play and Lamar Hunt U.S. Open Cup action, totaling 2,970 minutes of game time.
Of those 2,970 possible minutes, just 96 were played without either Cole or Georgi Hristov on the field. Ninety of those 96 minutes were in the season finale last year when Cole was unavailable and Hristov was suspended.
Hristov and Cole together combined for exactly half of Tampa Bay's 20 goals last season and were clearly the Rowdies' most influential attackers.
Tampa Bay Head Coach Stuart Campbell rolled the dice last night by rotating the squad and not selecting either player in the Starting XI, but the Rowdies didn't look too affected by their temporary absence.
Both Cole and Hristov entered the match as second-half substitutes, and while the Rowdies didn't win the game, they at least showed their improved depth by not missing a beat without their two offensive leaders on the field.
2. Marcel Schäfer's first goal
Marcel Schäfer scored his first goal of the season last night in incredible fashion, launching a left-footed rocket from distance that knuckled its way past FC Cincinnati goalkeeper Mitch Hildebrandt from 37 yards out.
The spectacular goal earned Schäfer the No. 2 spot on SportsCenter's Top 10 and will be tough to beat for USL Goal of the Week.
3. Still on top
When the Rowdies left for Louisville last week for the first match of a two-game road swing, they sat atop the East. The Rowdies dropped points on the road trip, but still come home atop the East.
Tampa Bay is in a three-way tie for first with Louisville City FC and Saint Louis FC with 10 points, but the Rowdies' superior goal differential puts Tampa Bay on top.
It must be said, the Rowdies have played one match more than Louisville, but the point remains. Tampa Bay just came through the fire of a challenging road trip and still sits exactly where it was at the start.