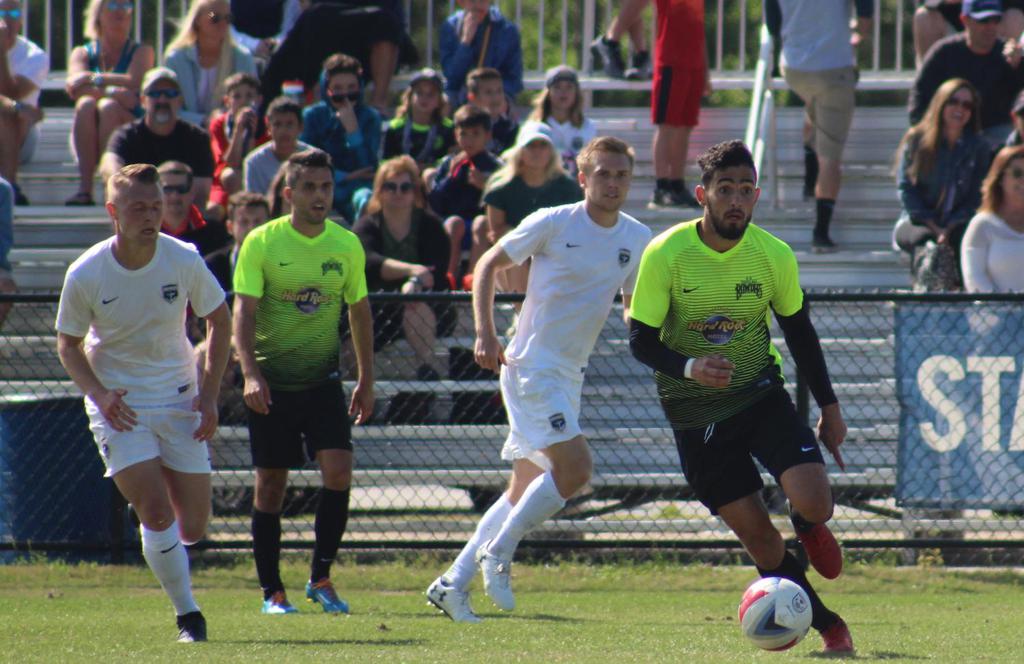 JACKSONVILLE, Fla. (March 11, 2017) — Despite dominating most of the match, the Tampa Bay Rowdies lost 1-0 to Jacksonville Armada FC in a preseason friendly. Tampa Bay now has two weeks remaining before opening the regular season on March 25.
Armada midfielder J.C. Banks scored the only goal of the match, just three minutes into the second half.
"Despite the result, the team continued to press and press, which is good as we continue to prepare for the home opener," said Rowdies head coach Stuart Campbell. "We need to continue to work on things ahead of March 25, but if we continue to create chances like we did tonight, we'll find positive results."
The match at Jacksonville's Patton Park began with the Rowdies pressuring high up in the field, which created several chances for the visiting team.
Trialist forward Martin Paterson had two chances in the first couple of minutes, but, as he was trying to capitalize on Armada's defensive mistakes, the home club was able to put out the fire both times.
Jacksonville's most dangerous chances came off of two free kicks conceded by Rowdies defender Damion Lowe. Despite being in good positions, Jacksonville was unable to put either shot on frame.
As the second half began to settle down, Jacksonville found the only goal of the match via a great finish by Banks. After beating the offside trap, Banks was alone in front of goal and buried his shot past Rowdies trialist goalkeeper Akira Fitzgerald.
As the match reached the 55th minute, the Armada had a chance to double their lead, but it was Fitzgerald who came up big to avoid conceding a second goal.
Another good run, this time by forward Derek Gebhard, put the Rowdies on their heels, but Fitzgerald was quick to close down the angle and make the save.
Rowdies midfielder Martin Vingaard nearly equalized in the 68th minute, firing a wonderful volley just inches wide. His volley jump-started the Rowdies' offense, which searched tirelessly for the equalizer.
With just 15 minutes left, the best chance to equalize came via a header by defender Damion Lowe. A header from just outside the 6-yard box was denied from point-blank by Jacksonville goalkeeper Kyle Nastar. 
Despite numerous corner kicks and crosses into the box, the Rowdies were unable to break a strong Armada defense, who held on the the 1-0 win.
"On any other night, we would've score three or four goals, but it didn't happen for us tonight," mentioned Campbell. "We need to look ahead to next Saturday and see what we need to improve as it's our final test before our home opener against Orlando."
The Rowdies will be in action next Saturday, March 18, when they travel to play Miami FC of the North American Soccer League. The match will kick off at 11 a.m. at St. Thomas University, and it is open to the public.
Scoring Summary
Jacksonville: JC Banks – 48th minute
Caution Summary
Tampa Bay: Damion Lowe – 25th minute
Tampa Bay: Michael Nanchoff – 58th minute
Jacksonville: Jack Blake – 64th minute
Starting Lineups
Rowdies (4-2-3-1): GK Akira Fitzgerald*; D Darnell King (Kyle Porter* 65′), Damion Lowe, Neill Collins, Luke Boden; M Michael Nanchoff, Martin Vingaard; M Darwin Jones (Zac Portillos 78′), Georgi Hristov, Leo Fernandes (Justin Chavez 78′); Martin Paterson* (Alex Morrell 62′)
Armada FC (4-2-3-1): GK Caleb Patterson-Sewell; D Drew Beckie, Mechack Jérome, Aaron Pitchkolan, Kalen Ryden; M Nicklas Maripuu, Kevan George; M Jack Blake, Zach Steinberger, JC Banks; F Derek Gebhard
* Denotes Trialist