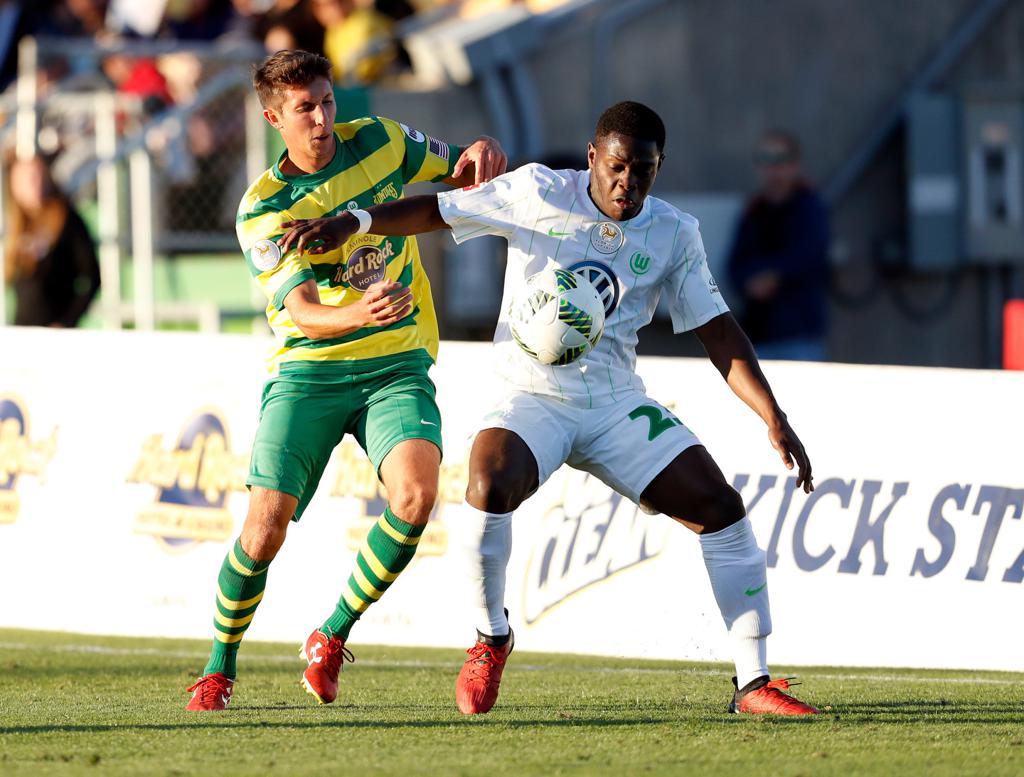 ST. PETERSBURG, Fla. (January 8, 2017) — The Tampa Bay Rowdies opened the 2017 Florida Cup with a 2-0 loss to German Bundesliga side VfL Wolfsburg's Next Generation team in the Tampa Bay's first preseason match on a chilly night in St. Petersburg.
Tampa Bay's starting lineup featured six signed players and five trialists, with a further five trialists taking part in the second half as the Rowdies kept things light during an exhibition game.
Wolfsburg's Robert Herrmann scored both of the goals, including a stunning free kick, to carry his side to victory. His goals came in the 6th and 41st minutes.
"I think there's more positives than there were negatives," Rowdies Head Coach Stuart Campbell said. "We're disappointed with the goals we gave up, but we created a few chances. For a team that's only been together for a week, I'm really happy. The guys haven't played together and it's not easy for them."
Just more than a week into preseason training camp, the Rowdies put up a good fight against the talented German youngsters. VfL Wolfsburg's side featured 14 players with youth national team experience for Germany, Poland, Turkey, Egypt, Austria and the United States.
Tampa Bay actually had the first good chance of the match, with veteran midfielder Keith Savage taking a feed from trialist Jonathan Glenn and bounding in on Wolfsburg's goal. His shot sailed just high and wide of the target, leaving the match scoreless early.
Herrmann's first goal came just moments later, when he converted a free kick from just outside the box into the side netting to trialist goalkeeper Kyle Morton's left-hand side to put the Wolves ahead in the sixth minute.
Tampa Bay wouldn't have too many more great scoring chances until Savage beat Wolfsburg goalkeeper Niklas Klinger with a shot in the 44th minute. Klinger slowed it down enough for his teammates to recover and clear the ball two yards before it trickled over the line.
The Rowdies started to click into gear just before the hour mark, with new signing Alex Morrell making a big impact on his club debut.
First, Michael Nanchoff bent a free kick around the Wolves wall in the 54th minute, only to be denied in spectacular fashion by Klinger's diving save.
Morrell nearly found a debut goal in the 58th minute, running onto a brilliant ball over the top from Zac Portillos, but his shot was saved.
The closing period of the match featured substitutions en masse for both sides as Wolfsburg saw out its victory.
"Wolfsburg is a very good team, so I wanted to put some of the trialists out there to see what they can do against a quality team," Campbell said. "I thought all of them equipped themselves pretty well.
The Rowdies will be back on the field Saturday, January 14 to take on Brazilian Serie A side Atlético Mineiro in their next Florida Cup match. Tickets for that match are available here.
Scoring Summary
VfL Wolfsburg: Robert Herrmann – 6th minute
VfL Wolfsburg: Robert Herrmann – 41st minute

Starting Lineups
Rowdies XI (5-4-1): GK Kyle Morton* (Nico Campbell* 46′); D Kyle Curinga* (Darnell King 46′), Sergio Manesio*, Neill Collins (c), Eion Wearen*, Zac Portillos (Boubacarr Sylla* 70′); M Alex Morrell (Francois Jacques* 85′), Keith Savage (Miguel Montano* 46′ (Melvin Boateng* 87′)), Martin Vingaard, Michael Nanchoff; F Jonathan Glenn* (Jaime Siaj* 46′)
VfL Wolfsburg XI (3-5-2): GK Niklas Klinger; D Julian Klamt, Nicolas Abdat, Paul Jaeckel; M Robert Herrmann, Marcel Stutter (Marvin Kleihs 68′), Sebastian Stolze, Malcolm Badu (Elvis Rexhbecaj 68′), Amara Conde (Jan Neuwirt 81′); F Marcel Reichwein (David Nieland 82′), Orrin McKinze Gaines II
*denotes trialist