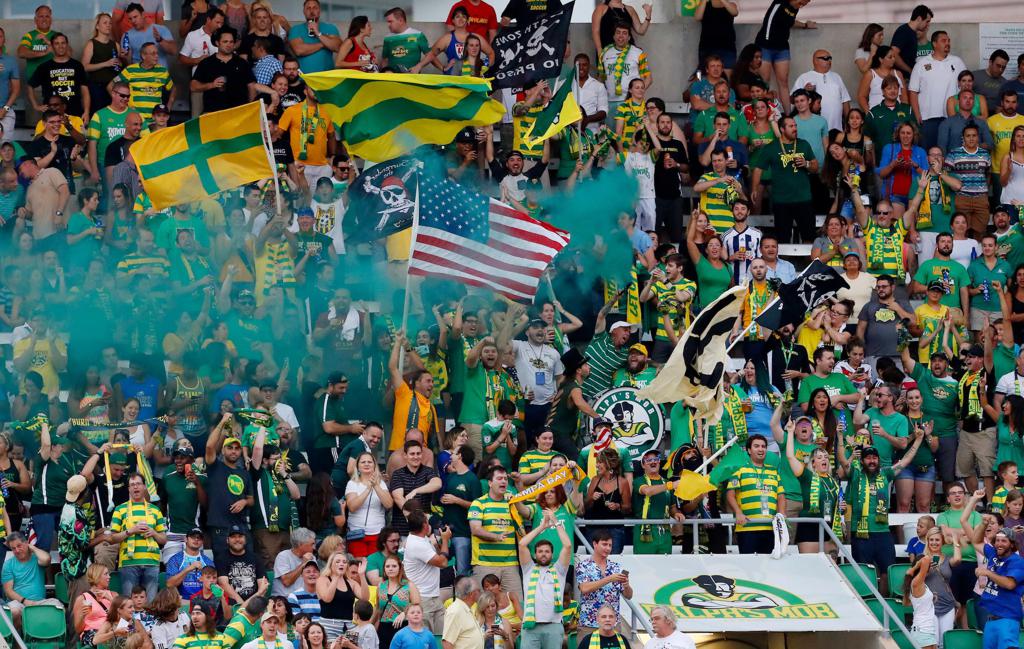 (TAMPA, Fla.) – The United Soccer League (USL) today was granted provisional Division 2 status by the U.S. Soccer Federation (USSF) Board of Directors, beginning with the 2017 season.
Earlier this year, the USL submitted its application and supporting documentation for entry into Division 2. This landmark decision by USSF supports the USL's vision to become one of the most globally recognized second division professional soccer leagues. 
Since 2014, the USL has more than doubled in size. Ottawa Fury FC, Reno 1868 FC and the Tampa Bay Rowdies are joining as new clubs for next season while Nashville SC will begin play in 2018 with further expansion on the horizon.
"The USL is honored to receive U.S. Soccer Federation Division 2 status, which provides further validation about our League's financial sustainability, national footprint, ownership quality, stadium infrastructure and player development," said Alec Papadakis, the USL Chief Executive Officer. "Our teams have invested more than $100 million into stadium development in the last year to enhance the experience for the 1.5 million passionate fans that attended games in 2016, the 1,000-plus players and nearly 100 coaches that have positioned our League as a highly sophisticated competition model that cultivates strong regional rivalries."
The USL's expansive national footprint features teams in 21 of the top 50 U.S. Metropolitan Statistical Areas and three of the top six populated Canadian cities. This year, team markets reached 75 million people including 30 million who lived in a region where the USL was the only professional league.
"After an exhaustive process working with both leagues, in the best interest of the sport the U.S. Soccer Board of Directors has decided to grant provisional Division II status to the USL," said U.S. Soccer President Sunil Gulati. "U.S. Soccer will create an internal working group that will work with the league to set a pathway to meet the full requirements for Division II and allow for the larger goal of creating a sustainable future. We look forward to another productive year for professional soccer in this country."
With the USL kicking off its 2017 season in late March, the League will be announcing its official schedule and conference alignments soon.
More Information: www.USLSoccer.com.
About United Soccer League
The United Soccer League is the fastest growing professional soccer league in the world with teams in 19 states and three Canadian provinces. Since 2014, the USL has doubled in size and established a sizeable North American footprint with strong ownership, experienced executives and regional rivalries.
The USL prides itself on three key tenets when identifying a potential expansion city. First, a strong local ownership group. Second, a millennial and diverse population. Third, plans for a soccer-specific stadium to showcase the game in the way it was supposed to be, while giving supporters a first-class venue.
In 2016, the USL experienced record growth with a total season attendance of almost 1.5 million, a 33 percent increase from 2015. The average attendance for the league's top-10 drawing teams was 6,724, a 25 percent increase year-over-year.
Creating an engaging environment for passionate fans, the USL aims to establish all clubs as owners or primary tenants of 8,000-10,000 seat soccer-specific stadiums by 2020. Teams have invested more than $100 million into stadium infrastructure in the last year to enhance the experience for the USL's passionate fans, 900-plus players and nearly 100 coaches in building a highly sophisticated league.
Expanding its broadcast reach with ESPN and SiriusXM partnerships, USL "Games of the Week" were available this year on ESPN3 to 99 million households. The USL aired more than 500 games last season through its Match Center. Recently, the USL finalized a $10 million investment and partnership with VISTA Worldlink to create USL Productions, which will create more than 1,000 hours of live match coverage for 2017. Additionally, statistical analysis will be powered by Opta – the world's leading provider of live, detailed sports data – who will manage and deliver in-depth details for all USL games.
Based in Tampa, Fla., the USL supports its teams with operational excellence through 50-plus employees and 16 departments including Analytics, Competition, Creative, Digital, League Operations, Marketing, Merchandise/Licensing, Team Services, USL Productions and more.
Follow the USL at USLSoccer.com, on USL Match Center, and on social media via Twitter, Facebook and Instagram.
####