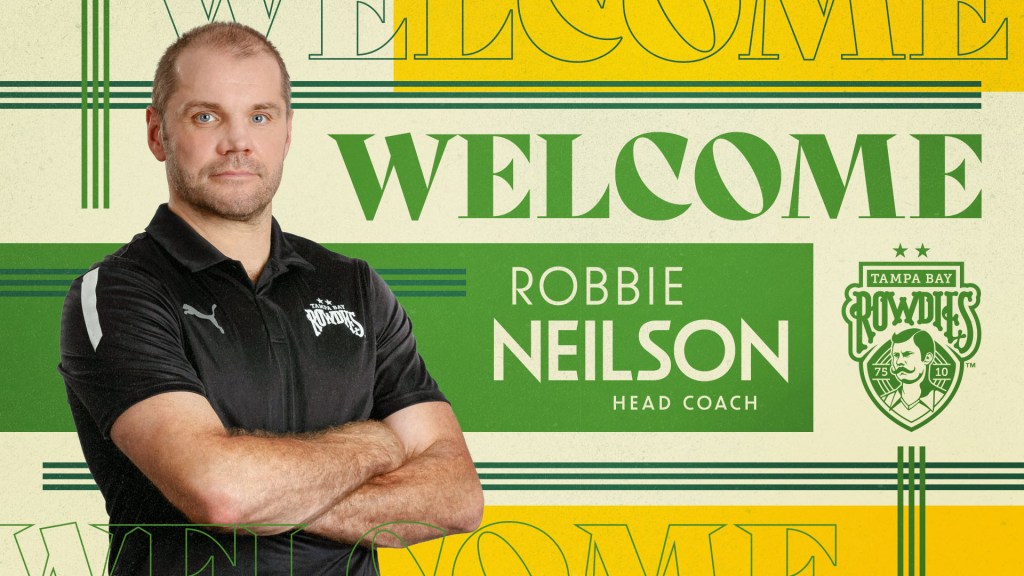 ST. PETERSBURG, Fla. – On Thursday, the Tampa Bay Rowdies announced that Robbie Neilson has signed a multi-year contract to take the helm as head coach of the USL Championship club.
"We are proud to bring a coach of Robbie's caliber here to Tampa Bay to lead the Rowdies," said Rowdies Vice Chairman Brian Auld. "Throughout his career, Robbie has shown the ability to get results at a high level and take teams under his leadership to new heights. We believe Robbie's passion and drive matches our ambitions to continually improve on and off the field, which makes him a perfect fit for the Rowdies."
At just 43 years old, Neilson comes to Tampa Bay with an already impressive resume and over 350 matches coached during time at Heart of Midlothian and Dundee United F.C. in the Scottish Premiership and England's MK Dons FC. While with Hearts and Dundee United, Neilson was able to achieve the highest winning percentage of any head coach in either club's history, winning 58.8 percent of his matches at Hearts and 57.1 percent of his matches for Dundee United.
"I'm so grateful for the fantastic opportunity the ownership of the Rowdies has given me to help this club continue its development," said Neilson. "It's truly a great setup for soccer here in Tampa Bay. There is a great training ground and all the facilities you need for the team to continue to progress and be successful. A big thing for me making the decision to come here is the good people already in place. That is so important at any soccer club. There's a real positivity here and there's an ambition to continue to be successful. We've got a fantastic squad and now it's about adding a bit more quality and energy to get it to the next level."
Neilson began his head coaching career in 2014 at Heart of Midilothian, a club where he appeared in over 200 matches during a ten-year tenure as a player. In his first season, Neilson led Hearts to a Scottish Championship title, earning the club promotion to the Scottish Premiership and Neilson his first of three Scottish Manager of the Year nominations. The following year, Neilson guided Hearts to third place in the league to qualify for the UEFA Europa League.
Following a two-year stint at English side MK Dons FC in EFL League One, Neilson returned to Scotland to take over at Dundee United for the 2018-2019 season. Dundee United finished second in the league during Neilson's first season in charge before capturing the Scottish Championship title the following season. Neilson was recruited for a return to Hearts the following year and led his former club to greatness again with another Scottish Championship title and an appearance in the Scottish Cup final.
"First and foremost, fans can expect high energy from our squad," said Neilson. "When it comes down to my team, work rate is the most important thing. Humility, honesty, and work ethic are the three things that I always focus on getting out of the clubs I have worked at. Ultimately, it's about winning football matches and historically, I've managed to do that at the clubs I've been at. We want to win the regular season, win the Eastern Conference, and ultimately win the whole thing. That's the ultimate objective. There's plenty of hard work to get there, but that's where we're setting our sights."