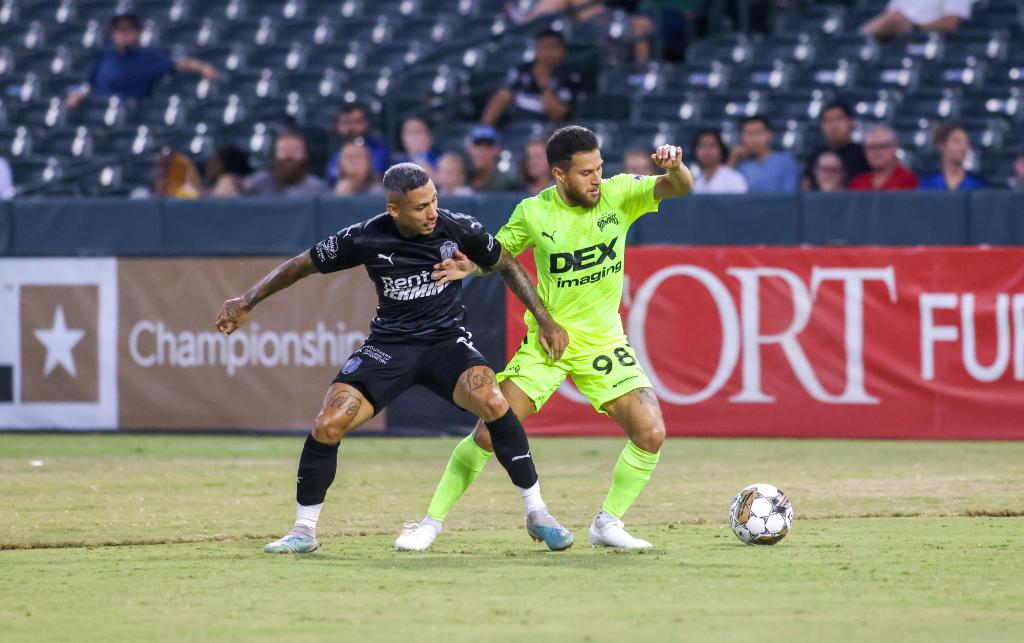 The Tampa Bay Rowdies winning streak was halted at four matches on Wednesday night, as the club fell 3-2 on the road to Memphis 901 FC after leading for most of the second half.
"We should have done enough to come away with all three points in that game, but you've got to play all the way to the end," said Rowdies Assistant Coach Stuart Dobson, who was serving as head coach as Nicky Law was unavailable due to personal reasons.
"We let ourselves down. We played great almost until the end and then failed to defend as a unit on a couple of occasions and we let them back in the game. Memphis are a quality team and they beat us."
Memphis held the edge in possession through the early stages of the match, but it was the Rowdies who broke open the scoring in the 20th minute. Receiving a pass back into the box from teammate Jordan Doherty, Rowdies keeper Connor Sparrow launched a long ball over the top for midfielder Charlie Dennis. The Englishman deftly pushed the ball forward with his chest and charged into the box before cutting in to his left foot and burying a strike into the back of the net.
The hosts answered only eight minutes later. Penetrating from the edge of Tampa Bay's box, Luiz Fernando drove in a cross for Rodrigo da Costa to fire on target and level the match.
Tampa Bay made a switch at the break that proved fruitful. In the 52nd minute, substitute Cal Jennings put the Rowdies back out in front with a streaking run past the back line off of a flicked header from JJ Williams after another great long ball out of the back by Sparrow.
As the match wore on, Memphis began to apply more pressure to the Rowdies and finally equalized in the 88th minute as Rashawn Dally picked out Jeremy Kelly for a header on the back post.
In the 90th minute, Dobson was shown two yellow cards in quick succession and ejected from the match for dissent on a foul called on Dayonn Harris at the halfway line.
Deep into stoppage time, Memphis was given a chance to take their first lead of the night after Rowdies center back Forrest Lasso was whistled for a foul in the box. Sparrow managed to block the initial penalty attempt by Memphis' Aaron Molloy, but Molloy got to the rebound and redirected it back toward goal. The ball then clipped the left post before ricocheting off of Lasso, who was attempting to shield an oncoming attacker off of the ball.
A win would have moved the Rowdies to the top of the Eastern Conference table. Instead, the Rowdies remain one point back of first-place Pittsburgh. With still one game in hand on Pittsburgh, the Rowdies will look to rebound this Saturday at Al Lang Stadium versus rival Louisville City FC.
"These are the games you've got to come on the road and get results if you want to finish top of the table and ensure you don't come back to places like this with such a difficult pitch," said Dobson. "But we can still get the top spot. It's still in our hands to clinch that. This just makes that a little harder. Coming away here with three points or even one point would've been a very professional performance. It's a missed opportunity for sure."
Scoring Summary
TBR – Dennis (Sparrow), 20'
MEM – Costa (Fernando), 28'
TBR – Jennings (Williams), 52'
MEM – Kelly (Dally), 88'
MEM – Lasso (Own Goal), 90+7'
Lineups
TBR: Sparrow, Doherty, Lasso, Guillen, Antley, Ekra, Hilton, Dennis, LaCava, Williams, Perez

MEM: Romig, McFadden, Smith, Turci, Ward, Paul, Molloy, Fernando, Kelly, Lapa, Costa