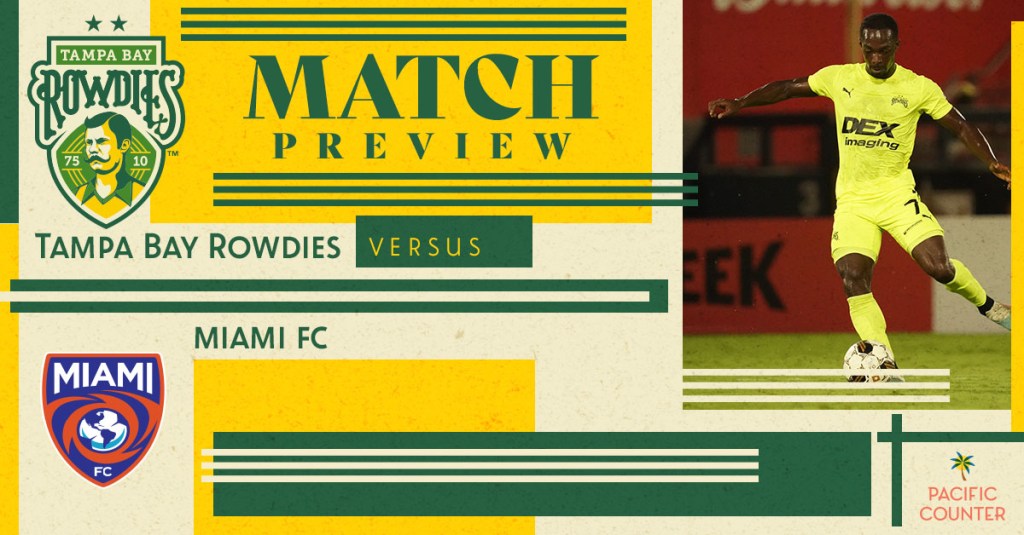 Matchday 25 Info:
Tampa Bay Rowdies at Miami FC
Saturday, August 26, 7 p.m. ET
FIU Soccer Stadium, Miami, FL
Watch: Stream the match on ESPN+
Fresh off a win on the road against Tulsa, the Rowdies are aiming to keep their momentum heading into their battle with Miami FC this Saturday in South Florida. The Rowdies knocked their in-state rivals off 2-0 at Al Lang Stadium back on April 23. Since then, Miami has switched coaches and found a good groove over the last month. Interim Head Coach Lewis Neal has led Miami to four wins in their last five outings, including a 1-0 win at San Antonio FC.
"They're in a good run of form," said Rowdies Head Coach Nicky Law. "Joaquin Rivas is coming off a hat trick from the last game. Our guys know what a danger Miami as a whole can be, they know how concentrated we have to be when dealing with their threats. All the games are tough, all these teams have good attacking players in the league you know. It's how you deal with that and then obviously how you hurt them at the other end."
Rowdies forward Cal Jennings, who notched his first goal for the Green and Gold in the previous matchup between the two clubs, heads into this meeting after recording his ninth goal of the year in Tulsa last week. For Jennings, a key for the Rowdies on the road this week and down the stretch will be resiliency.
"I think just building up a little bit of resiliency," said Jennings. "It's never easy to win on the road, against a rival too, they're going to give us their all this weekend. We just want to get there, play our game and try to control the game."
Spreading the Wealth
Rowdies forward JJ Williams became the first player on the squad to reach double digit goals when scored his tenth goal of the year in the win over Tulsa. Cal Jennings and midfielder Charlie Dennis are not that far off from joining him, with Jennings sitting at nine and Dennis at 8 on the year. If Jennings and Dennis can bag a few more goals, it will be the first time the Rowdies have ever had three players tally double digit goals in a single season.
Miami Connection
This year, the Rowdies head to South Florida with a few former members of Miami FC's squad in tow. Tampa Bay's starting keeper Connor Sparrow, who has proven yet again to be a top keeper in the USL Championship, played two seasons in Miami. Veteran attacking midfielder Ariel Martinez was a longtime player for Miami, scoring 21 goals in a handful of seasons before signing up for the Rowdies this year. Even the Rowdies newest signing, forward Joshua Perez, recently spent time with Miami.
The Final 10
Only ten matches remain in the regular-season, with the Rowdies hopefully eying their fifth straight postseason appearance in the coming weeks. This final stretch of matches will prove crucial to determining home field advantage in the playoffs. The Rowdies sit second in the Eastern Conference, six points back of Pittsburgh. However, the Rowdies have three matches in hand on Pittsburgh that they will look to make the most of. It won't be an easy road for the Rowdies, who face a grueling seven-match slate in September.
"These are the games you want to play in," said Law. "We want to be fighting for the top spots against the best teams. As always, we'll take it one game at a time, and it starts with a really difficult game this week in Miami. Then we head into a really difficult three-game stretch next week as well. The games are coming thick and fast. We're looking forward to it. We're excited. We're hopeful that we'll be towards that top end of the conference coming out of this ten-game stretch."
Availability Report
Suspended: None
Out due to injury: Leo Fernandes, Lewis Hilton, Sebastian Dalgaard, Zachary Herivaux, Abel Caputo