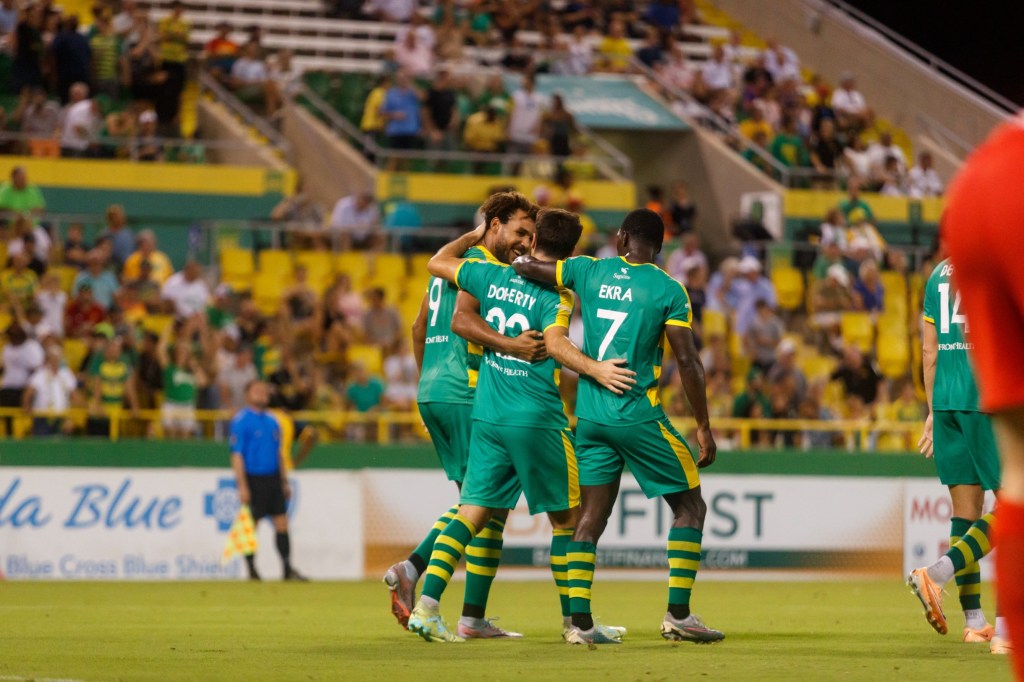 ST. PETERSBURG, FL – It was a dream debut for new Tampa Bay Rowdies Head Coach Nicky Law on Saturday night at Al Lang Stadium. The Rowdies dropped a 3-0 result over FC Tulsa, snapping a two-match scoreless skid and getting the club back in the win column.
"A lot of emotions for me tonight," said Law. "You want to get that first victory in your first attempt. I'm very fortunate to do it and to do it in front of our home fans who were amazing all night. The way the boys rolled into the stadium tonight. You could just see they were ready. It filled me with confidence."
The visitors had the more promising scoring chances in the first half of Saturday's contest. Tulsa nearly caught the Rowdies in transition early on in the match when Marcus Epps played a quick pass forward for Goodrum in the box. Goodrum drew keeper Connor Sparrow off his line and passed for teammate Milo Yosef, who stumbled while getting a shot off that was cleared out of danger by Rowdies captain Aaron Guillen.
After getting his head on a handful of set piece opportunities in the first half, center back Forrest Lasso was finally converted on a chance in the 52nd minute. Midfielder Charlie Dennis delivered the service from the corner, finding Lasso on the back post for a header back across goal to beat keeper Michael Nelson.
Tampa Bay used Lasso's goal to carry the momentum the rest of the way. Dennis doubled the lead himself in the 64th minute, following up on a rebound that popped up in the air after Rowdies striker Cal Jennings had his shot blocked. Dennis did well to patiently wait for the ball to fall and guide a shot through the defenders and into the open net.
"You could see the energy and confidence come back into them with that first goal," said Law. "To see them push on from there and get more was fantastic. We're delighted with the performance and there's plenty to build on."
JJ Williams sealed the victory with a booming header in the 82nd minute, just five minutes after coming off the bench as a substitute. Rowdies midfielder Jordan Doherty placed a perfect cross on a platter from the right corner for Williams to power home with his head.
"That second half looked more like how I remember my time here as a player," said Law. "Dominating, high tempo, and attacking. That's how I want this team to look moving forward. Hopefully that performance gives them confidence. I know it'll give me confidence."
The Rowdies hit the road next week for a showdown with Pittsburgh Riverhounds SC, who currently sit three points ahead of the Rowdies at the top of the Eastern Conference standings. It will be another big test for Law in only his second week in charge.
Scoring Summary
TBR – Lasso (Dennis), 52nd minute
TBR – Dennis, 64th minute
TBR – Williams (Doherty), 82nd minute
Lineups
TBR: Sparrow, Antley, Lasso, Guillen, Harris, Doherty, Ekra, Areman, Dennis, Jennings, LaCava
TUL:  Nelson, Molou, Bonet, Tetteh, Corrales, Epps, McCabe, Bird, Yosef, Goodrum, Dyer