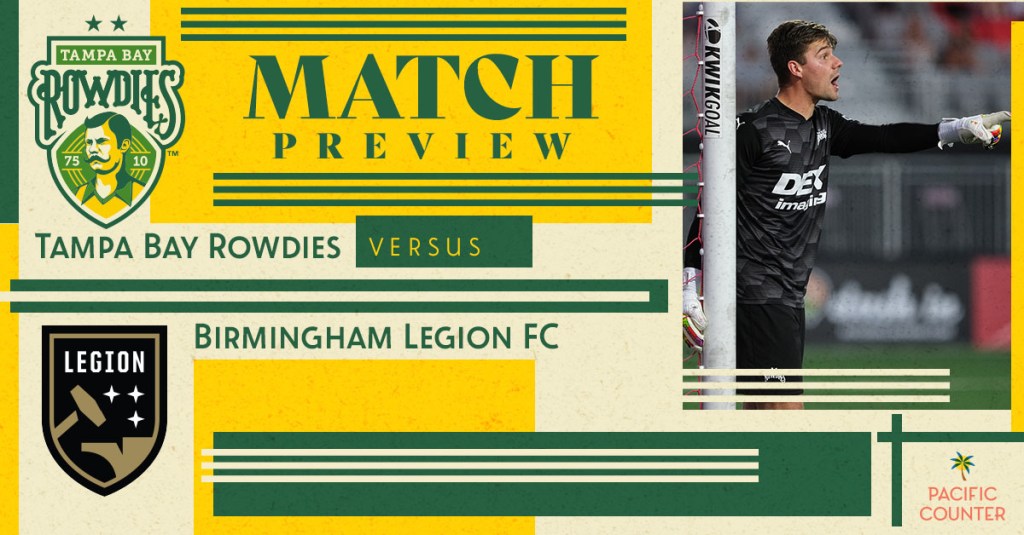 Matchday 19 Info:
Tampa Bay Rowdies at Birmingham Legion FC
Saturday, July 15, 7:30 p.m. ET
Protective Stadium, Birmingham, AL
Watch Party: Join the official Rowdies Watch Party at Yeoman's in Downtown Tampa, presented by Visit Tampa Bay. Click here to learn more and to RSVP.
Watch: Fans in the US can stream the match on ESPN+. Fans outside of the US can watch on YouTube.
For the first time in over five years, the Tampa Bay Rowdies will take the field this Saturday without Neill Collins at the helm. There will still be a familiar name leading the way for the Rowdies when they face Birmingham Legion FC at Protective Stadium, though. Longtime Assistant Coach Stuart Coach has taken the helm as Interim Head Coach while the search for the next full-time head coach takes place.
Dobson has served under three different head coaches since joining the Rowdies in 2015, proving to be an invaluable member of the staff. Supporting Dobson in his new role is Assistant Coach Eric Wilde, who is now in his second season with the Rowdies.
"It's been a bit of a change in my role, but as far as the players go, they haven't changed one bit," said Dobson. "They're fully behind the coaching staff. They want to do well for us and we want to do well for them. We haven't noticed one difference whatsoever in their training habits this week."
Last Time Out Versus Birmingham
The Rowdies suffered a bitter 2-0 loss to Birmingham at Al Lang early in the season, conceding a goal deep into first half stoppage time and then another in the last ten minutes of the match. Attacker Neco Brett tallied both goals.
"We know Birmingham very well," said Dobson. "We've got to be very wary of their strengths up top. They've got good players all over the field. They had their great run in the opening of the year and in the Open Cup, so we know they can beat any top team."
Eastern Conference Race
The Rowdies started the week top of the standings in the Eastern Conference but they now find themselves sitting second heading into the weekend after Pittsburgh pulled off a 1-0 win on Wednesday in Louisville. Pittsburgh sits one point ahead and will also be in action on Saturday when they host Detroit.
"Everybody wants to be at the top and it's extremely hard to stay at the top," said Dobson. "Our guys know that. They know they're going to have to up their game every week because everyone is gunning for you."
Unbeaten in Eleven
The Rowdies will look to extend their unbeaten run to 12 matches this weekend, which would put them just one away from matching the longest unbeaten streak in club history. Tampa Bay has gone unbeaten in 13 matches twice before, both times under Neill Collins.
"The mentality that we've got is just the next game," said Rowdies Midfielder Jordan Doherty. "I think that's why we are where we are in the table, because we focus on the next game. That's the most important. There's no point in thinking of records and what could happen in a few weeks' time. We've just got to concentrate and get a result. If we can do that week in, week out then we'll finish where we want."
Availability Report
OUT: Lewis Hilton, Zach Herivaux, Felix Schröter