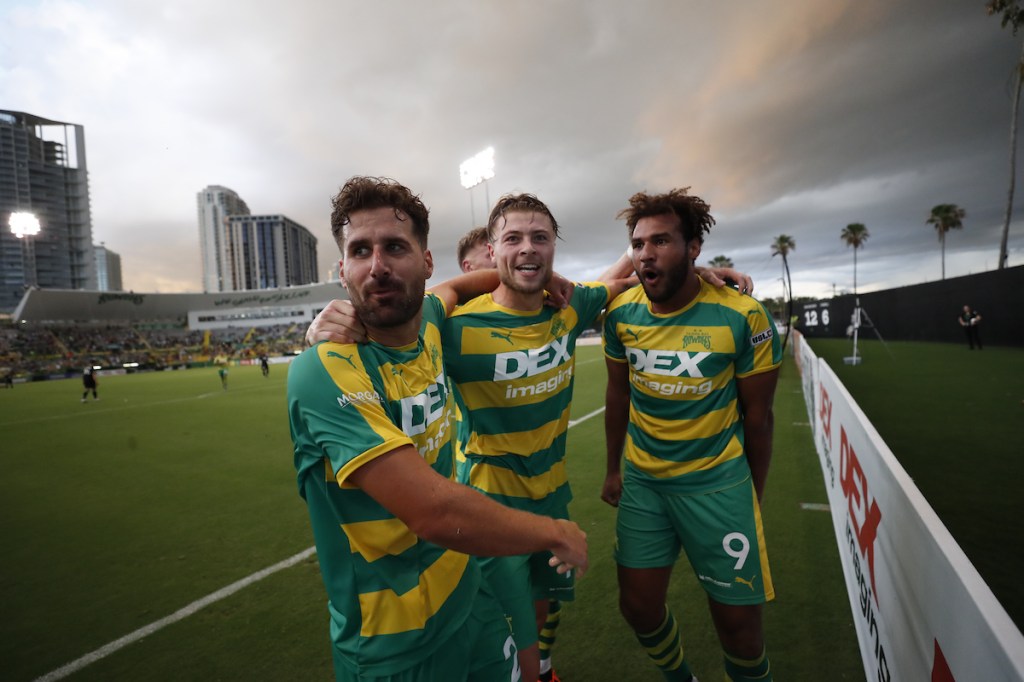 ST. PETERSBURG, FL – The Tampa Bay Rowdies remain undefeated in their last six after finishing in a 1-1 stalemate against the current USL Championship frontrunners, Sacramento Republic FC. It was a hard-fought point for the Rowdies, who finished the match at Al Lang Stadium down two men after both JJ Williams and Conner Antley were sent off in the final stages.
"The boys did exactly the things we've been doing well," said Rowdies Head Coach Neill Collins. "A small lesson is that in the second half we need to continue to focus on those things. I thought we lost a little focus in the second half and we aren't focusing much on the things we were doing well. It's a good lesson for us to learn."
The Rowdies were on the front foot through most of the first half, registering the first eight shots of the matchay as they kept the visitors pinned down. Loanee Laurence Wyke came close to picking out Ryan Spaulding on the far post with a cross but was denied by a sliding clearance from Jack Gurr.
Tampa Bay found their breakthrough moment in the 33rd minute. Keeper Connor Sparrow initiated the scoring sequence with a booming delivery sent from just outside Tampa Bay's box. Sparrow's ball was right on the money for Sebastian Dalgaard, who deftly brought the ball down on the right wing and pushed past his defender. Dalgaard then infiltrated the box and centered an incisive pass for Williams to smash home for his sixth goal of the season.
"That was the real Sebastian Dalgaard tonight," said Collins. "He was such a threat in the first half. On the goal, it was a great ball from Connor. Seb takes it in and he puts it on a platter for JJ. It was a great goal and something that we worked on, so it was nice to see it pay off."
Sacramento answered moments before the halftime whistle with a well-executed counter attack when Russell Cicerone sliced through the Rowdies back line with a through ball for Nick Ross to slot past Sparrow.
"When you consider the opposition, and Sacramento are really good opposition, I thought we were fantastic in the first half,"said Collins. "To come in 1-1, probably took a little bit of the wind out of the players' sails"
In the 59th minute, the Rowdies nearly nabbed a second goal when center back Freddy Kleemann found himself in an unlikely spot in front of goal. A broken play in Sacramento's box gave Wyke the chance to push a bouncing pass across goal for Kleemann, who could not quite guide his backheel on frame.
Sacramento had its shot at a second goal in the 71st minute but were denied by an outstanding effort from Sparrow. A well-struck free kick from Jack Gurr was on its way toward the top right corner, but Sparrow stretched out to parry the attempt out of danger.
The Rowdies looked to strike back in the 82nd minute only to wind up going down a man. Antley weighted a lovely ball into space for substitute Cal Jennings, who drove forward and centered for an unmarked Williams to chip into the net. However, play was called back and Williams was issued a second yellow card for an infraction off the ball.
Ten minutes later, Antley was then shown two yellow cards in the second minute of stoppage time for dissent. Still, the Rowdies managed to hold on to ensure they finished the night with at least a point.
"We knew it was going to be a tough game," said Guillen. " Obviously they're top of the table out west so we knew we had to bring intensity. I think we brought that. It's unfortunate to tie. We wanted three points but we keep building."
Next up, the Rowdies face New Mexico United at Al Lang Stadium next Saturday at 7:30 p.m. ET. Following the match, fans will have the chance to view a postmatch fireworks show from the field. Tickets for the match can be purchased by clicking here.
Scoring Summary
TBR – Williams (Dalgaard), 33rd minute
SAC – Ross (Cicerone), 45th minute
Caution Summary
TBR – Williams, Red Card (Yellow Cards in 55th & 82nd minute)
TBR – Antley, Red Card (Yellow Cards in 90+2′)
TBR – Lasso, Yellow Card, 61′
TBR – Guillen, Yellow Card, 66′
TBR – Kleemann, Yellow Card, 69′
SAC – Gurr, Yellow Card, 66′
Lineups
TBR: Sparrow, Antley, Kleemann, Lasso, Guillen, Doherty, Wyke, Dalgaard, Dennis, Spaulding, Williams
SAC: Vitiello, Timer, Donovan, Wiedt, Gurr, Sanchezz, Lopez, Felipe, Ross, Herrera, Cicerone