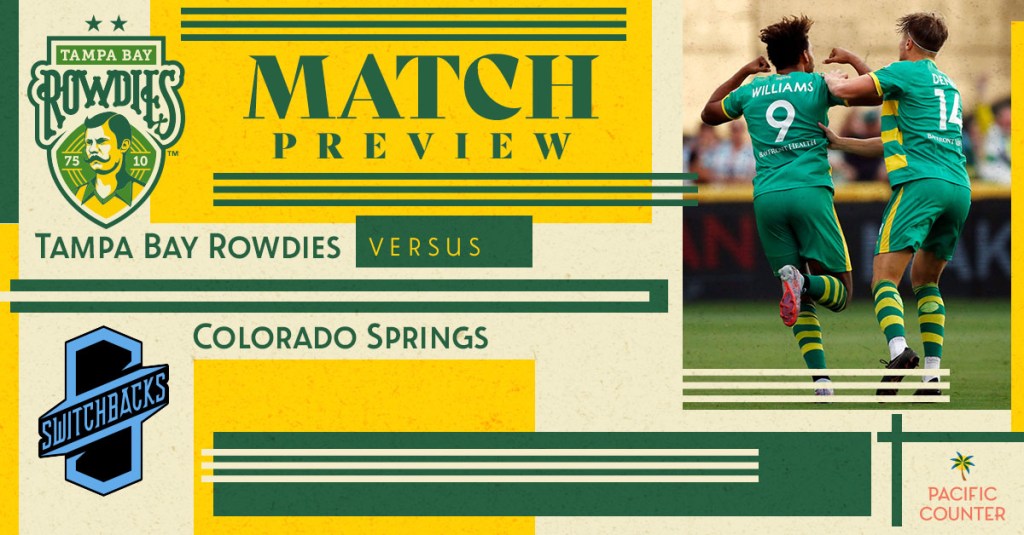 Matchday 12 Info:
Tampa Bay Rowdies vs Colorado Springs Switchbacks FC
Saturday, May 27, 7:30 p.m. ET
Al Lang Stadium, St. Petersburg, FL
Tickets: Tickets for the match can be purchased by clicking here or at the stadium box office starting at 4 p.m. on Matchday.
Pre-Match Fan Zone: From 5:30 to 7:30 outside of Gate 2 at every home match this year, fans are invited to the Rowdies Pre-game Fan Zone featuring a DJ, face painters for young fans, interactive soccer games for fans of all ages, shaved ice from the club's new partner Kona Ice, and many more activities.
Watch: Stream the match on ESPN+.
---
The Rowdies are back in town to kick off a three-match homestand, starting with a match against Colorado Springs Switchbacks FC on Saturday night. Tampa Bay will take the pitch at Al Lang Stadium looking to extend their winning streak to five matches after knocking off Rio Grande Valley FC 3-0 in Texas last week.
"We're obviously aware we've got three home games coming, but it's the old cliche that we're only focusing on Colorado right now… We're coming home against a very difficult side. It's a difficult game but any home game is one we always look forward to. We always recognize the opportunity to play in front of our fans. We always want to get three points and we want to get a good performance. We've got to work this week and try and do the same things we've done that we know will pay us back."
May Dominance
Three points are on the line this weekend, but the Rowdies also have an impressive track record in the month of May to protect. Since the 2019 season, the Rowdies have only failed to claim victory in a match played in May just once. Overall, the Rowdies have posted 12 wins and one draw in the month of May since 2019. The lone draw was a draw with Indy Eleven on May 1 of the 2019 season, meaning the Rowdies have won 12 straight league matches played in May.
"Adaptability has been one of the biggest things,"said Collins. "… I think we've shown we can meet certain challenges and rise ourselves to them. Saturday is another one. Colorado Springs are very attacking, very aggressive and they're a team we've only played once before. What's been most pleasing to me during this run of form is that we've shown different aspects to our character and our performance. We're going to need to show that many more times before the end of the season."
Sparrow Settling In
Rowdies keeper Connor Sparrow is a key reason why the Rowdies remain undefeated in May. With seven saves last week, five of which came in the first half, Sparrow kept the Rowdies from falling behind early in Texas, paving the way for a three-goal second half.
After missing the first few weeks of the year while rehabbing an injury suffered late last year, Sparrow has now started in seven matches and finished four of those shifts with a clean sheet. Sparrow's 0.57 Goals Against Averages is currently tied for second best in the USL Championship.
"It was important for me to do my job and keep the team in it and give us a chance in the second half. Thankfully they took that opportunity and we got the win. The guys in front of me have been great. Over the weekend it was my time to step up and thankfully that happened.
I feel day in and day out we're growing closer as a back four, back six. Everyone is really starting to understand each other's tendencies. Neill and the staff are giving us great things to work on and implement. I think it's really starting to come together."
Milestone Tracker
Lucky Mkosana is two goals away from his 50th regular-season goal in the USL Championship.
Sebastian Dalgaard is nearing a Rowdies milestone. The Danish midfielder sits three appearances away from his 100th overall appearances for the Rowdies. Dalgaard would be the third player to reach the 100 matches mark this season. Captain Aaron Guillen and veteran Yann Ekra already did so in April.
Players approaching 100 USL Championship regular season appearances: Connor Sparrow (99), JJ Williams (98)
Injury Report
OUT: Leo Fernandes, Lewis Hilton, Zach Herivaux
QUESTIONABLE: Jake Areman