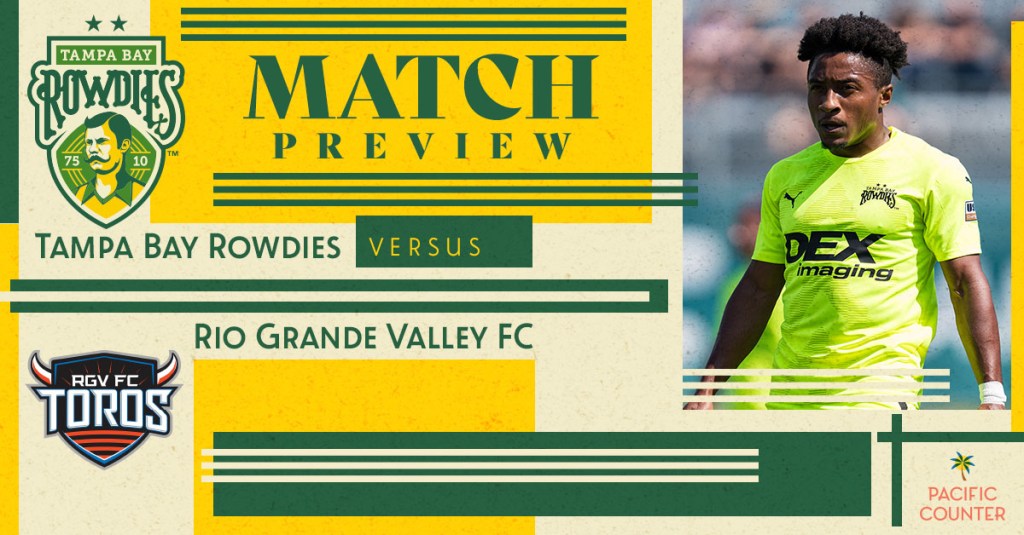 Matchday 11 Info:
Tampa Bay Rowdies at Rio Grande Valley FC
Saturday, May 20, 8:30 p.m. ET
H-E-B Park, Edinburg, TX
Watch Party: The Rowdies official Watch Party at Localz Sports Bar & Grill St. Petersburg location across the street from Al Lang Stadium. Drink specials include $4 16oz Bud Light aluminum bottles and $5 NUTRL seltzers. Season ticket holders who check in at the Watch Party using their digital pass membership will be entered to win a VIP tour and team meet and greet at the Rowdies training facility.
How to Watch: Stream the match on ESPN+
The Tampa Bay Rowdies look to maintain their hot streak over the last three weeks to Texas this weekend as they face off against Rio Grande Valley FC. This will be the first competitive meeting between the Rowdies and RGV FC, who currently sit 10th in the USL Championship's Western Conference standings. However, RGV FC is heading into the weekend on the back of an impressive 3-2 road win at San Diego Loyal SC.
Tampa Bay certainly won't be short on confidence heading into Saturday's match, though. The Rowdies put on their most impressive attacking performance of the year so far with a blistering 5-1 result versus Detroit at Al Lang. Just about every player up top for the Rowdies seems to be hitting their stride. Forward JJ Williams recorded a first-half hat trick against Detroit, making him the first Rowdies player to score three goals in a match since September of 2018. Midfielder Charlie Dennis nabbed his third goal in as many games, while wingback Ryan bagged his second assist in as many weeks. Right wingback Dayonn Harris also opened his account against Detroit, assist on Dennis' goal and notching a goal of his own in the second half.
"Confidence comes as a byproduct of playing well and doing your job well," said Rowdies Head Coach Neill Collins. "You've got to maintain that, and we've always done a good job of that once we get on these good runs and find some consistency. But we've got a tough challenge going to RGV, where we've never done before. It's a different environment, but it's a good playing surface, a good stadium. So it's up to us to go and embrace that."
Milestone Tracker
• Lucky Mkosana is two goals away from his 50th regular-season goal in the USL Championship.
• Connor Sparrow is nearing his 300th regular-season save. Heading into the weekend, Sparrow has 293 saves.
• Sebastian Dalgaard is nearing a Rowdies milestone. The Danish midfielder sits four appearances away from his 100th overall appearances for the Rowdies. Dalgaard would be the third player to reach the 100 matches mark this season. Captain Aaron Guillen and veteran Yann Ekra already did so in April.
Injury Report:
OUT: Leo Fernandes (Achilles/Out for season), Lewis Hilton, Zach Herivaux, Jake Areman