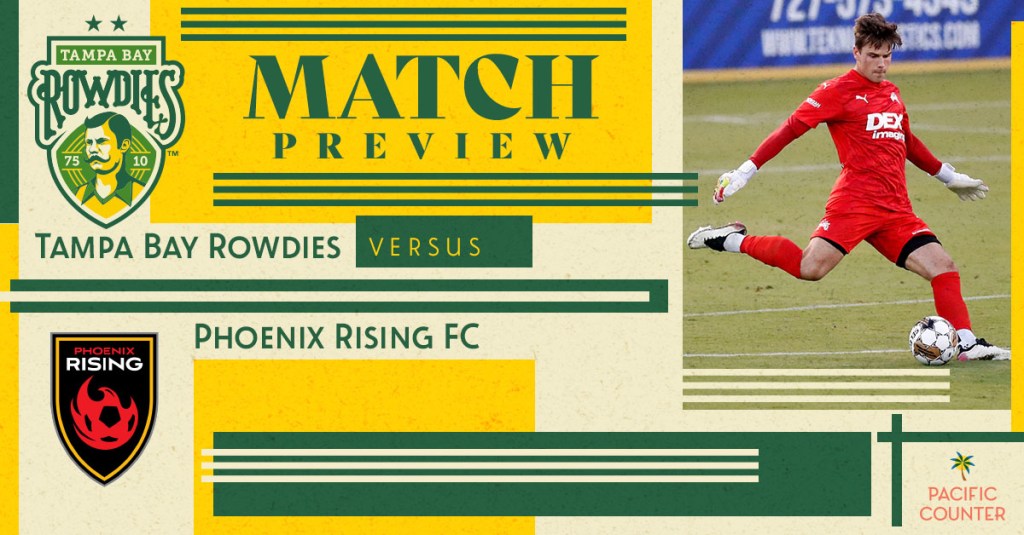 Matchday 9 Info
Tampa Bay Rowdies vs Phoenix Rising FC
Saturday, May 6, 7:30 p.m. ET
Al Lang Stadium, St. Petersburg, FL
Tickets: Fans can purchase tickets for the match by clicking here or at the stadium box office starting at 4 pm on matchday.
Matchday Giveaways: The first 1,500 fans through the gates at Saturday's match will receive a free Rowdies tie-dye headband. The first 2,000 fans will also receive a Rowdies koozie from the presenting partner of the match, Sagicor Life Insurance.
Yoga Night: Enjoy an exclusive yoga session on the pitch at Al Lang prior to the match. Click here to purchase a Yoga Night ticket.
Pre-Game Fan Zone: From 5:30 to 7:30 outside of Gate 2 at every home match this year, fans are invited to the Rowdies Pre-game Fan Zone featuring a DJ, face painters for young fans, interactive soccer games for fans of all ages, shaved ice from the club's new partner Kona Ice, and many more activities.
Watch: Stream the match on ESPN+.
The Tampa bay Rowdies return home this Saturday for a battle with Western Conference foe, Phoenix Rising FC, at Al Lang Stadium. Saturday's matchup will be just the second time the Rowdies shave hosted Phoenix, and only the third competitive meeting ever between the two sides. Tampa Bay has claimed victory in each of their previous meetings with Phoenix.

This year, however, Phoenix comes to St. Petersburg with a new coach leading the way. Juan Guerra, a former Rowdies midfielder and teammate of Rowdies Head Coach Neill Collins, took over late last year from longtime Rising FC coach Rick Schantz. Thus far, Guerra has Phoenix sitting seventh in the Western Conference standings through seven matches played.

"I think Tampa Bay Rowdies against Phoenix is always a big game on the calendar," said Collins. "We all remember the game that didn't happen, but the two games we played against them since them have been very good games, and ones we've come out on top of. This could potentially be the most difficult one we've faced against them. Juan Guerra is an ex-teammate of mine and he's done a good job of giving them a good style, a good identity."

Through a quirk of this year's USL schedule, the Rowdies are in store for a lot of competition from the Western Conference over the next month and a half. Six of Tampa Bay's next seven matchups will be against teams from out west. Overall, the Rowdies have a record of 9 wins, 3 draws, and 4 losses against western competition.

"The west coast is generally more open, more technical," said Collins. "Eastern Conference teams seem to be more organized, more pragmatic. As we're getting to know the west coast teams more, there will become more familiarity. We're looking forward to those challenges and putting some points on the board while Eastern Conference teams are battling it out with each other."
Fortunately for Tampa Bay, they'll have the advantage of staying home for the most part of the next month as well, with five of their next six contests set to take place at Al Lang. After a run of disappointing results to start out the year, the Rowdies are looking to make the most of the their home comforts.

"There's no question that we've got to take advantage of being at home," said Collins. "We're looking forward to being home, performing well in front of our home crowd, giving them some performances that they can get behind."
Dennis on Team of the Week
Rowdies midfielder Charlie Dennis was rewarded for a strong shift in Detroit last Saturday with his second USL Team of the Week selection of the season. Dennis created seven of Tampa Bay's scoring chances and ended up bagging the game-winning goal from the penalty spot.

"The last two performances have really been what we expected from (Charlie)," said Collins. "His work rate was fantastic, but his quality as well. Him and (JJ Williams) worked really well together. I'm pleased he got the goal his performance deserved. If he keeps up that intensity he's got the quality to produce some great moments."
Injury Report
OUT: Leo Fernandes (Achilles/Out for Season), Lewis Hilton
QUESTIONABLE: Jake Areman