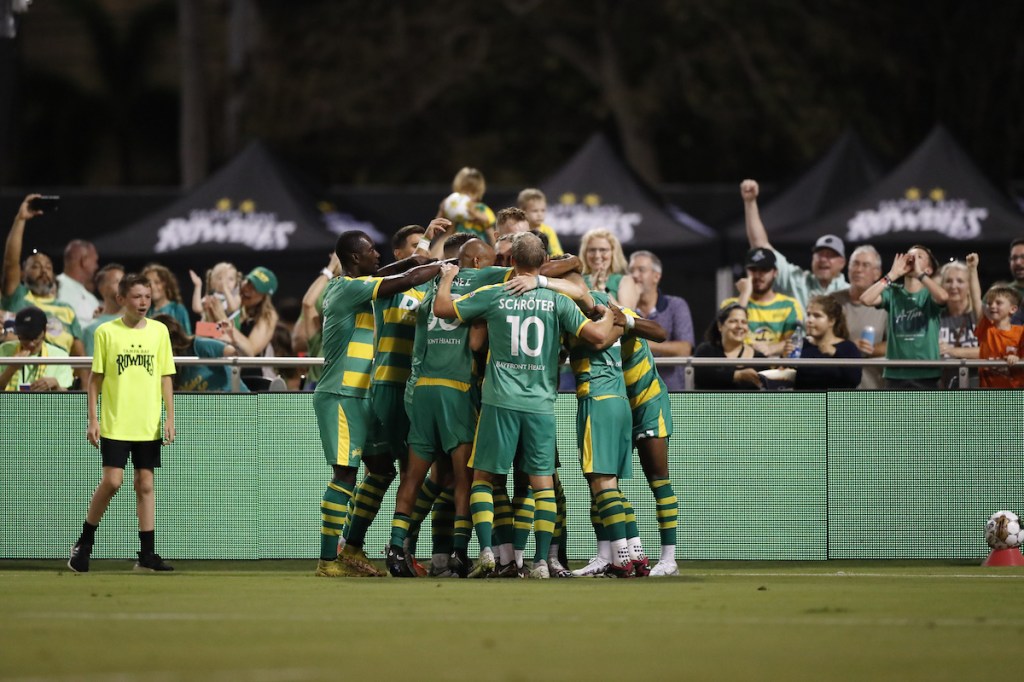 ST. PETERSBURG, FL – The Tampa Bay Rowdies registered their first win of the campaign on Saturday night at a packed Al Lang Stadium. Felix Schröter and Cal Jennings both notched their first goals for the Green & Gold to secure a 2-0 result over Miami FC.
"Those are the kind of goals we've grown accustomed to," said Rowdies Head Coach Neill Collins. "…We obviously want to see more. There were opportunities. If not for the final pass, the final touch we could have really taken advantage of some great transitions."
Schröter opened the scoring for Tampa Bay in the 23rd minute. Receiving a ball from midfielder Lewis Hilton out on the right wing, Conner Antley quickly drove in a cross that slipped through a crowd to find Schröter waiting on the back post to smash home.
"Even if it is an easy tap in, it's always a special feeling scoring your first goal for a club," said Schröter. "To be on the scoresheet for the Rowdies finally is just amazing."
With the opening goal, the Rowdies continued to build on their momentum until they were able to double the lead in the 55th minute. Hilton played a teasing cross toward the near that connected with Jennings, whose glancing header flew past Miami's defenders and keepers.
"Lewis played a great ball in, the perfect height," said Jennings. "My job is to just make good contact. Once I got the flick on and I saw it going to the back post and I knew this one was going in."
The Rowdies return to Al Lang on Wednesday for a rematch with the Charleston Battery. Charleston delivered the Rowdies a 3-0 defeat in South Carolina just two weeks ago.
"We're gonna take it one game at a time," said Jennings. "We know this is a great win against an in-state rival team and now we're looking toward Charleston to build off this. We have a great team and if we play up to our potential this could be a great year."
Fans can purchase tickets for the match by clicking here or calling 727-222-2000 during normal business hours.
Scoring Summary
TBR – Schroter (Antley), 23'
TBR – Jennings (Hilton), 55'
Lineups
TBR: Sparrow, Doherty, Kleemann (Lasso, 60′), Guillen, Antley, Hilton, Ekra, Harris (Dalgaard, 76′), Martinez (Dennis, 77′), Schröter (Williams, 87′), Jennings
Miami: Zendejas, Craig, Chapman-Page, Hernandez (Dowouna, 70′), Thorn (Segbers, 46′), Valot, Akinyode, Stanley, Mines (Sorto, 63′), Repetto (Salazar, 63′), Rivas (Telfer, 63′)