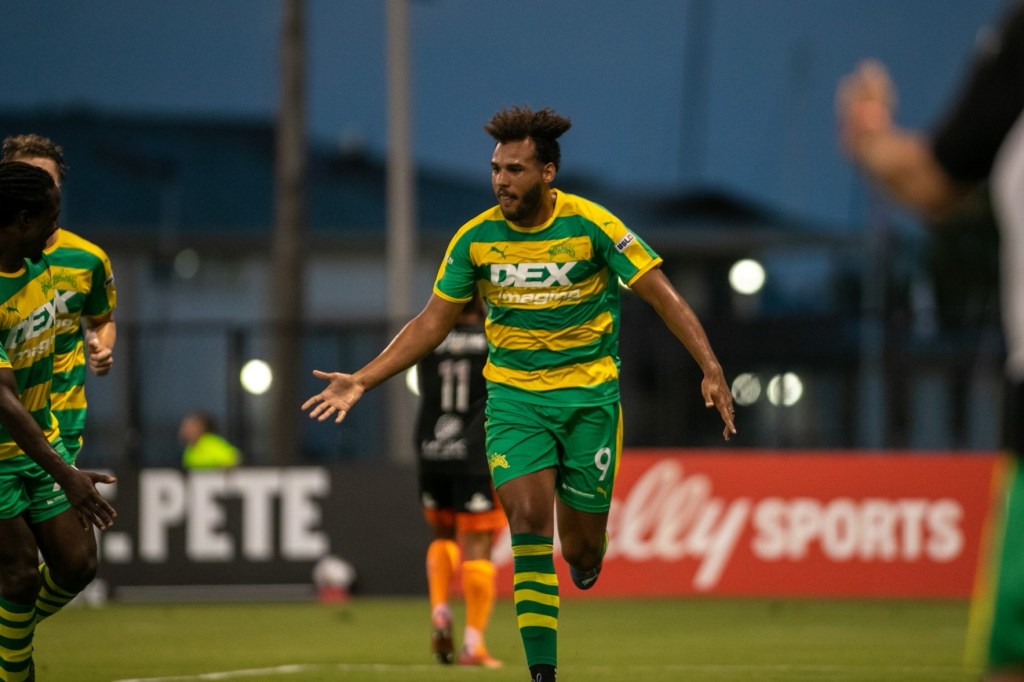 ST. PETERSBURG, FL – The Tampa Bay Rowdies notched a 2-0 win over USL League Two side Nona FC in U.S. Open Cup play at Al Lang Stadium on Tuesday night, booking a spot in the Third Round of the competition later this month. Lucky Mkosana notched a goal and assisted on a JJ Williams tally in the victory.
"I think we deserved to win, but credit to Nona," said Rowdies Head Coach Neill Collins. "(Nona FC Head Coach Guilherme Soares) has them very well coached. They came here and made it difficult. I played in those games as a player and they're never easy… The boys have done the job. We're on the next round. There's loads of positives."
Tampa Bay slowly built momentum throughout the first half and before finally finding a breakthrough in the 25th minute. Mkosana pounced on a loose ball in the box, created a window of space, and centered a pass for Williams to hammer home for his first goal for the Green & Gold.
"My teammates did a really good job of creating the play," said Williams. "They put me in a good position. Lucky played a great ball, which from there, I've done it a thousand times, I just had to do it again, which I did. It was a good finish. I'm happy to get on the scoresheet."
With some momentum, the Rowdies pressed on to double the lead seven minutes later. Wing back Dayonn Harris set up the scoring sequence, driving toward two defenders at the right edge of the box and delivering a lethal cross for Mkosana, who managed to get a glancing header that clipped the inside of the far post to extend the lead..
Mkosana played an important role for the Rowdies in the Second Round of last year's Open Cup as well, bagging multiple goals in a rout over The Villages SC. The veteran strikers saw his most competitive minutes of the 2023 so far on Tuesday against Nona, going 70 minutes before being replaced by Cal Jennings.
"I'm always ready to contribute to the team in whatever way I can when I'm called on," said Mkosana. "I felt good today. We started the game well and got those two early goals to control the momentum of the game."
The Rowdies will learn their Third Round opponent and if they will have hosting rights or must travel for that matchup this Thursday when U.S. Soccer conducts the draw for the next round.
Meanwhile, the Rowdies return to USL Championship action this Saturday at Al Lang Stadium to face Miami FC. Winless in their first four outings of the season, the Rowdies aim to turn things around against their in-state rivals.
"Individuals will take confidence from tonight," said Collins. "We'll definitely learn a few things, but it's a totally different game here against Miami on Saturday. Another difficult game. There's definitely things we need to work on, but I believe with every game we'll get closer. Having a game tonight was definitely better than training this week."
Saturday's match is also the first Postmatch Fireworks Night of the season at Al Lang Stadium. Following the final whistle, fans are invited to watch the fireworks show from the field. Tickets for the match can be purchased here or by calling 727-222-2000 during normal business hours.
Scoring Summary
TBR – Williams (Mkosana), 25'
TBR – Mkosana (Harris), 32'
Lineups
TBR: Sparrow, Doherty, Kleemann, Guillen, Harris (Johnson, 59′), Hilton (Ekra, 46'), Dennis, Dalgaard (Antley, 46'), Schroter (Martinez, 59′), Mkosana (Jennings, 70′), Williams
Nona: Adam, Barboza Jr, Camacho, Carmago, Eyang, Fernandes, Gassama, Pereira, Perez da Silva, Santos, Wheeler