The Tampa Bay Rowdies are set to host Norwich City FC's first team squad at Al Lang Stadium during the FIFA World Cup break. Norwich City makes its way to Tampa Bay this November as part of the EFL Championship side's ongoing partnership with Visit Tampa Bay.
"After an exciting season of Rowdies soccer, we are proud to welcome Norwich City back to Tampa Bay," said Tampa Bay Rowdies Vice Chairman Brian Auld. "Sports has a way of bringing people together from all over the world, and partnerships like this one will continue to energize the community and connect us through the love of the game."
The club will train at Al Lang Stadium Thanksgiving Week, with an open training session scheduled for Friday, November 25, offering supporters in the area a chance to meet Norwich City players. Details and timing of the open session will be announced at a later date.
"We're delighted to be heading back to Tampa Bay for our warm weather training camp this month," said Norwich City Commercial Director Sam Jeffrey. "Over the last five years we've enjoyed an outstanding partnership with Visit Tampa Bay, as well as the Tampa Bay Rowdies, and we're proud to be training at Al Lang Stadium for the duration of our camp. We also look forward to welcoming fans to observe an open training session on Friday 25th November. We thank Santiago C. Corrada, Patrick Harrison and all at Visit Tampa Bay, along with Ryan Helfrick and his team at the Rowdies, for their support and assistance."
Norwich City and Visit Tampa Bay are also the presenting partners of the Rowdies' upcoming Yellow and Green Camp scheduled for November 21-23. The camp will take place at the Rowdies' new training facility in Tampa and is open to boys and girls aged 7-14 throughout Tampa Bay. Norwich City staff and players are set to attend the camp session on Tuesday, November 22.
Visit rowdiessoccer.com/yellow-and-green-camp for more information and to register for the Yellow and Green Camp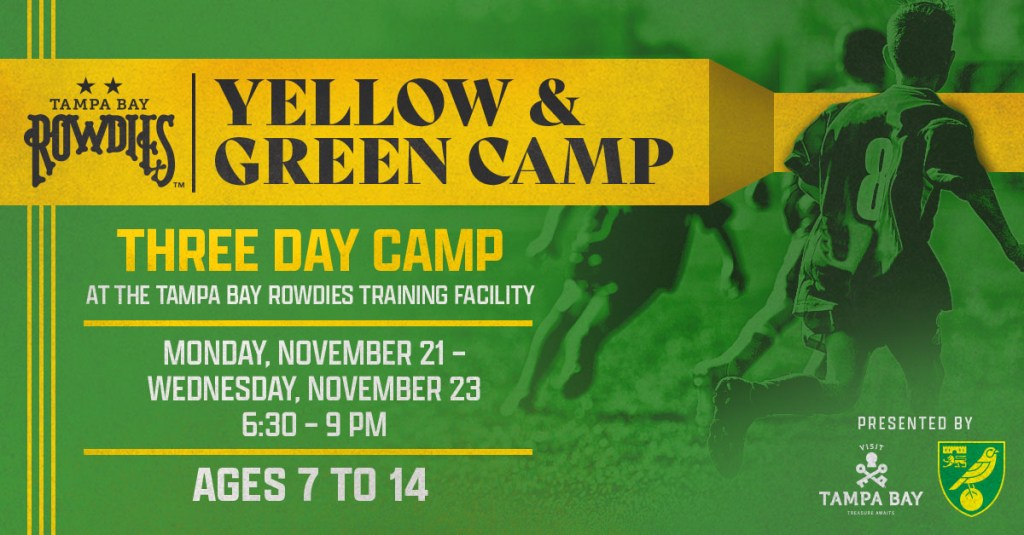 "We are looking forward to welcoming the Norwich City Football Club to Tampa Bay for their second-ever warm weather training session," said Visit Tampa Bay President & CEO Santiago C. Corrada.
"We've had a successful partnership with the club for several years and are incredibly impressed with the loyalty felt by its faithful fanbase. With British Airways offering non-stop service from London Gatwick, and a new Virgin Atlantic route bringing daily non-stop flights from London's Heathrow Airport to Tampa International Airport, it's never been easier for the Canaries and their fans to experience the treasures of Tampa Bay."