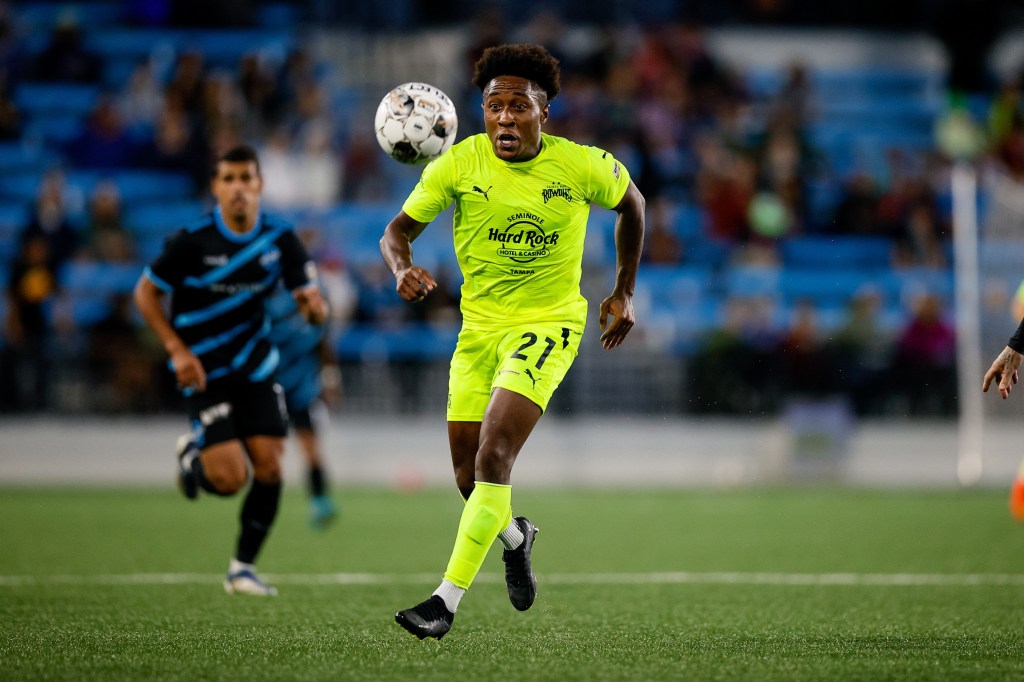 For the second straight week, the Tampa Bay Rowdies found themselves on the losing end of a 1-0 result. On Saturday night, a second-half strike from Colorado Springs Switchback FC's Jairo Henriquez handed the Rowdies a defeat at Weidner Field.
The night ended with protestations from the Rowdies over a missed handball in the Colorado Springs' box, but Rowdies Head Coach Neill Collins was more concerned with his side's performance for the 90 minutes prior to that moment.
"I was disappointed with the call at the end but not as disappointed as I was with our performance tonight," said Collins. "A clear penalty. Referee's missed that call, but the performance leading up to it reflects the result that we ended with."
Tampa Bay had the one and only look at goal for either team in the first half. In the 37th minute, midfielder Lewis Hilton intercepted the ball and played a pass forward for Leo Fernandes, who weaved his way past a couple defenders to get inside the box. Keeper Jeff Caldwell read the play well, though, and was able to come off his line and shut down Fernandes' angle.
Colorado Springs began to find more pockets to strike in the attacking third in the second half. Rowdies keeper CJ Cochran made his first save of the night in the 51st minute, bringing down a tame long distance strike by Elvis Amoh. Cochran came up with another massive stop nine minutes later as he stretched out to his right to stymie Henriquez. Hadi Barry was in position for the rebound but lifted his attempt into the stands.
The Rowdies were less fortunate on Colorado Springs' next rebound opportunity. In the 66th minute, Michee Ngaline forced Cochran into another diving save, with the rebound falling for an on-running Henriquez. Cochran managed to get his hand on Henriquez's effort, but it was not enough to keep it from slipping across the line.
"A fantastic save from CJ. I thought he was one of maybe one of the only players that got passing marks tonight. I'm sure from Colorado Springs' point of view they'll be pleased with it, but from our point of view it was very poor defending on two or three accounts.. This was not a performance that reflects what this team has been."
Shortly before the opening goal, the Rowdies inserted attackers Steevan Dos Santos and Jake LaCava off the bench. Eventually, forward Lucky Mkosana would join them in the 81st minute. None of the changes amounted to many quality chances on net, though.
"When we're scoring a lot of goals it's because of how we're playing as a team, and I don't think we played well as a team. Of course you could look at the top end of the field, but I think it goes right through the whole field. It's back-to-back poor team performances and that's why we've ended up with no goals. There's a lot of things I need to reflect on and just assess."
Despite their struggles in the final third, the Rowdies did put the ball in a dangerous spot in stoppage time only to be denied the chance to directing the ball on frame by a handball. Tampa Bay's Conner Antley went up in the box looking to get his head on the end of a well-placed free kick from Nicky Law but defender Matthew Mahoney swatted the ball away with his right arm.
Next up, the Rowdies head back to Al Lang Stadium for a two-match homestand, starting with last year's USL Championship final opponent Orange County SC on Saturday, August 27 at 7:30 p.m.
"The mindset from everyone should be to prove themselves," said Collins. "The last two games we've played two teams that have been very eager to prove themselves, prove a point. We're at our best when we're in that mindset. I don't think we have been as much as we should have. You quite quickly get found out when you're not at your best in terms of that intensity and desire."
Tickets for next Saturday's match, including a post-match fireworks show, can be purchased here or by calling 727-222-2000.
Scoring Summary
COS – Jairo Henriquez, 66'
Lineups
TBR: Cochran; Wyke, Scarlett (Mkosana, 81'), Antley, Guillen; Hilton (Etou, 89'), Ekra (Law, 80'); Harris (LaCava, 65'), Fernandes, Dalgaard; Greig (Dos Santos, 64')
COS: Caldwell; Mahoney, Erdman, Foster; Halsey, Echeverria, Henriquez (Makangila, 76'), Lindley; Amoh (Wheeler, 83'), Ngalina, Barry (Belmar, 90')