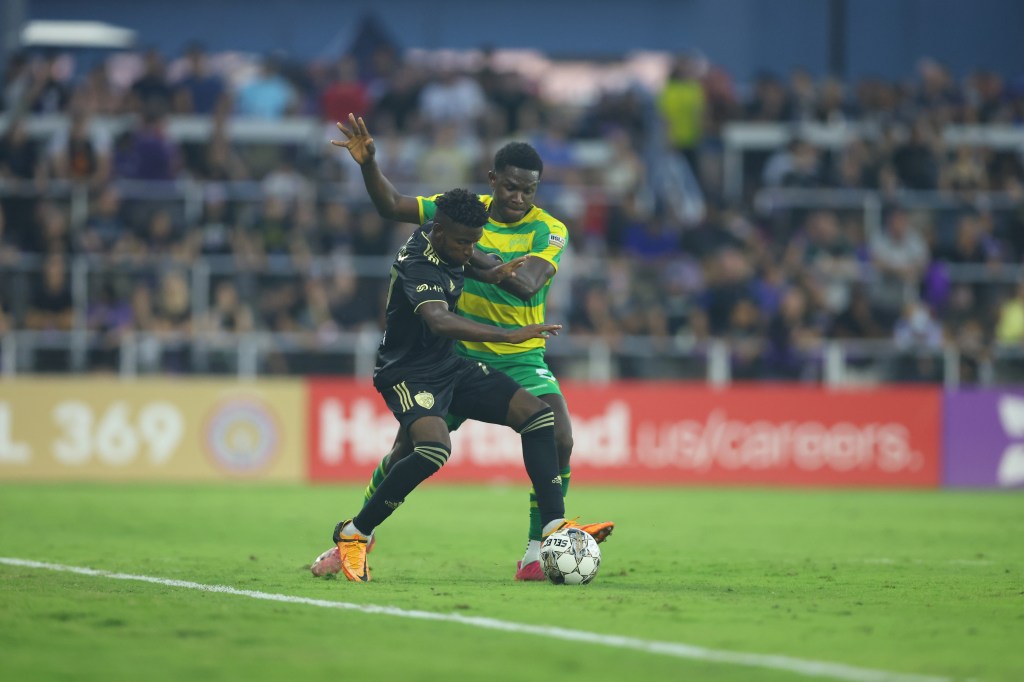 The Tampa Bay Rowdies saw their unbeaten run end at 13 matches on Saturday at Louisville City FC's Lynn Family Stadium. Substitute Wilson Harris provided the winner for Louisville to edge out the Rowdies 1-0.
"We can live with a defeat, especially away to Louisville. That's always a tough place to come. But it's more the performance that really disappoints me. I don't think the team did themselves justice tonight," said Rowdies Head Coach Neill Collins.
Louisville came out on the front foot from the opening minutes but were held at bay by Tampa Bay's defense throughout the first hour until a mishap at the back opened up a window for Louisville to grab their first shot on target of the night. In the 63rd minute, Rowdies center back Aaron Guillen threw the ball in back toward Tampa Bay's box for teammate Conner Antley, who was immediately put under pressure by Harris. Louisville's attacker was able to win the ball at the top of the box and fire a shot into the back of the net just a couple minutes after he entered the match.
The Rowdies were not without chances of their own. In several instances, the Green and Gold found themselves with a pocket of space to get a shot off inside the box. However, none of the eight shots taken by the Rowdies were put on frame.
"To lose the goal in the manner we did was really disappointing, but I honestly think on both sides of the ball we weren't anywhere near the levels we've set," said Collins. "…We got into two or three great opportunities that we should have taken and done better. When we look at it, we'll say both sides of the ball tonight were below par. We could have taken our opportunities when they arose but we didn't manage to."
With the defeat the Rowdies move down to third in the Eastern Conference standings, sitting even at 48 points with Memphis 901 FC but behind based on a tiebreaker. Louisville now sits four points ahead of the Rowdies in first place in East.
"I think we learned a little bit about ourselves, maybe a lot about ourselves tonight," said Collins. "I'm sure some individuals will learn a lot about themselves. These are the games that you do learn a lot. Ideally you want to win, but sometimes the losses, as tough as they are, sometimes they make you better. We need to make sure this one makes us better."
Next up, the Rowdies travel out west to face Colorado Spring Switchbacks FC on Saturday, August 20 at 10 pm ET. They then make their return to Al Lang Stadium on Saturday, August 27 to take on last year's USL Championship Final opponent, Orange County SC. Tickets for the match can be purchased here.
Scoring Summary
LOU – Wilson Harris, 63'
Lineups
TBR: Cochran; Scarlett, C. Antley, Guillen; Harris (Ekra, 61'), Hilton, Law (Etou, 72'), Dalgaard (Castellanos, 73); Fernandes, Dos Santos (Greig, 61'), LaCava (Mkosana, 73')
LOU: Morton; Perez; Totsch, Charpie, Dia; Bone (Matsoso, 60') Gibson; Serano, Gonzalez (Piccolo, 90'), Mushagalusa (Harris, 60'), Ownby (Jimenez, 90')