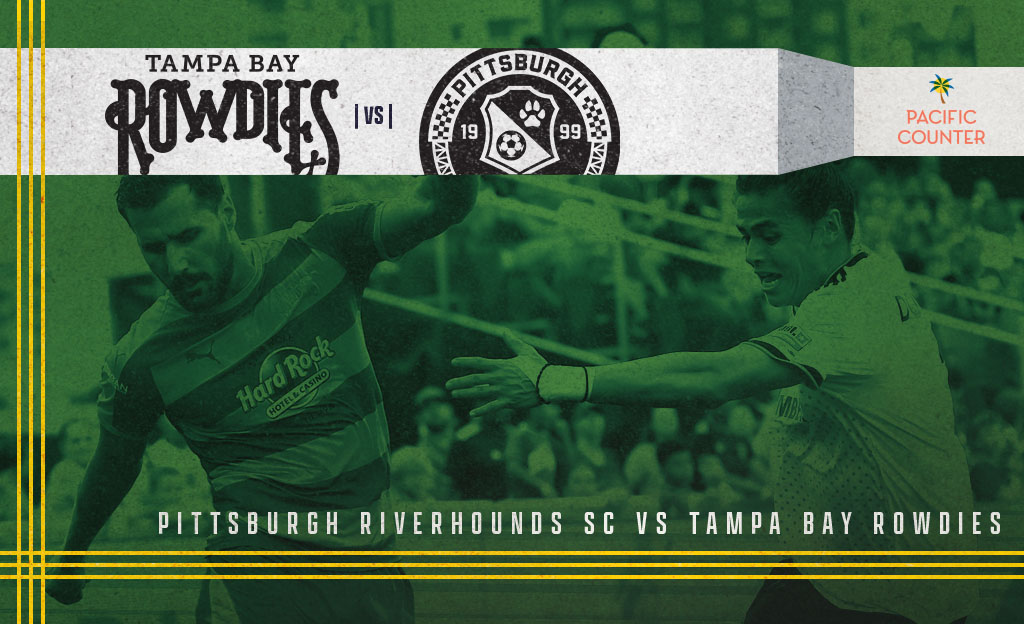 Matchday 17 Info:
Tampa Bay Rowdies at Pittsburgh Riverhounds SC
Saturday, June 24, 7 p.m. ET
Highmark Stadium, Pittsburgh, PA
Watch: Stream the match on ESPN+.
Follow Along: Live updates on Twitter at @RowdiesGameday
The Tampa Bay Rowdies hit the road this weekend looking to find the winning edge against Pittsburgh Riverhounds SC. In six previous trips to Pittsburgh's Highmark Stadium, the Rowdies have yet to come away victorious, posting three wins and six draws.
Tampa Bay are not the only side who have struggled to claim a win at Highmark. Pittsburgh has not been on the losing end of a result at home since June 6 of last year.
"Six games and we've not managed to get the three points there yet," said Rowdies Assistant Coach Jon Stead. "So there's been a real emphasis on that winning mentality, what it's going to take to win. They're extremely strong at home. They don't give up many points and they certainly don't lose very often. I think it's probably been over a year since they lost there. We're gonna be up against it. We're gonna have to be absolutely bang at it in every area to get the three points. There's been a real key focus on that this week."
The Rowdies do happen to catch Pittsburgh in the midst of a rare dip in form. Bob Lilley's side are winless in their last five outings, including back-to-back losses in their last two matches. Pittsburgh's recent skid started at Al Lang Stadium on May 21, with a 3-1 defeat at the hands of the Rowdies. While there are good lessons to take from the recent win, the Rowdies know the environment at Highmark creates entirely new challenges.
"We take positives from every game, there's always some aspects we've done well and certainly things we need to improve," said Stead. "In that respect, it doesn't really change week to week. We're under no illusion about the difficult task that's ahead of us. It's a challenge and that's a challenge that the players need to set themselves as a group and go and rise above that challenge to be in that group that goes and wins in Pittsburgh. They've got the perfect opportunity to do it on Saturday."
Collins Returns to Camp
Rowdies Head Coach Neill Collins returns stateside in time to lead the club in Pittsburgh this Saturday. Collins missed last week's 1-1 draw versus the Charleston Battery while he was continuing the final stages of his UEFA Pro License Course in Europe. Assistant Coach Jon Stead and the rest of the Rowdies Coaching Staff have overseen training throughout the week leading up to this week's matchup in Pittsburgh.
Fernandes Wins Goal of the Week
Rowdies attacking midfielder Leo Fernandes' continued his hot streak last week with his fourth goal in five matches. Fernandes' latest tally earned him the Fans Choice USL Championship Goal of the Week. Fernandes received the ball near the midfield line and fought off a few defenders to drive forward and deliver a low strike from outside the box into the bottom right corner of goal.
Pillars of the Squad
Aaron Guillen an Sebastian Guenzatti are the only two players to have appeared in every match so far in the 2022 USL Championship campaign, and Guillen is the only player to earn a start in ever match. Given their consistency, it's no coincidence that Guillen and Guenzatti have split captain duties throughout the season and.

Upcoming Milestones
Sebastian Guenzatti is two goals away from breaking the Rowdies all-time scoring record of 60 goals held by Georgi Hristov.
 Guenzatti is 7 appearances away from his 150th appearances for the Rowdies. He currently ranks second in the modern era in appearances.
Lucky Mkosana is 7 appearances away from his 100th appearance for the Rowdies.
Rowdies keeper CJ Cochran is three clean sheets away from his 30th toal clean sheet in the USL Championship.
Injury Report:
OUT: Robert Castellanos, Steevan Dos Santos
QUESTIONABLE: Dayonn Harris