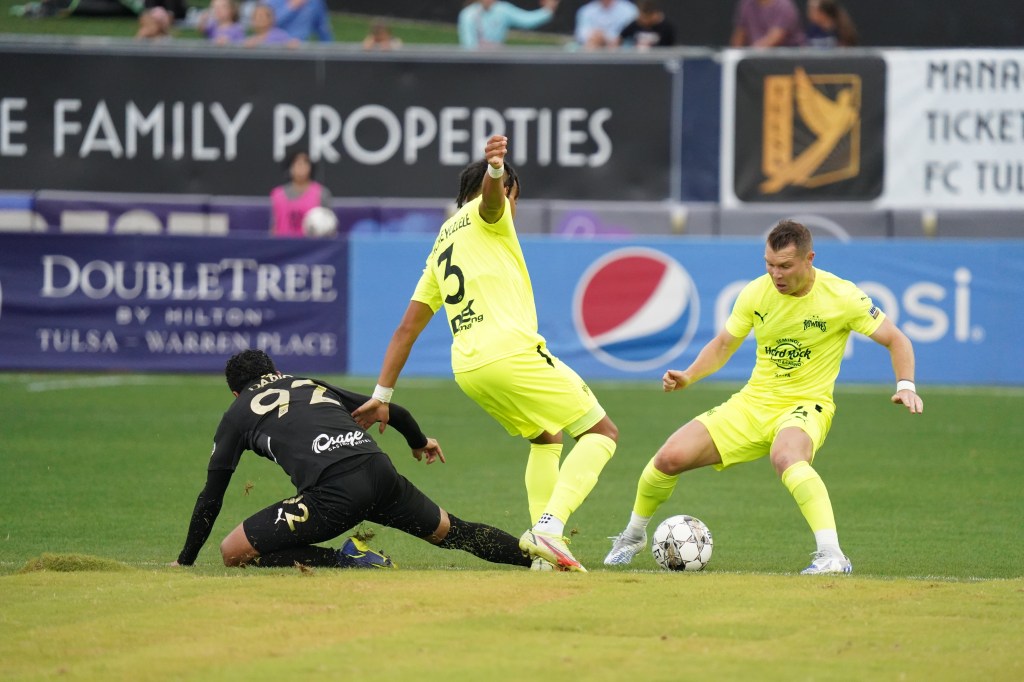 The Tampa Bay Rowdies left several chances unfinished at ONEok Field on Wednesday night and were forced to settle for just a point in a 1-1 result after leading FC Tulsa for most of the night. 
All told, the Rowdies put nine shots on target but were only able to slip one past Tulsa keeper Austin Wormell. Meanwhile, Tulsa's lone shot on goal of the night was all the hosts needs to pick up a point.
"No question we need to cut out those little lapses in tight games," said Rowdies Head Coach Neill Collins. "It's great to win 5-1, 3-1, but now and again we need to win a game one-nil. I thought tonight was going to be that tonight, but we gave away a soft goal. But we took some steps forward tonight. Coming into a difficult environment, we handled it far better than we did against Memphis. We just need to go one step farther next time by taking our chances."
The Rowdies started brightly to find the go-ahead goal in the 17th minute. Leo Fernandes served a cross in from the left edge for forward Kyle Greig in front of goal. Greig's attempt hit the right and rebounded back into the center of the box, where midfielder Laurence Wyke swooped in to smash the ball into the back of the net.
Tampa Bay limited Tulsa's offensive chances throughout the first half, despite having to lose starting center back Jordan Scarlett after he picked up a knock to the eye as well as an early yellow card in a short span. Fortunately, Conner Antley was fit for selection for the first time in two matches and was able to slot in for Scarlett on the back line.
Sebastian Dalgaard came close to doubling the lead moments before the halftime whistle. After Tulsa initially cleared a Lewis Hilton free kick, Dalaard fired the ball right back into the box and on frame with a lovely long-range volley that Wormell did well to parry away.
Wormell came up with two more crucial stops for Tulsa in the second half. In the 59th minute, he denied Jake LaCava point-blank at the near post and then got a bit lucky when Greig sent the rebound attempt into the post. Four minutes later, Wormell got low to deny a low strike from Fernandes that was on its way into the bottom right corner of the goal.
Tulsa found a bit more urgency in the second half and finally managed to level the match off the foot of substitute Rodrigo da Costa in the 83rd minute. Marlon Ramirez initially brought the ball down off his chest just inside Tampa Bay's box. Antley stepped in to cut him off from the ball, but the Rowdies failed to pick up da Costa and he charged forward and blasted a shot past CJ Cochran.
"One little slack moment for the defenders," said Collins. "It's tough being a defender. You make one little mistake and you get punished but that's just part and parcel of it. That'll be frustrating for all of them because they deserved a clean sheet tonight."
The Rowdies still had their opportunity to claim all three points deep in stoppage time. A long throw-in from Antley from deep in the corner found its way past a crowd of players and Wormell. Substitute Lucky Mkosana was in position for a header, but the veteran striker could not get enough on the ball to redirect it on goal.
"The players know what we're looking to do in that situation," said Collins. "It's obviously right at the end of the game. They did everything right and Lucky didn't manage to get quite enough on it to put it in the net. He's not going to score every chance, as much as people might think he will. I thought he was excellent when he came on. It would have been great for him to get that goal. He didn't manage it tonight, but I think our response to losing the goal was excellent. We really looked like we were going to go on and win the game. A lot of frustration, but we're trying to keep it in perspective."
The Rowdies return to Al Lang Stadium this Saturday to host Louisville City at 7:30pm ET. Tickets for the match can be purchased here or by calling the Rowdies ticket office at 727-222-2000.
Scoring Summary
TBR- Wyke, 17'
TUL- da Costa, 83'
Lineups:
TBR: Cochran; Vancaeyezeele, Scarlett (Antley, 37'), Guillen (Ekra, 81'); Dalgaard, Hilton, Wyke, Areman; Fernandes (Tejada, 81'), Greig (Mkosana, 71'), LaCava (Guenzatti, 71')
TUL: Wormell; Fenwick, Bourgeois, Silva, Torres (da Costa, 76'); Diz Pe (Winters, 90+1'), Kibato, Bird, Suarez (Obinwa, 77'), Williams (Ramirez, 61'); Brown