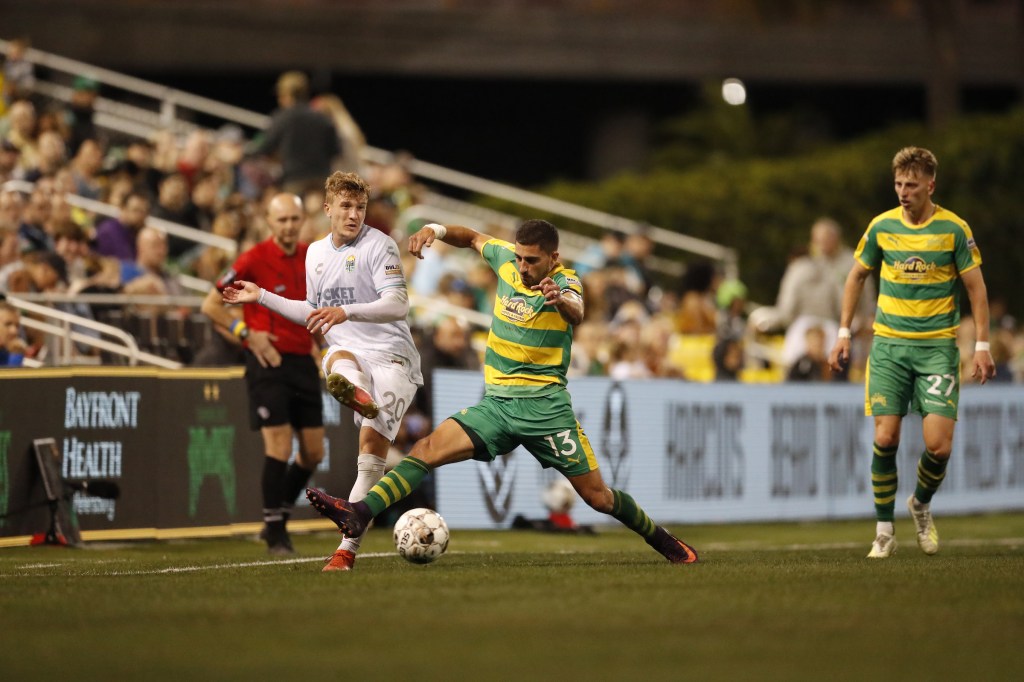 ST. PETERSBURG, FL – The Tampa Bay Rowdies conceded twice late in Saturday's matchup with San Diego Loyal SC at Al Lang Stadium to fall 3-2.
"We put ourselves in a position to win that game, credit to the team for that, but this is professional football." said Rowdies Head Coach Neill Collins. " You have to have those little details. Unfortunately we didn't and we got punished.
Despite playing on short rest for the fourth straight match, the Rowdies opened the night with energy and intensity. Unfortunately, it was the visitors who drew first blood in the 19th minute. Collecting a long ball on the left flank, Nick Moon cut inside to his right before launching a strike from the top of the box that sailed into the back of the net.
The Rowdies showed great resolve to equalize the match just two minutes later. Rowdies attacker Jake LaCava pounced on a carless pass by San Diego in their own half and then sprinted forward into the final third. LaCava looked to lay a pass off but ultimately decided to rip a shot himself to best keeper Koke Vegas in the box.
Tampa Bay continued to create chances and put themselves in promising positions but there go-ahead goal did not come until the 41st minute. Midfielder Leo Fernandes delivered a teasing corner kick which slipped past a defender and then was miscued by another trying to clear. Rowdies captain Sebastian Guenzatti took full advantage of the chaos with a textbook scissor kick to put the Green & Gold ahead.
The goal is Guenzatti's first of the year and his 59th overall for the Rowdies, putting one shy of Georgi's Hristov's all-time Rowdies scoring record.
Guenzatti created a chance before the hour mark that could have sealed the match as he poked a through ball into space for Kyle Greig in the final third. Greig was one-on-one with the keeper but sent his effort a foot over the goal.
With 15 minutes to go, San Diego leveled when Kyle Vassell shouldered his marker off the ball and cut a pass back for an unmarked Jack Blake to put into the back of the net. San Diego grabbed the lead with two minutes two as Tumi Moshobane freed Evan Conway for a shot to the near post that slipped past Arozarena.
"Lack of concentration, moments of people not just doing their jobs," said Collins. "Really, as a team defensively we've not had massive problems, but individuals not recognizing moments in games where the have to do what they're in the team for. That's why we're sitting here without any points when really I think we deserved three points. But you only get what you deserve when you do the things that really matter. Ultimately we didn't."
The Rowdies have a much needed break next week after playing 5 matches over the last 15 days. They return to action on Sunday, May 15 at Phoenix Rising FC coming home to face Pittsburgh Riverhounds SC on Saturday, May 21. Tickets for the match can be purchased here.
Scoring Summary
SD – Nick Moon (Elijah Martin) 19'
TBR – Jake LaCava 21'
TBR – Sebastian Guenzatti 41'
SD – Jack Blake (Darius Vassell) 75'
SD – Evan Conway (Tumi Moshobane) 88'
Lineups:
TBR: Arozarena; Scarlett, Mehl, Guillen; Antley, Wyke, Etou, Fernandes; LaCava (Ekra, 77′), Greig (Harris, 61′), Guenzatti (Mkosana, 89′)
San Diego: Vegas; Martin (Blake, 60′), Adams, Boxall, Metcalf; Martin (Riley, 90+3′), Guido, Adams (Vassell, 60′), Moshobane; Moon, Conway