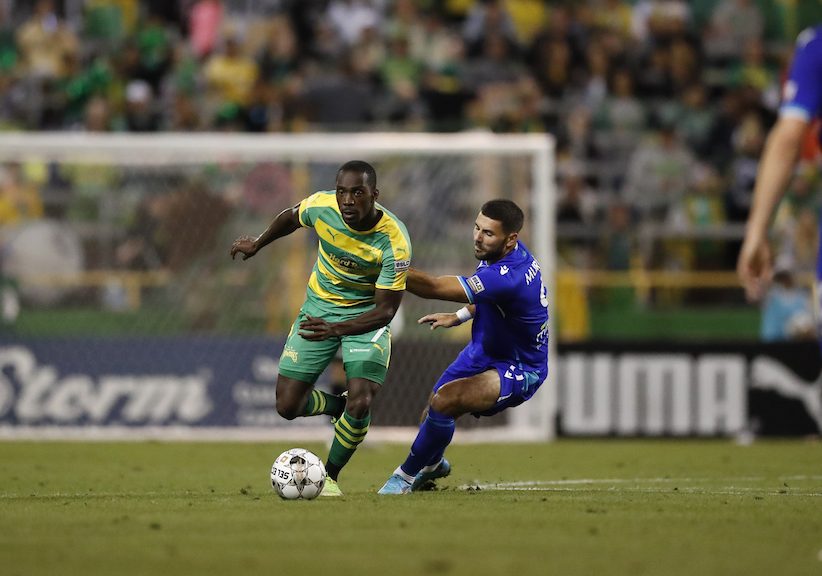 ST. PETERSBURG, FL – The Tampa Bay Rowdies dropped their first match of the season on Saturday night at Al Lang Stadium, narrowly losing out to in-state rival Miami FC. Tampa Bay outshot the visitors 15 to 7 but Miami needed just one to take all three points back home with them.
Rowdies Head Coach Neill Collins was not at Saturday's match, traveling to Scotland on Friday to continue his UEFA Pro License course. Assistant Coach Jon Stead was acting head coach for the Rowdies on the sideline against Miami.
"We didn't really have any cutting edge or show our teeth in front of goal," said Rowdies Assistant Coach Jonathan Stead. "The biggest disappointment for me was that although we kept possession and moved the ball quite well at times, the game's. We had a lot of shots tonight, and we only had two on target out of 15 shots. Those numbers aren't going to give you results."
Saturday's match was a physical affair, making it difficult for either side to create many meaningful chances on goal. Miami had the first look at goal of the night when Aedan Stanley delivered a free kick over the wall that was dipping back down onto frame but Rowdies keeper CJ Cochran got his mitts on the ball to push into the crossbar and away from danger.
In his first start of the season, left wingback Jake Areman created the Rowdies' most promising chance of the first half with a dangerous cross from the left edge. Steevan Dos Santos was waiting on the back post of Areman's service but Stanley made a last-ditch header to clear the ball back over Miami's goal and out for a corner.
Miami had just one more scoring chance of the night and it proved to be the decisive one. In the 51st minute, attacker Joshua Perez forced Cochran into a diving save with a curling shot from 20 yards out. The rebound fell favorably for Miami and the Rowdies were slow to react to it, allowing Pierre Da Silva to swoop in and clean up with a shot past Cochran.
"We were unlucky on that goal," said Rowdies center back Aaron Guillen. "It's part of the game. We just need to look ourselves in the mirror and come in Monday to get to work so we can get better at the stuff we video when we look back."
The Rowdies pushed hard to level the match but they were never able to find their finishing touch. Tejada managed to slip behind the back line in the 71st minute but sent his low strike a couple feet wide left. Making an appearance as a late substitute, Sebastian Guenzatti guided a volley on target but not with enough pace to best keeper Connor Sparrow.
"We showed an intensity for the last 15, 20 minutes that we should have shown a lot earlier in the game," said Stead. "A real drive to get on the ball, a commitment to get forward,and that came too late. There were large parts I was happy with. We kept the ball, we switched it side to side, but that doesn't win you football matches."
Scoring Summary
MIA – Pierre Da Silva 51'
Lineups:
Rowdies: Cochran; Scarlett (Wyke, 61'), Antley, Guillen; Dalgaard, Hilton, Etou (Ekra, 61'), Areman; Tejada, Dos Santos, Fernandes (LaCava, 61')
Miami: Sparrow; Ofeimu, Craig, Stanley; Segbers, Williams, Valot (Walker, 87'), Bah; Perez (Murphy, 69'), Parkes (Akinyode, 69'), Da Silva