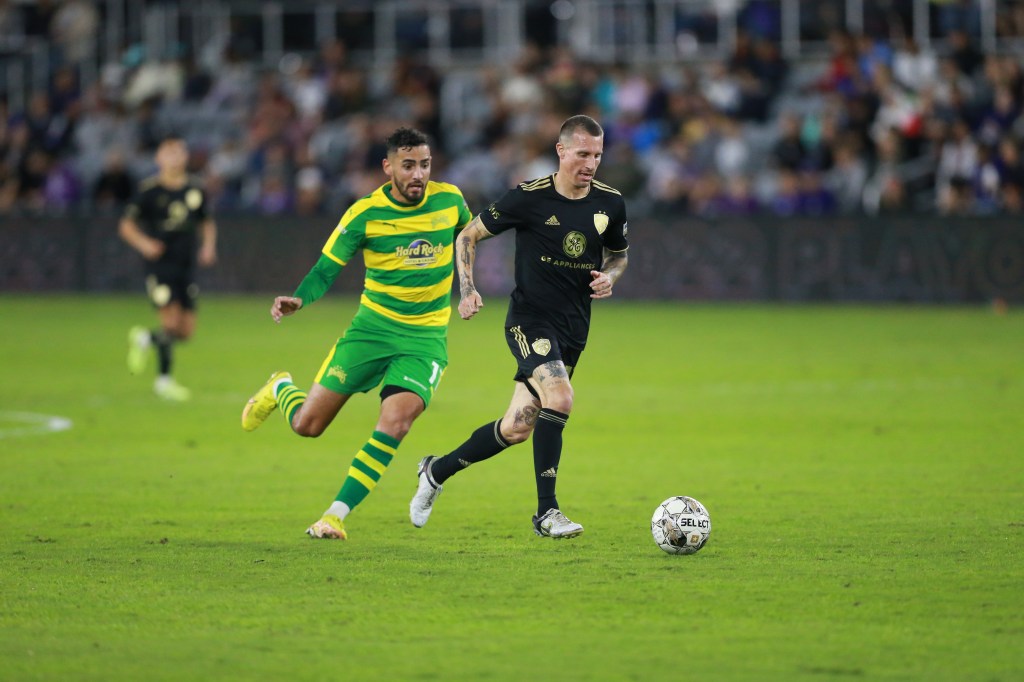 The Tampa Bay Rowdies fell to 1-0 to Louisville City FC in Extra Time of Saturday's Eastern Conference Final at Louisville's Lynn Family Stadium. A short-handed Louisville City rallied to score in the 108th minute of the match and seal the victory.
Neither side succeeded in creating much in the final through the first 45 minutes, although the hosts did hold an advantage in possession. Lewis Hilton had Tampa Bay's only shot on target of the first half, sending a volley from distance into the arms of keeper Danny Faundez.
Looking to create a spark up top, the Rowdies inserted Steevan Dos Santos at halftime. The target forward caused troubles for Louisville during his shift but a goal still eluded him and the Rowdies.
Louisville came close to grabbing a go-ahead goal in the 75th minute when substitute Brian Ownby brought down the ball on the right edge of the box and cut a pass back for Wilson Harris, who turned and fired on goal. However, keeper Phil Breno was up to the task with a diving save and a quick reaction to scoop up the rebound before Louisville could pounce.
The Rowdies went up a man in the 82nd minute as Louisville defender Corben Bone was shown a straight red card after an altercation with Tampa Bay's Lewis Hilton, who picked up a yellow card for the incident. With a man advantage, the Rowdies pushed higher up the field in hopes of finding a winner and came close in the 88th minute. Nicky Law picked out Dos Santos with a corner kick delivery to the back post, and Dos Santos headed the ball back across goal where Sebastian Dalgaard was just a few inches away from getting his head on it.
Louisville finally found its winner in the 108th minute as the Rowdies failed to clear a corner kick. Several players on both sides got a touch on the ball, but it was Elijah Wynder who buried the chance into the back of the net.
Scoring Summary
TBR – E. Wynder, 108′
Lineups:
TBR: Breno; C. Antley, Wyke, Castellanos, Guillen; Hilton, Law, Areman, Fernandes, LaCava, Guenzatti
LOU: Faundez; Perez, Charpie, Totsch, Dia, Bone, Gibson, DelPiccolo, Serrano, Mushagalusa, Wilson