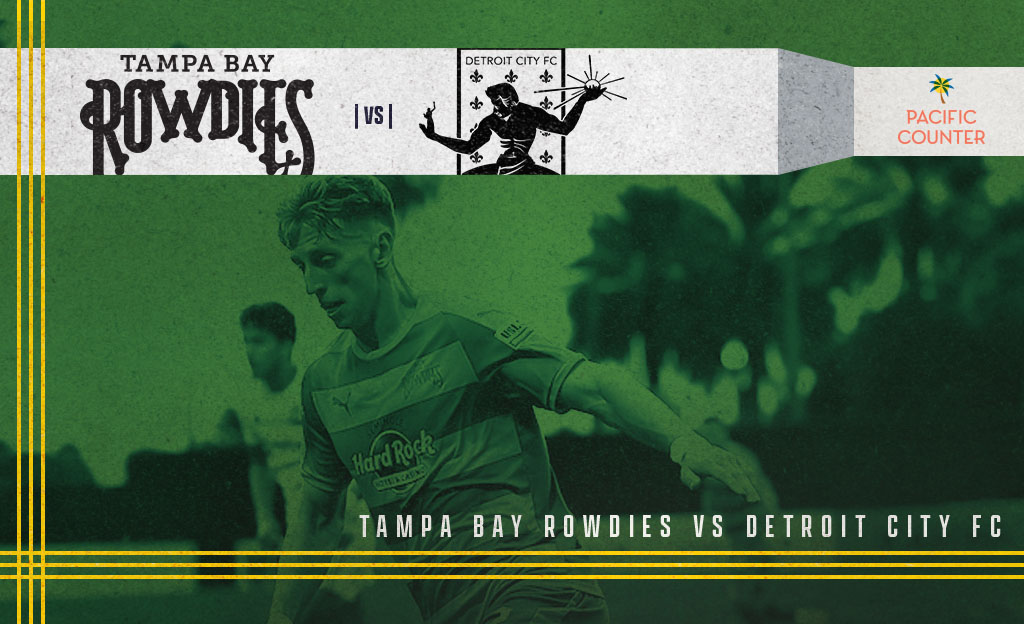 Matchday 23 Info:|
Tampa Bay Rowdies vs Detroit City FC
Saturday, August 6, 7:30 p.m. ET
Al Lang Stadium, St. Petersburg, FL
Tickets: Fans can purchase tickets for the match here or at the stadium box office starting at 4 pm on matchday.
Pre-Game Show: Prep for the match with the pre-game show hosted by The Unused Substitutes live starting at 6:30 p.m. ET on Twitch.Tv/RowdiesGG.
Watch: Fans can stream the match on ESPN+.
Follow Along: Live updates on Twitter at @RowdiesGameday. 
The Rowdies enter the weekend unbeaten in their last 12 matches, equaling the longest unbeaten run of last year's squad. This year's team need only a win or draw on Saturday night to match the longest unbeaten run in the club's modern era.
"A thing we're constantly reinforcing is you win the game on Saturday by how you prepare in training Monday through Friday and how you look after yourselves," said Rowdies Head Coach Neill Collins. "That's where our players have done the real heavy lifting. Then they get to go out on Saturday night and show everyone how good they are."
Standing in Tampa Bay's way this weekend is an opponent they've never squared off with before in Detroit City FC, who entered the USL Championship this season after a decade of play in other leagues. As far as USL debuts go, Detroit has had a good one thus far. The club sits sixth in the Eastern Conference standings through 21 matches played.
"Detroit are a very positive team," said Collins. "In possession and out of possession, they really get after it. They want to win the ball back quickly. They're not going to come here and sit back and see what the game gives them. They're going to try to go out there and implement their game on us, which is going to be a good test for us."
Castellanos' Return
The Rowdies picked up some defensive reinforcement this week with the return of loanee Robert Castellanos. The 23-year-old center back joined the Rowdies on loan from Major League Soccer side Nashville SC at the end of preseason but ended up fracturing his ankle just a few minutes into the season opener in March. Castellanos returned to Nashville to recover from his injury and just returned to Rowdies camps this week.
Castellanos' return comes at an opportune time as defender Thomas Vancaeyezeele continues to deal with a nagging achilles injury. However, Castellanos integration could be a slow process as he works his way back to full fitness after missing four months of action.
"We obviously need to be mindful of where he's coming from with his injury, but its great to have him back training with the group. I've not made a decision yet whether he'll be involved with the squad. If he is, he'll be limited in what minutes he can play."
Fernandes Up for Player of the Month (Again)
The reigning USL Player of the Month from June is nominated again after a stellar July. Leo Fernandes bagged 5 goals and 2 assists to lead the Rowdies to a perfect July.
"Leo's been highly impactful," said Collins. "He's had the goals and the assists to back it up, but he's always been a huge part of everything we try to do on and off the field, so it's great to see him get the recognition for that. I still think there's more to come from Leo, which is pretty exciting."
Detroit's Shot-Stopper
This Saturday's matchup sees one of the league's best attacks – Tampa Bay – face one of the best shot stoppers in the season so far in Detroit's Nathan Steinwascher. Tampa Bay's 47 goals is second best in the USL, as is the club's 20 percent shot conversion rate. Meanwhile Steinwascher is tied for third in the league with 57 stops, helping Detroit limit opponents to the second fewest goals in the league.
Upcoming Milestones
Sebastian Guenzatti is 2 goals away from breaking the Rowdies all-time scoring record of 60 goals held by Georgi Hristov.
Guenzatti is 1 appearance away from his 150th appearance for the Rowdies. He currently ranks second in the modern era in appearances.
Lucky Mkosana is 4 appearances away from his 100th appearance for the Rowdies.
Keeper CJ Cochran is two clean sheets away from his 30th shutout in the USL Championship.
Forward Kyle Greig is nearing 15,000 minutes played in the USL Championship regular season. He currently sits at 14,716 minutes played heading into the weekend.
Defender Thomas Vancaeyezeele is nearing 10,000 minutes played in the USL Championship regular season. He currently sits at 9,905 minutes heading into the weekend.
Injury Report
OUT: Jake Areman, Thomas Vancaeyezeele
QUESTIONABLE: Robert Castellanos