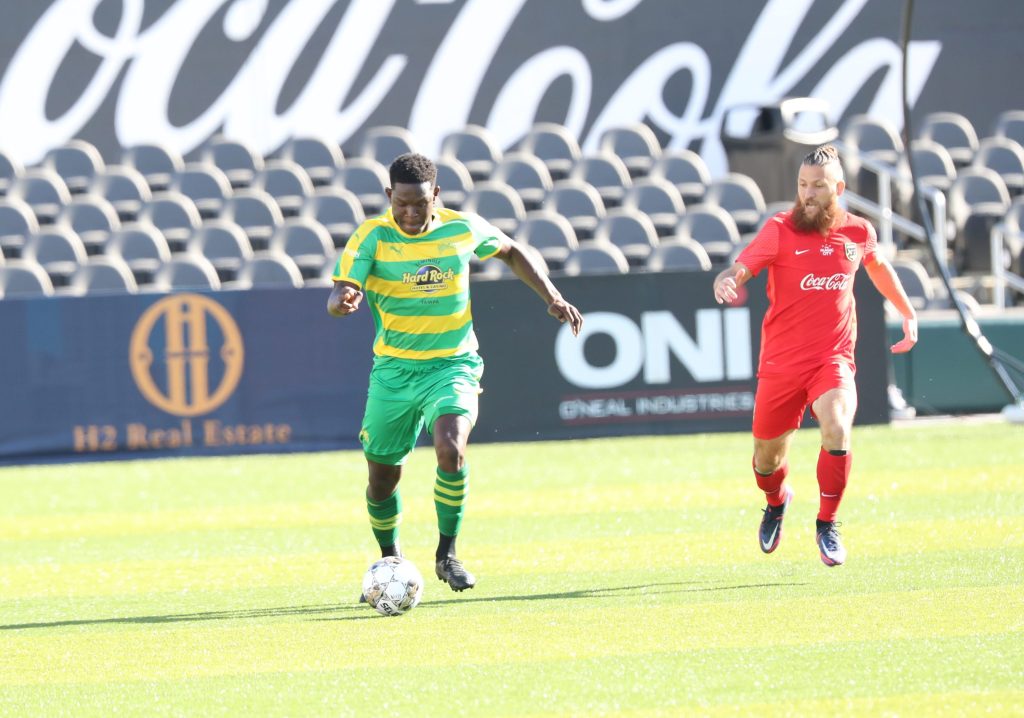 The Tampa Bay Rowdies came within a few minutes of opening the 2022 USL Championship with three points and a clean sheet on Sunday night against Birmingham Legion FC. However, the hosts found a late goal through a long-distance strike from Marlon to finish 1-1 and hold the Rowdies to just one point in their season opener.
"A point on the road in a tough place to come is not bad," said Rowdies Head Coach Neill Collins. "In ten games time I expect us to be better. But for where we're at coming out of preseason, it's possibly the toughest fixture on the calendar this weekend."
Tampa Bay faced a setback just 12 minutes into the match when center back Robert Castellanos went down with an injury. Castellanos, who just arrived in the final week of preseason on loan from Major League Soccer's Nashville SC, had been given the starting nod in the center of Tampa Bay's three-man back line. With Castellanos forced to exit, Collins chose to shift midfielder Laurence Wyke into the back line and insert Junior Etou off the bench and into central midfield.
Despite losing Castellanos, the Rowdies managed to concede few quality chances on net. The hosts were held to just two shots on target all match, both from outside the box.
"Laurence is a very versatile player, as are many of our players," said Collins. "Conner Antley could have gone back and played there as well. So could Scarlett. But I felt in those two or three minutes when Laurence went in there and Robert was off, he gave us a good platform to build off of. He defended really well and I thought he had an excellent game."
The Rowdies were the ones to break through and find the back of the net before halftime. In the 34th minute, club captain Sebastian Guenzatti fought tooth and nail to strip a Birmingham defender of the ball in the corner before tapping a pass toward Yann Ekra. The French midfielder cut into the box from the right edge and lifted a cross across goal for an unmarked Sebastian Dalgaard to slam home with his first touch.
"Yann Ekra and Seba Guenzatti fighting for it, doing that dirty work, got us into the box," said Collins. "I thought Seb Dalgaard had an excellent performance today. It just shows if he gets in the box he can score goals. I'm glad he's got his first of the season. He can be pleased with his performance, but I thought it was a really typical Rowdies goal, to be honest."
As the match wore on, Birmingham pushed hard to find something meaningful in the attack and finally succeeded in the 86th minute. With a window of space 25-yards from goal, Birmingham's Marlon curled an attempt into the top right corner and just over the fingertips of Rowdies keeper CJ Cochran.
"There's certain aspects of our game in the second half that we'll need to improve, but I think it was going to take a goal of that quality to break us down," said Collins. "When you look at the actual chances in isolation, we created the best opportunities. There's a lot to build on for us and we'll be disappointed. We're normally so good at seeing out those three points. It's not a bad point to start the season."
Next up the Rowdies return to Al Lang Stadium for their home opener on Saturday, March 19 versus Indy Eleven. Tickets for the match can be purchased here or by calling the Rowdies Ticket Office at 727-222-2000.
Scoring Summary
TBR – Sebastian Dalgaard (Yann Ekra) 34'
BHM – Marlon (Prosper Kasim) 86'
Lineups:
TBR: Cochran; Scarlett, Castellanos (Etou, 18'), Guillen; Antley, Hilton, Wyke, Antley; Guenzatti (LaCava, 80″), Dos Santos (Greig, 80′), Ekra (Areman, 74′)
BHM: Van Oekel; Kavita, Kleeman, Crognale, Dean; Lopez (Kasim, 68′), Asiedu, Lapa (James, 89′), Martinez, Herivaux (Corgnale, 81′), Diop (Marlon, 68′)